Biophilic design enhances a new office for WSP Group in Glasgow with Interface flooring.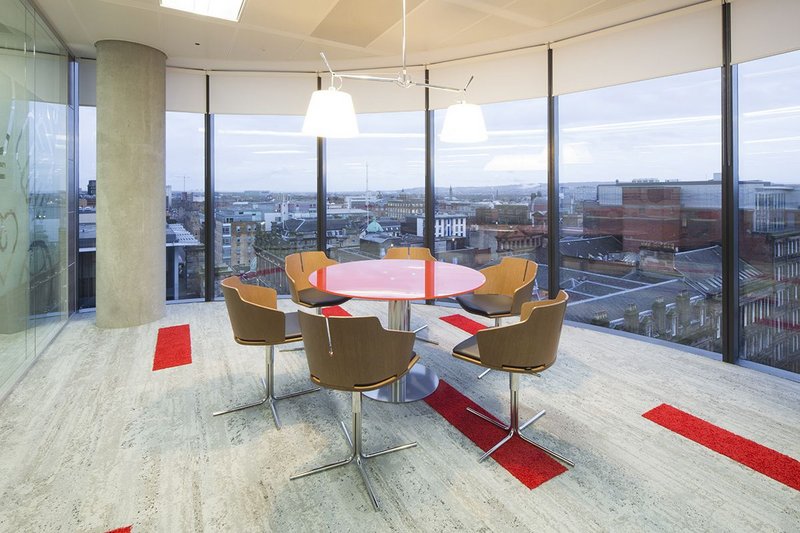 An inspiring flooring solution from Interface has been installed at the WSP Group offices at the recently completed 110 Queen Street development in Glasgow.
WSP Group, a global professional services firm offering technical consultancy for the construction industry, wanted to devise an open plan working environment to promote an even more creative culture among its team members and encourage collaboration. While several small partitioned pods for quiet working and two meeting rooms are included, the proposed layout for the space mainly consists of a single, open desk area. To ensure the transition was successful, the company needed to create a strong design scheme to define zones for group and individual working, which would also help to unify the office as a whole.
'Going open plan was a major change for our Glasgow team, so it was crucial that we did everything we could to create an environment that supported the well-being of our team members,' commented Richard Bennett, corporate estate project manager at WSP Group. 'To achieve this, we needed solutions that would help keep background noise levels to a minimum – a key challenge when developing open plan offices. Above all though, we wanted to create an inspiring interior; somewhere the team would enjoy spending time.'
Interface supported project leader Aileen Rooney, design executive at Innovative Design Associates Company (IDAco), to create a scheme that would help facilitate WSP Group's transition to an open plan culture. Products from Interface's nature-inspired Human Nature collection were selected.
Reflecting the colours and patterns found in nature, Interface's flooring was inspired by the concept of biophilia – the school of thought that nature-inspired elements in an interior play a major role in upholding the physical and emotional well-being of occupants.
Aileen explained: '110 Queen Street has great panoramic views of Glasgow city centre with floor to ceiling windows. The windows provide plenty of natural light into the office floor, a key element in improving the well-being of workers. It was clear that the design in the Human Nature collection would help create the ideal frame to draw the eye to the cityscape outside the windows.'