Redbox Design in Gateshead completes refurbishment of Newcastle College tower using Armstrong ceilings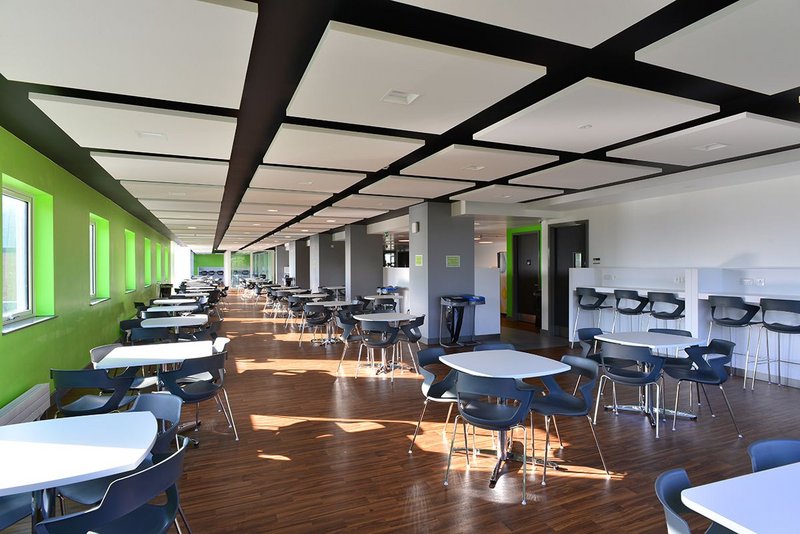 Optima L Canopy Square
An unparalleled range of acoustic ceiling systems from one manufacturer, Armstrong, has helped transform a 1970s tower in Newcastle into an 'exciting and stimulating learning environment to reflect 21st century education'.
Gateshead-based Redbox Design's £13 million refurbishment of the 11-storey Parsons Tower at Newcastle College features multiple material ceiling systems in areas ranging from the main canteen through the lecture hall to a bespoke children's AV space.
Sean Gallagher, associate at Redbox said: 'Key spaces such as the ground-floor reception used linear metal plank solutions with integral light fittings to create a dynamic light and airy feel to the main visitor experience, suspended acoustic rectangular and square canopies on a black plasterboard background provided variety and interest to the main refectory, and classrooms benefited from the additional reflected light from white metal ceilings throughout for background lighting.'
The 7,000m2 of Armstrong systems used at Newcastle College include Axal Vector metal lay-in tiles, Dune Max Tegular, Parafon Hygien and black Nevada Board mineral tiles, black Mesh metal tiles, B-H 300 metal planks, MicroLook 16 microperforated metal tiles and Optima L canopies. In addition, Armstrong's Axiom Vector profiles provided a seamless transition between plasterboard and Axal Vector metal tiles.
These products were specified by Redbox as they 'represented good value for money and give optimum acoustic performance combined with long-term durability and low maintenance which are essential factors for large educational establishments'.
For a video tour of the project visit: www.youtube.com