When Waste House designer BBM was asked to deliver a large and energy-hungry country pile, the result was high spec and sustainable, with a visible twist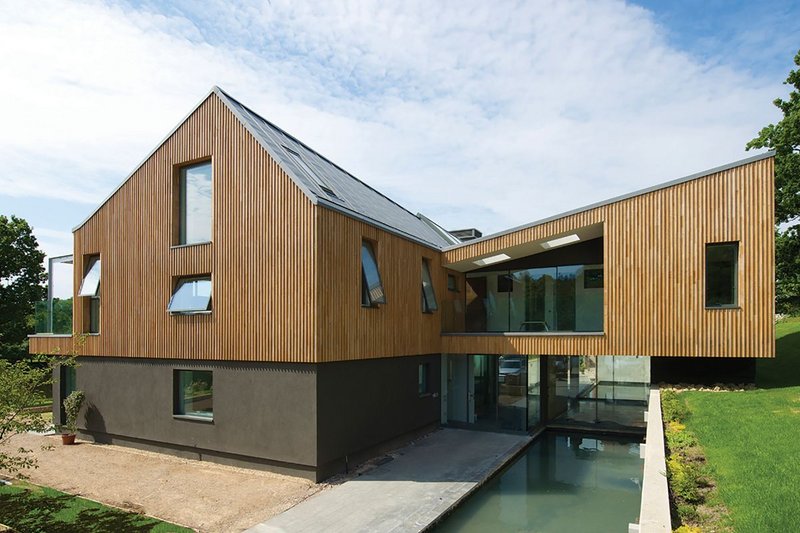 View of New House looking south west, showing the north bedroom block projecting above the main entrance lobby.

Credit: Leigh Simspon
When BBM Sustainable Design was contracted, in 2008, to develop a sustainable master plan for a country estate in East Sussex, south of Tunbridge Wells, the high spec, high energy brief would have had many environmentally-minded practices running for the hills.
New House called for a £1.8 million new country house, conversion of a derelict 1940s dairy into a heated swimming pool, and the retrofit of a 19th century oast house, all set in 110ha of Wealden countryside.
The pool house, with its sauna and steam room, was predicted to sap around 80% of the total power load, and the requirement for all the windows in the house to remain closed in summer to prevent insects from entering meant a heavy reliance on mechanical ventilation.
This was a very different proposal to the Waste House, BBM's award-winning research building for the University of Brighton, constructed entirely of rubbish including old toothbrushes and floppy discs, for just £100,000.
BBM director Duncan Baker-Brown comments: 'Some people might say, if you want to be sustainable why didn't you just tell the client he couldn't have a heated swimming pool, but then he would have gone to another architect that might not have been so preoccupied with trying to save energy. The fact is, architects also have to work with super-rich clients because they have carbon footprints 25 times the size of everyone else and they need to be educated and supported if they have inclinations towards being less carbon hungry.'
A combination of low energy strategies was devised to meet the brief with the smallest carbon footprint possible. Studio Engleback produced an estate-wide sustainable management plan, introducing woodland management and transforming land into wildflower meadows, and Battle McCarthy produced the energy plan.
The house was originally planned as a retrofit extension of the 1970 property, but the client was put off by the £350,000 VAT bill associated with refurbishment, so chose to demolish the building and construct a new build in its place.
'It is concerning that the industry is demolishing perfectly good buildings to save the 20% VAT, our laws are skewed to encourage new build not retrofit and extension,' says Baker-Brown. To mitigate the impact on sustainability, timber from the existing house was salvaged and used in the Waste House project.
The house was conceived as a sculptural object in a working rural landscape and its angular and non-symmetrical form responds to the landscape, views and the movement of the sun. The north-facing elevation is dug into a Tonbridge sandstone bank, with the spoil used to create an internal rammed earth wall separating the entrance hall from a meditation room.
Above that, a three-story Le Corbusier-style 'light cannon' casts shafts of sunlight down into the space at certain times of the year. The south-facing elevation is mostly glazed, to harness solar energy, with deep balconies providing shade in the height of summer.
With a brief to deliver a 'robust elegance appropriate for a large farmhouse', local materials were specified for all three buildings to create a sense of place and reduce embodied energy. The external walls of the house are constructed with load-bearing blockwork, wrapped with 300mm of external insulation made from waste timber-fibre and finished with either lime render or a rainscreen of finger-jointed sweet chestnut cladding. Chestnut cladding was used on the pool house elevations and its curved ceiling. Internal walls are hand finished in a breathable plaster called 'tadelakt', from Morocco.
'Cladding was sourced from the neighbouring woodland. It is untreated and looks bruised and patchy at first but then matures to give a grey, textural appearance,' says Baker-Brown. Most materials were specified to be self-finishing, including polished concrete or reclaimed oak floorboards and internal joinery made from locally sourced oak.
Woodchip harvested from the owner's 150 acres of woodland fuels a biomass boiler, located in a separate energy centre, which provides hot water and heating for the pool house and the two residential properties.
Both pool and country house have photovoltaic and solar panels on the roof. A large section of pitched roof on the house is twisted to face due south to maximise solar PV exposure. The scheme's total annual energy use from renewable sources is 35.2kWh/m2 resulting in a CO2 emissions reduction of 8.97kgCO2/m2.
A mixed-mode ventilation strategy was initially planned for the house, combining a regular sized MVHR system with the ability to open windows to provide cross-ventilation and prevent overheating. However, at a late stage of design the client asked instead that the windows remain closed year-round to keep out flying insects attracted to the farm's pond. He also wanted to be able to smoke inside the property without the smell of stale smoke in the air.
'This seemingly simple request resulted in a difference in spec and a real head scratcher for Battle McCarthy,' says Baker-Brown. 'Suddenly the M&E budget rose substantially: we had to source an industrial-scale MVHR system but the engineer managed to avoid increasing the roof height, which would have been a planning issue.'
During summer, the temperature of the internal spaces is controlled using the MVHR with supplementary passive cooling provided by the adjacent pond, which is always cooler than even the hottest day of the year. Air supply to the building and oast house is pre-cooled to a constant 15°C using a passive earth tube system that draws in air from woodland to the north and cools it as it travels through underground pipes. During winter, the same system primes the air to 15°C, reducing the amount of heating required from the biomass boiler.
The house is a slow response building, gradually absorbing heat from the sun, underfloor heating and occupants in its heavyweight blockwork walls and concrete floors, then radiating it out at night. The MVHR circulates and recovers heat from around the building.
'The effectiveness of the system depends on wrapping the building in an airtight overcoat of insulation, to isolate it from the external climate,' says Baker-Brown. 'Buildings that exploit thermal mass normally depend on high occupancy, drawing heat from people inside, but here we rely more on heat from the sun, through windows in the south elevation, so it works more on a seasonal basis than daily.'
The development was designed to achieve Code for Sustainable Homes Level 5, but struggled to achieve it due to the large amount of south-facing glazing. However, by taking into account issues of building orientation and passive climate response, such as the use of thermal mass, and demonstrating that overall annual CO2 emissions would be just 2.53kgCO2/m2, Battle McCarthy was able to show that it effectively surpassed Level 5 requirements and planning approval was awarded.
But questions remain over how it will perform in use. Issues related to the over-complication of the MVHR system, including problems with its software and sensors, mean it has still to be signed off, potentially resulting in higher energy consumption. 'This is a small job for the system supplier so it has been difficult getting it back on site to adjust the programming. It will be interesting to see how the building performs in use,' says Baker-Brown.
That setback aside, BBM Sustainable Design has shown how a 21st century country house can be developed as low carbon, to a high spec, without having to resort to using DVD cases and two tonnes of denim offcuts for insulation. As Baker-Brown puts it: 'Give us any building typology and we can do the greenest version of it.'
---