Pre-weathered zinc played its part in creating contemporary homes that pick up their surroundings' traditional arts and crafts vernacular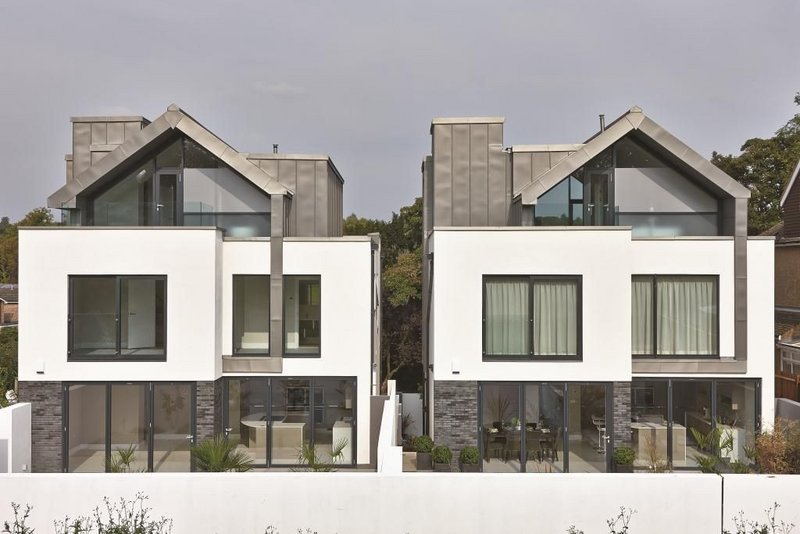 The twin houses are modern in aesthetic but have a crafted feel and suburban scale
Brightspace Architects' design for two four-bed luxury houses, located on a steeply sloping site on a main road into Hertford, manages to strike a tricky balance: the client, developer Infiniti Homes, required contemporary properties with high spec materials and clean lines, but there was also a need to acknowledge the local Hertfordshire vernacular, populated by several large arts and crafts-style buildings with steeply-pitched roofs and large projecting chimneys.
Original planning approval, granted in 2011, was for five housebuilder-type homes on a large plot. But seeing a potential market for contemporary design, Infiniti called on the architect to enhance the design and double the internal area of each house as part of a 'reserved matters' application. The first two homes were built in 2013, and proceeds from their sale will fund construction of the remaining properties.
'We were able to achieve a contemporary look by designing large windows in vertical and horizontal arrangements, by building deep basements into the sloping ground, and by layering the facades with projecting brick boxes on the front elevations. The inclusion of pitched zinc roof profiles, set back from the facade and enclosing the upper storey lofts, would mirror other houses in the area with a suburban, traditional feel,' said David Evans, project architect at Brightspace.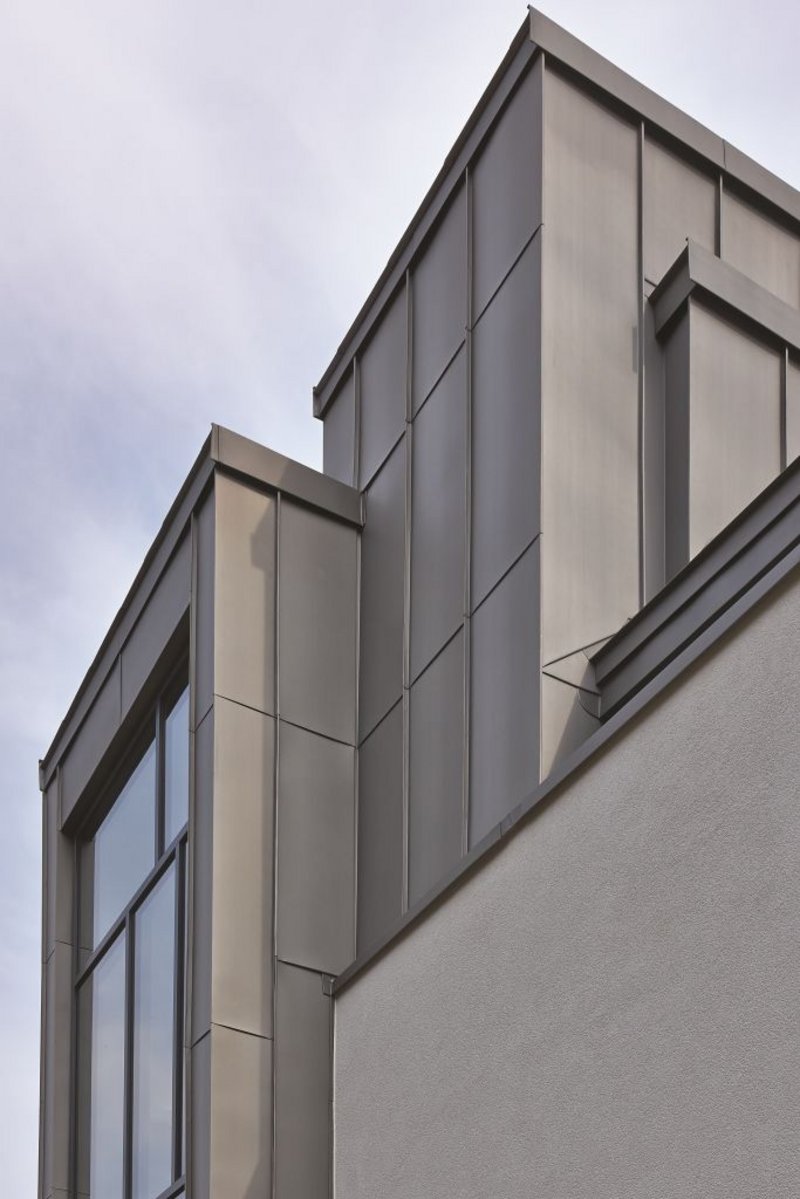 Pre-weathered zinc cladding not only gave a traditional feel, but minimised the thickness of the wall build-up
For the roofs an pre-weathered zinc with a rolled standing seam was specified, which would also wrap around the walls of the loft and a projecting box that covered an access stair well and a lift. The material helped deliver the clean lines required by Infiniti and also lent itself to a traditional roof profile, its mid-grey colour blending in with the natural tones of the surrounding homes' tile roofs and green gardens.
'We wanted a natural lead colour with a muted finish that wasn't highly reflective, and didn't want to go down the route of a plastic-coated steel that would create an industrial feel, totally inappropriate for housing,' said Evans. 'The standing seam, arranged in thin horizontal bands across the roof and walls, is a delicate junction that allowed us to create some nice corner and edge details, unlike a profiled sheet that creates a 'wrinkley tin' effect.'
The installed solution and its detailing provided excellent robustness and weathering and removed the need for cladding rails, minimising the overall thickness of the construction build up. 'It ultimately appeased the local authority planners and satisfied the exacting demands of the client – who has a quantity surveyor background as was very hands on in terms of materials selection and cost,' concluded Evans.
---
Rhepanol shines in the Tyrol
This hidden inline gutter detail for a standing seam zinc roof is installed on an eco home in the village of Ashwell in Hertfordshire. The private owner client had stringent environmental performance requirements and targeted an ultra low u-value of 0.11 W/KW/m²K for the roof build up. NedZink NOVA, a pre-weathered zinc, was chosen for its sustainability, aesthetics, and longevity. Local specialist contractor RFL metal roofing installed the traditional hand-formed 25mm standing seam. 'Zinc is soft and easy to manipulate and can be adapted to suit the specific application,' said Simon Walker, category manager for SIG Zinc and Copper. 'It is the most malleable of the hard "noble" metals that are resistant to corrosion and oxidation in moist air, which include copper and stainless steel.' Sheet zinc is alloyed with titanium to produce the thin material used for roofing. It is highly durable, and according to International Zinc Association figures the recycling rate for roofing can be as high as 95%.