Bronze window and doors can bring thermal efficiencies to heritage buildings, but they can also be a smart and stylish solution for contemporary new-builds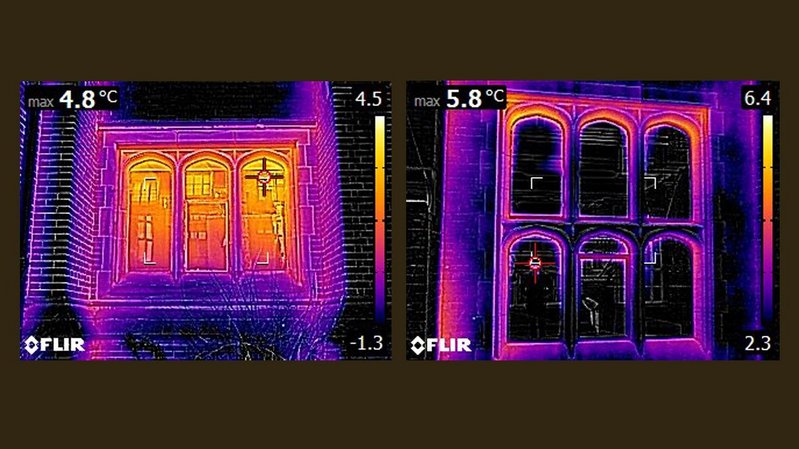 Thermal imagery before and after the 2017 refurbishment of the Armstrong building at Newcastle University. Howarth Litchfield architects.
As part of a £50 million refurbishment, the Armstrong building at Newcastle University was fitted with over 2,400 double-glazed bronze windows. These replaced the original single-glazed windows and significantly improved the thermal efficiency of the building, from 5.8 W/m2K to 1.7 W/m2K.
Architectural Bronze Casements was approached to work on the project after supplying replacement windows for the university's Student Union building. The company worked closely with the university, local planning and conservation officers. The university's key objectives were to improve the efficiency of the windows and maintain the building's aesthetic and historic integrity. The original windows were traditional metal casements with direct glazing into stone surrounds. To comply with historic requirements, Architectural Bronze Casements designed bespoke ironmongery for the opening bronze windows.
Architectural Bronze Casements also manufactures bespoke bronze secondary glazing for projects that require improved thermal efficiency on existing windows that cannot be altered, such as the refurbishment of the Grade II listed Christie Library at the University of Manchester. Secondary glazing also offers a valuable improvement in soundproofing and security. Architectural Bronze Casements' secondary glazing is double glazed, which has added benefits over other single glazed units.
'Architectural bronze' is a manganese brass alloy that is extremely strong and long lasting. Aesthetically striking, it offers architects and specifiers an exciting alternative to steel and aluminium. Over the years, Architectural Bronze Casements' unique and diverse range of bronze windows, doors, screens and secondary glazing has been specified for the conservation of historic properties and for installation in modern architectural buildings.
The company has a range of systems designed to meet different architectural requirements and each unit is carefully hand made to exacting standards. Bespoke designs and shaped openings can be achieved along with lead detailing for specific design requirements. The striking appearance of bronze also makes it an ideal solution for more contemporary-style projects.
Bronze windows
Whether you are updating existing windows and wish to have a like-for-like replacement, are undergoing renovations or working on a new-build project, Architectural Bronze Casements has a system to suit your requirements:
Heritage Can be bent to form curves and divided with horizontal transoms, making it the most adaptable system in design terms. Also ideal for properties requiring single glazing and traditional leaded lights.
Advanced Features a decorative bronze beading that secures the glass in place. There is also the option of a contemporary bead to suit the architectural style of your project. This allows for the housing of more efficient glazed units.
Thermabronze Aesthetically identical to the Advanced system with the added benefit of being thermally broken for greater efficiency.
Inward Ideal for properties with high or difficult to access windows where conventional cleaning is not an option.
Bronze doors and screens
Architectural Bronze Casements has a range of doors in a variety of styles and openings:
Standard Bronze Door Designed with a bead detail to complement the Advanced system casements and available as French doors or single openers.
Clad Door Single or double clad, consisting of a timber frame with bronze cladding.
Timber Door with Bronze Inserts Can be made in either European oak or Douglas fir in a range of finishes.
Slimline Door Provides narrower sightlines than a Standard Bronze Door.
London townhouse featuring bronze screen and double doors by Architectural Bronze Casements.
Architectural Bronze Casements offers a full measuring service or can work from architects' and builders' measurements. Its installation service includes a team of skilled and experienced fitters. Alternatively, the company can provide on-site demonstrations to installers.
For more information and technical support, visit: bronzecasements.com
Contact:
0845 600 0660
---