Newton Waterproofing Systems has partnered with RIBA Journal to introduce British architecture to a radical, new specification tool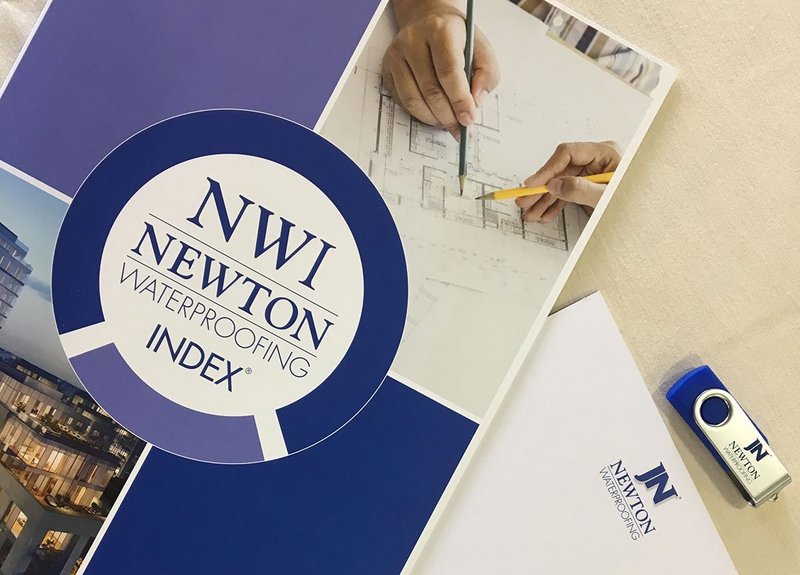 The revolutionary Newton Waterproofing Index is directly geared towards making the life of the modern-day architect as simple as possible.
The Newton Waterproofing Index is a new methodology combining the grades of waterproofing (as defined by British Standard 8102:2009) with an assessment of the type and quality of the proposed structure, the type of waterproofing protection being used and the competence of the installation in order to generate a 'score' for each and every type of waterproofing design.
On Tuesday 24 October 2017, Newton Waterproofing Systems partnered with RIBA Journal for its Products in Practice 'Housing and Residential Seminar' in London.
The idea is to make myriad waterproofing designs and combinations more accessible for architects, as well as to provide a measure across the industry by which different designs can be compared.
The result is an intuitive and measurable scoring system for industry professionals.
Using the index for specification
To assist with correct specification Newton has also created a library of specification sheets for many of the most common waterproofing designs. Each sheet acts as an individual resource for a particular waterproofing design, bringing product information and relevant NBS clauses and 3D drawings together.
Furthermore, each sheet is also attributed with a scoring range on the Newton Waterproofing Index that is particular to that individual specification. Newton Specification Sheets are therefore a key tool of the index and a part of any specifier's armoury of resources.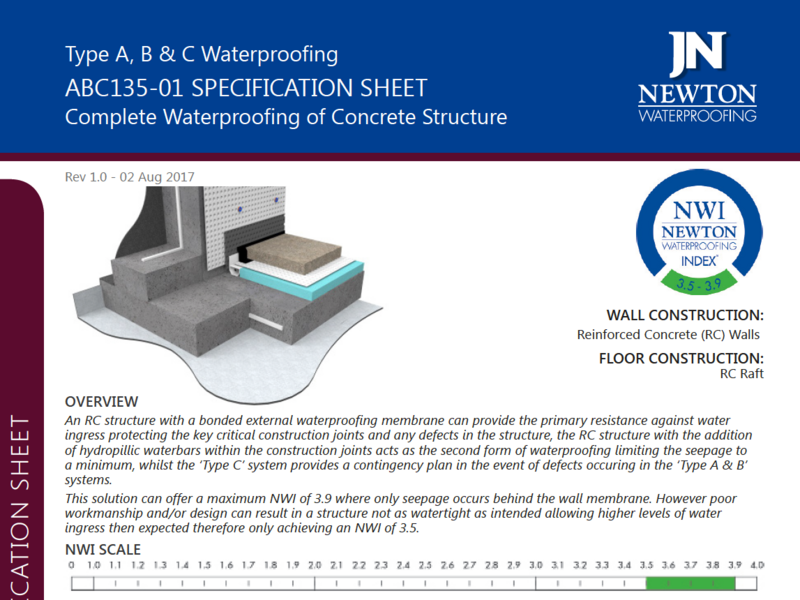 Specification sheets such as this one act as a complete resource for each waterproofing design. The index score also indicates the effectiveness of the design.
The Newton Protected Basement Guarantee
The very highest score on the Newton Waterproofing Index also qualifies as a Newton Protected Basement, supported by the new and industry leading 10 year Newton Protected Basement Guarantee.
Underwritten by an A-rated UK insurer, the guarantee is a bespoke latent defects policy, including:
10 years LDI cover
No defects liability period
Up to £100,000 of cover per project for consequential loss
Cover for product, design and installation failures
In-house design assistance and on-site quality assurance
Independent auditing included where required, to ensure continued quality
The Newton Protected Basement Guarantee is a major upgrade from other industry guarantees.

The Newton Membrane Recycling Service
The seminar also gave Newton the opportunity to introduce the assembled architects to their other unique new scheme. The Newton Membrane Recycling Service is an industry first in the UK waterproofing market. Through it Newton is able to reprocess and recycle all waste cavity drain membrane material generated by their network of specialist contractors across the UK.
The completely traceable service allows Newton to provide architects, designers and contractors with direct feedback as to the exact amount of material that is being recycled from individual projects. This can be directly quantified in terms of the environmental impact and carbon savings.
During the trial period since the recycling service was first introduced on a limited basis in April 2017, Newton has already collected and recycled over two and a half tonnes of HDPE plastic membrane that otherwise would have been sent to landfill.
The service has now been rolled out across the country to Newton's network of over 30 specialist contractors, so the amount of membrane recycling is set to increase dramatically as contractors and architects will all be given the opportunity to improve upon their environmental credentials.
Waste membrane for recycling is collected by Newton Specialist Contractors in special branded bags and transported back to Newton on delivery back-loads, minimising its environmental impact.
Revolutionising waterproofing
Newton Waterproofing Systems combines innovative concepts with decades of waterproofing expertise. This is evident in the company's Newton Waterproofing Index, the Newton Protected Basement Guarantee and the Newton Membrane Recycling Service, which all mark a significant advancement over other waterproofing suppliers in the UK.
Furthermore, all three new services are geared towards making the life of the modern-day architect as simple as possible, whilst still enabling them to effectively protect their buildings.
Not only can architects now assess their waterproofing specifications with a simple scoring system, but they can also protect qualifying projects with the most comprehensive guarantee in the UK waterproofing industry, and then recycle the waterproofing waste that is created in the process.

For more information or technical enquiries, please visit:
www.newtonwaterproofing.co.uk

Contact:
01732 360095
tech@newtonwaterproofing.co.uk
The Newton Waterproofing Index is protected by copyright. 2016. JN Newton Waterproofing. All rights reserved.
---