Omnie introduces a number of innovations for 2018, including new smart thermostat controls, and explains how to make an efficient underfloor heating system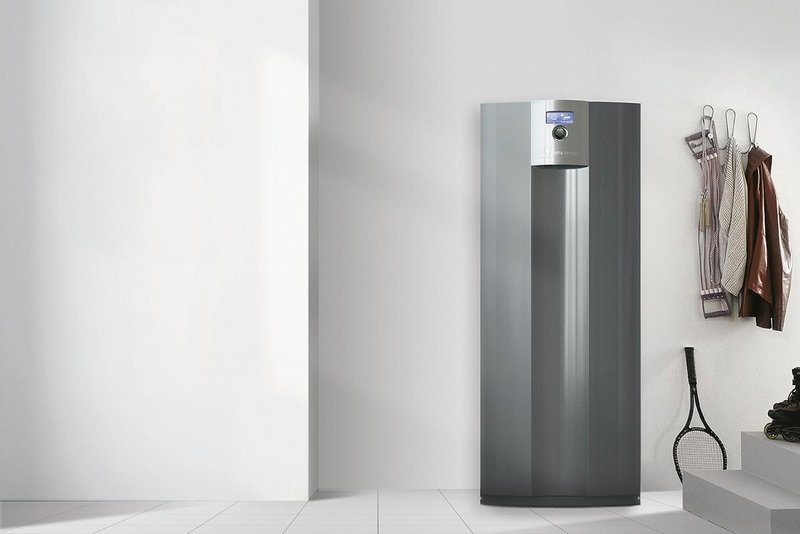 Omnie introduces a number of innovations in underfloor heating.
The popularity of Omnie's underfloor heating products has been rapidly expanding in recent years as the company has cemented itself as the technical leader in the sector thanks to a series of innovations across its range. Designed particularly for UK buildings and to work well in the British climate, Omnie continues to introduce improvements and innovations to its high performance products year on year.
Coming up in 2018, Omnie will be launching its new smart thermostat control systems. The new systems will offer a slimline and stylish solution compared with traditional thermostats as well as be able to programme up to 64 independent heating zones from inside the home and from smartphones and intelligent personal assistant devices including Amazon's Alexa. Omnie has also included the option to add remote sensors to any household system that could be ideal for adjacent rooms such as en-suites, or measuring the temperature of a room from a more suitable location.
As a manufacturer of underfloor heating systems and controls, Omnie continues to expand on its expertise within the sector. Design, development and manufacture is all carried out under one roof from its headquarters in Exeter. In that way, it is easier for the company to overcome technical challenges but also brainstorm and implement new ideas. What's more, Omnie also offers a comprehensive design service for every project and has a team of technical professionals to assist in every underfloor heating requirement.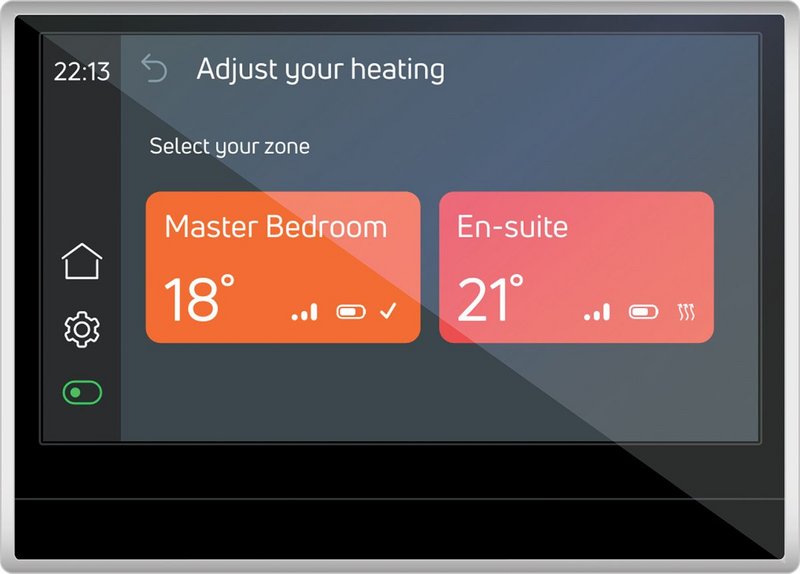 Omnie's new smart thermostat system.
Omnie products are perfectly suited to using heat pumps and other renewable energy sources. To be able to work with these technologies a heating system must be able to run at low water temperatures yet still provide sufficient heating to warm the building, particularly timber floors. This is important because a heat pump producing lower temperature water will reduce running costs and carbon emissions.
To ensure good performance at low water temperatures it is crucial that there is a conductive pathway that transfers heat quickly from the pipe to the floor surface. If there is a break in the conductive pathway, for example an air gap, then the efficiency of this energy transfer is greatly reduced. To overcome this inefficiency the water used in the heating system needs to be much hotter to produce an effective heat output.
Along with a comprehensive range of screed systems, most interest is in the proven ability to deliver high performance heat outputs in timber floor constructions even with renewable heat sources such as heat pumps. Omnie draw on years of experience to develop and manufacture systems that are easily installed into timber constructions such as suspended, batten or acoustic floors.
However getting underfloor heating to work effectively in timber floors is not straightforward. Timber is not naturally a good conductor of heat. Other underfloor heating systems often overcome this using high temperature water and as a result the efficiency of the heat pump or boiler will be reduced, and in some cases the floor can become damaged over the long term.
Omnie is a specialist in manufacturing UFH products for timber floors and has developed a range that delivers high performance at low water temperatures. The systems benefit from functional and practical advantages, a highlight being that the TorFloor product is unique in the UK market having been certified as a structural floor deck. The TorFloor range comprises systems suitable for batten, suspended and acoustic floors. Furthermore, new LayFast technology allows systems to benefit from a patented unique multi-directional system, allowing for the pipe to loop seamlessly within one panel, eliminating the need for separate straight and loop panels simplifying the installation process significantly.
Another recent improvement for 2018 is the new TileOver Technology. This means that Omnie underfloor heating systems have been extensively tested with a specific range of tile adhesives to maintain the integrity and performance of a tiled floor finish.
All systems for timber floors do not require any wet elements such as bonded screeds or fills and are completely 'dry'. Omnie calls this DrySystem technology and it incorporates pre-bonded foil emitter layers to further enhance performance in timber constructions.
UltraLow technology, with very low build up properties, has been newly introduced for 2018. Specialist systems such as LowBoard RdB and TorFloor RdB have also taken yet another step forward, delivering improvements in sound reducing solutions in both low build up applications and timber construction applications.
Omnie works on a variety of projects, offering comprehensive solutions to the heating and cooling of buildings. A good example is a recent project at Stopher Design Partnership where Omnie provided the underfloor heating, heat pump and ventilation systems, designed to work as one within the building.
---