Leading high-end carpet flooring brand Desso is extending its most distinctive carpet tile collection with the launch of Desert AirMaster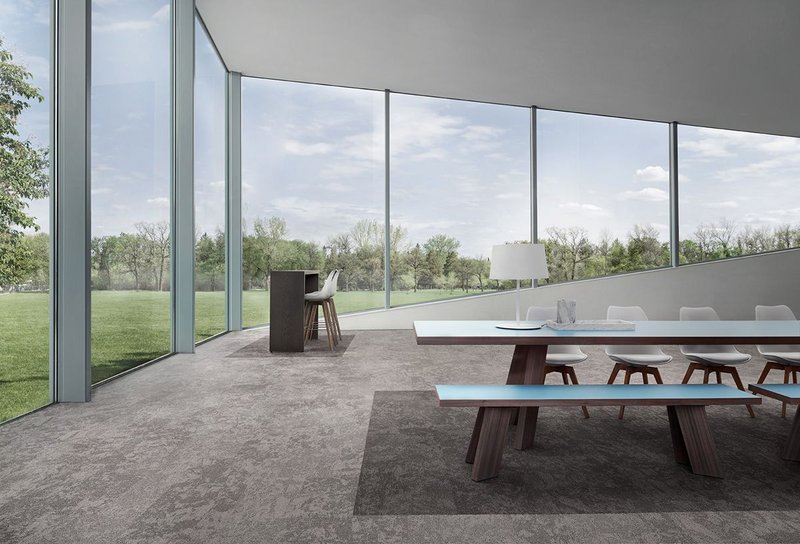 Bringing together the subtly layered organic designs of the Desert range and all the health and well-being benefits of AirMaster with EcoBase backing, Desert AirMaster creates free-flowing patterns for dynamic flooring while creating an improved indoor air quality.
Inspired by nature, Desert AirMaster has a diffused pattern to give a marbled effect to the floor. Thanks to the random pattern and the use of two colours, every carpet tile is different – providing endless design opportunities. Offering a broad range of neutral colours, including three grey shades, a beige, brown and blue tone, Desert AirMaster can be used to achieve a soft and calming environment.
When you consider we spend around 90% of our time indoors, it is critical that the inside air is as clean as possible. Tests already demonstrated that Desso AirMaster is eight times more effective in capturing and retaining fine dust than smooth flooring solutions (PM10) and four times more effective than standard carpet solutions (PM10).
The latest test performed by the independent German test institute GUI, which specialises in the analysis of indoor and outdoor air quality, shows that AirMaster with EcoBase backing has even more health-supporting benefits, with an additional test assessing the product's performance on three strict criteria:
Suitability for allergy sufferers because of the ingredients
High fine dust binding capacity
Low Volatile Organic Compound (VOC) emission properties.
The new Desert AirMaster, like all other Desso AirMaster with EcoBase backing, meets all of the above mentioned criteria, and is therefore the first and only carpet product in the world to be certified with the GUI Gold Plus label.
As part of our ongoing commitment to sustainability, and part of our 2020 Cradle-to- Cradle roadmap strategy, the entire AirMaster collection will only be available with EcoBase backing. Containing upcycled re-engineered calcium carbonate (chalk) from local drinking water companies, the backing is 100% recyclable in Desso's own production process and developed according to Cradle to Cradle principles. In addition, it contains Econyl yarn – a 100% regenerated nylon made from recovered waste materials such as fishing nets and yarn waste from Desso's own Refinity facility. The entire DESSO AirMaster collection is Cradle-to-Cradle Silver certified.
Desert AirMaster is an extension of the Desso AirMaster range, which also features AirMaster Sphere, AirMaster Elements and AirMaster Blend. Desert AirMaster also has the option of adding SoundMaster (Lite) - a special backing that improves acoustic comfort.
For more information and technical support visit: www.desso.com
Contact:
01235 554 848
23-25 Great Sutton Street, London EC1V 0DN
---