UK start-up's OSTO, made from waste including plastics destined for incineration, replaces lightweight, high carbon aggregates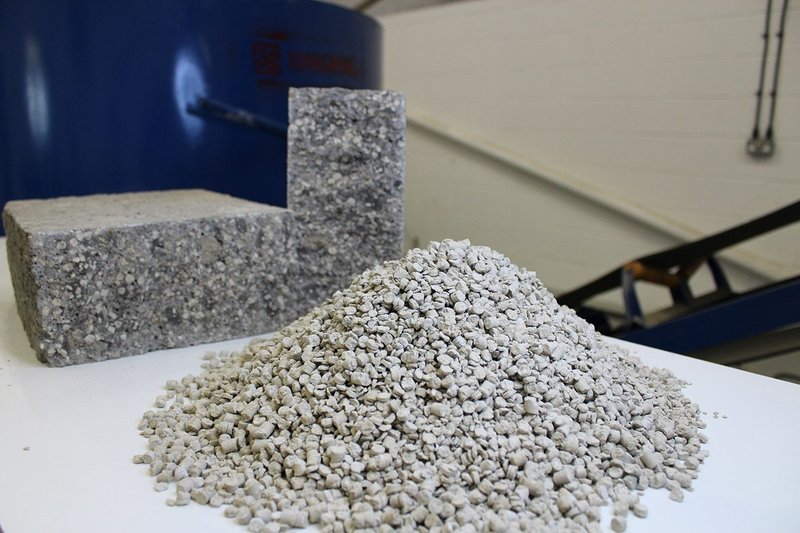 OSTO, low carbon gravel.

Credit: LCM
A UK-based start-up behind an innovative 'carbon negative' aggregate for concrete has been shortlisted for the 2022 Earthshot Prize Awards, putting it in the running for the £1 million prize.
County Durham-based Low Carbon Materials (LCM) is among 15 international finalists for the prestigious environmental awards and one of three in the Fix Our Climate category. The shortlist was announced by HRH Prince William earlier this month.
The company developed the gravel-like material OSTO, which is intended as a substitute for high-carbon footprint, lightweight aggregates used in the manufacture of concrete. It is made from waste otherwise destined for incineration, including non-recyclable plastics and other by-products.
The company's first product incorporating OSTO is a medium-density concrete block due to come to market in early 2023.
Natasha Boulding, CEO and co-founder of LCM said: 'There is a big problem globally with waste and in the UK there's still a lot we don't, or can't, recycle … Our main aim as a company is to find ways to avoid burning so much of this waste and instead use it to add value to industry. The waste plastic ingredient we use in OSTO is super abundant, and currently either landfilled or more commonly sent for incineration, immediately releasing greenhouse gases into the atmosphere.'
OSTO is designed as a direct replacement for lightweight aggregates such as pumice or expanded clays, which are energy-intensive to produce and mine, with disastrous ecological impacts on natural landscapes and habitats.
Through a low carbon production process OSTO absorbs CO2 as it hardens, which, coupled with the avoided impact of burning plastic waste, helps offset embodied energy associated with production, including carbon footprints of raw materials, transportation and the like, resulting in a net carbon-negative product. In addition, OSTO is 2.5 times lighter than traditional mineral aggregates and thermally insulating.
'Lightweight aggregates are used in medium dense or lightweight concrete, often for high rise construction, and they carry a significant carbon footprint in production. That's the sector of the concrete market we're tackling,' says Boulding.
Trials with concrete manufacturers are under way, and Boulding says the company is keen to hear from architects and other specifiers about their specific needs and "pain points" to inform future product development.
A sample specification for a concrete block made using OSTO has a compression strength of >7.3N/mm2, a density of 1,450 kg/m3, and conforms to British Standard EN 771-3.
The five winners of the Earthshot Prize will be selected by a high profile panel of judges, including Prince William, Queen Rania Al Abdullah of Jordan, Cate Blanchett and Sir David Attenborough, at a televised event in the US on 2 December.
Finalists were chosen following a rigorous assessment by an advisory panel of scientific, academic, and subject-matter leaders, and based on their potential to create game-changing impact around the world.