Building services engineers have expressed frustration after a parliamentary report revealed a 'disappointingly low' takeup of grants for the government's £450 million scheme to promote air-source and ground-source heat pumps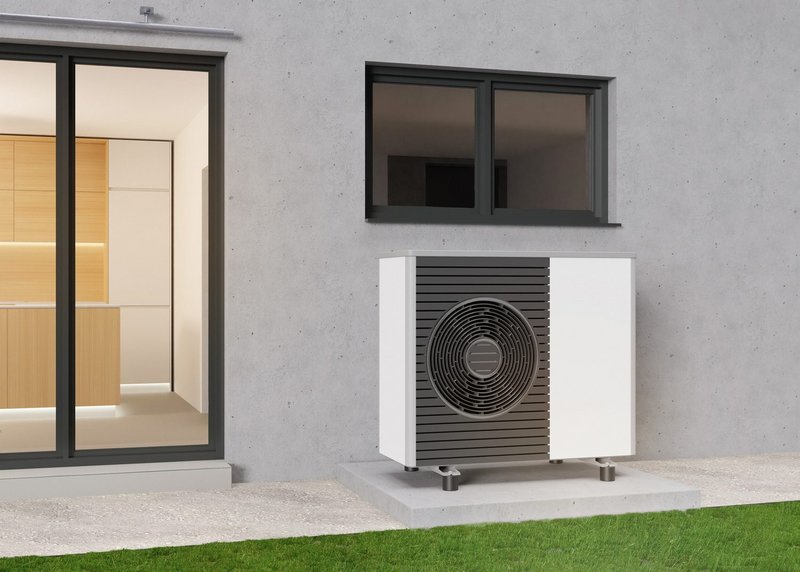 Credit: Creativebird│iStock
The government's boiler upgrade scheme (BUS) was launched in May 2022, aimed at encouraging the installation of low-carbon heating systems as an alternative to fossil fuel systems using gas, oil or electricity.
Under the initiative, homeowners are offered grants of £5,000 towards the cost of an air-source heat pump, or £6,000 towards the cost of a ground-source heat pump.
A report this week by members of the House of Lords' Environment and Climate Change Committee found that the BUS is suffering from a 'disappointingly low' takeup, with just a third of its annual budget used since the launch.
The committee said promotion of the scheme was 'inadequate' while upfront costs were 'still too high for many households'. It also noted a shortage of heat-pump installers and insufficient independent advice for homeowners.
Reacting to the news, Andrew Leiper, director and net zero carbon lead at building services engineer Max Fordham, said the lack of an independent advice centre to support the takeup of BUS and provide clear messaging on energy efficiency and heat pumps was 'a real problem', and meant 'most homeowners simply do not know where to start'.
He also agreed that the upfront cost remained an issue. 'Despite the costs of heat pump systems coming down, the average installation is still around £10,000,' he said, 'and the BUS grant is not generous enough to incentivise uptake for those without the means to fund the shortfall.'
If someone is sitting on the fence about whether to get a heat pump, I don't think the BUS scheme is generous enough
Ricardo Moreira, managing director of environmental and services engineering consultancy XCO2 pointed to a 'failure of communication' with the scheme, both in terms of public awareness of its availability and technical guidance on feasibility.
He told RIBAJ: 'We often hear from potential users that the scheme would not be an option due to what they perceive as limited opportunities to improve their homes' fabric performance. There is little information to debunk myths and limited access to property-specific solutions.'
The House of Lords committee said that, by the end of January this year, £49.7 million of BUS vouchers had been redeemed, equivalent to 7,641 installations, according to Ofgem figures. The scheme has been allocated £150 million a year in funds for three years.
It warned that if the current takeup rate continues, only half of the allocated budget will be used and 'a healthy market of installers and manufacturers will not be in place in time to implement low-carbon heating policy measures smoothly'. It said the government's 2028 target of 600,000 installations per year was 'very unlikely to be met'.
The report found that although hydrogen is no longer considered a serious option for home heating in the short to medium-term, misleading messages promoting it, including from the government, were negatively affecting takeup of established low-carbon technologies such as heat pumps.
'Presenting hydrogen as an equally viable option to heat pumps helps muddle the waters further and gives the end impression of a lack of relevance to most homeowners' reality,' said Moreira.
Leiper said other shortcomings with BUS included the large amount of admin for homeowners, including finding installers, updating Energy Performance Certificates, and ensuring efficiency measures were installed properly. 'The scheme requires a considerable level of engagement and enthusiasm for a heat pump on the part of homeowners,' he said. 'If someone is sitting on the fence about whether to get a heat pump or a new gas boiler, I don't think the BUS scheme is generous enough to push them towards the heat pump.'
The committee report makes a series of recommendations to the government on how to get the scheme back on track. These include:
Providing greater clarity to industry and consumers on feasible options for low-carbon home heating through a consistent policy framework, public communications, and householder advice.
Rolling over the remainder of the BUS first-year budget into the second year and establishing a review to consider extending the scheme.
Correcting the EPC methodology so that certificates properly reward households making the switch to low-carbon heating.
Recognising the role of independent retrofit coordinators in helping households navigate installations.
Relaxing the requirement arising from permitted development rights to site a heat pump a certain distance from neighbouring properties.