Why does Britain have so few self-build homes? When is a home really finished? And how much can you do with refurb? PiP's webinar probed the bespoke house
'This is not just about Grand Designs. It is about diversity,' began Julian Owen, author of Self Build: How to design and build your own home (RIBA Books, 2023). Specialising in custom and self-build projects, Owen is a member of the Right to Build Task Force, which works to make this housing model more viable for ordinary citizens. Owen gave an overview of the model, advocated for its benefits and identified hindrances to its take-up.
Self-build and custom-build operate on a continuum in terms of scale, planning regulations and client input. They also bring about many advantages, claims Owen: increased opportunities for modern methods of construction, clients invested in sustainability, local training opportunities, responsiveness to community needs, council opportunity to quickly grow housing supply, market diversity, and more attractive and contextual housing. Political parties on both sides are keen, and the Help to Build Scheme – a government equity loan – has been available since June 2022. But uptake has been limited. Why?
Culture (we have less of a tradition of self-build than in Europe and our market is 'stodgy', says Owen), and misconceptions that characterise self-build as drama-fuelled and costly don't help. But local authorities themselves are also a hindrance: despite statutory duties imposed several years ago, such as the Self-Build and Custom Housebuilding Act 2015, planning departments (LPAs) are reticent to get on board. Only 45% have met their duties (including regard to a register of custom-build interested parties when planning redevelopment schemes and land disposal), according to the National Custom and Self Build Association (NaCSBA). Clearly more encouragement is needed for planners and clients, who require support in understanding the construction and planning processes and how to mitigate risk.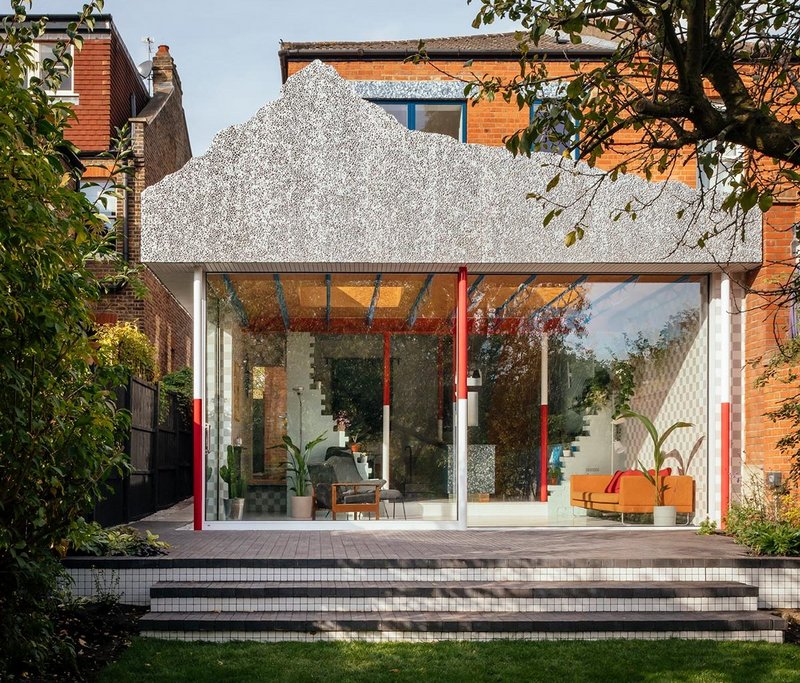 Mat Barnes' London home, Mountain View by CAN Architects, was inspired as much by memory as it was by style or context.

Credit: Jim Stephenson
Next, architect Clara Vicedo Peñarrubia of sponsor ASCER-Tile of Spain outlined this material's applications. From the AA House in Barcelona by OAB studio – whose entire roof and facade is covered in 3m ceramic panels – to Casa Bitxo by Lagula Architects, where colourful tiles contrast startlingly with bare concrete – each example expanded the range of creative scenarios. Spanish tiles are certainly not restricted to Mediterranean villas; whether post modernist or minimalist, ceramic tiles are clearly a versatile choice. Moreover, they are thermally efficient, durable and have low toxicity, contributing to favourable LEED, BREEAM, Well and Passivhaus assessments.
Many will be aware of Mews House Deep Retrofit, shortlisted for RIBA House of the Year in 2022. Robert Prewett, director at Prewett Bizley Architects, outlined the radical sustainability improvements of the project. The home's original EPC was 'F' and the internal spaces were inefficiently configured, contributing to a gloomy sensation at the back of the plan.
Reorganising the vertical circulations enabled space, light and air to flow upwards, improving ventilation, and two new windows were accommodated. Retrofit measures included stripping and coating all walls in insulating plaster, reducing U-values and heat loss. Remade multi-pane Victorian windows throughout used evacuated glass, with external blinds upstairs. An air source heat pump was added on the roof and an MVHR heat recovery system inside. Now, the tripartite spatial rearrangement improves the flow downstairs, the upstairs bedroom is filled with diffuse light, and a dining area in the heart of the plan accommodates the semi-structural plywood staircase. The retrofit achieved a 95% reduction in energy consumed at meter.
Chris Loyn, founder, and James Stroud, director, at Loyn + Co Architects discussed Private Residence, Swansea – a sustainable and contextual home in an AONB on the Welsh coast. Replacing an ugly existing building, its sustainability measures include cross-ventilation, photovoltaics, carefully positioned glazing and a sedum roof. The house responds to its context with materiality – a concrete plinth clad in locally quarried stone, topped by a two-storey timber structure faced with Kebony.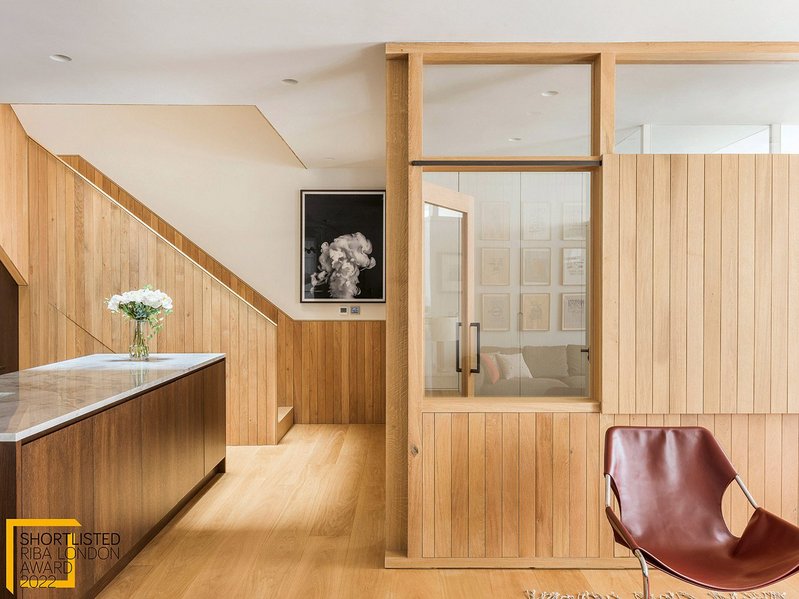 Prewett Bizley's retrofit converted a dark, cold mews house into a high-performance, light-filled home.

Credit: Andrew Meredith
Inside are a three-storey atrium, cantilevered stair and internal garden. Space partitioned with sliding screens are a nod to Neave Brown. The site's steep topography has been exploited to create a multi-level building with access to ground on each floor, maximising connections with the landscape and views to the sea. 'It's a relatively quiet building but it's strong' says Loyn, 'it sits well in the land'.
As demonstrated here, well specified, high performing glazing can transform the aesthetics and experience of a space. Tony Culmer , director of glazing specialist Maxlight, talked us through a range of applications in architect-designed homes. From a (much copied) oriel bay window and pivot door designed for Platform 5 Architects in Hackney, to an astonishing glass cascade for Elliott Wood and Will Gamble Architects' Parchment Works – which uses extensive glass in its 'building within a building' idea that was also nominated for House of the Year – Maxlight has a long history of collaborating with architects to create bold, cutting edge solutions.
A third House of the Year nominee was Mountain View, by CAN, home of founder and RIBAJ Rising Star Mat Barnes. He rounded off the seminar with a glimpse into this post modernist, hi-tech inspired project, which draws on his experience designing exhibitions at the Sir John Soane Museum, his own academic interests and his wife's career as a geographer. 'It hasn't got one overarching concept, it is a mix,' he said, and there are certainly complex ideas at play.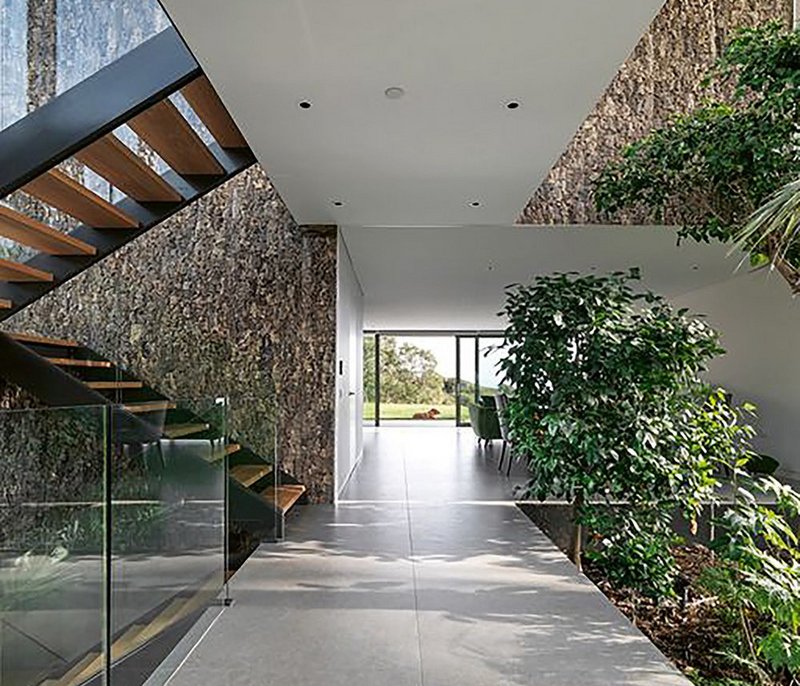 Loyn & Co Architects' contemporary Swansea House incorporated a three-story atrium filled with vegetation.

Credit: Charles Hosea
The outré home has garnered considerable press attention – rightly so considering its intricate references. In a nod to Soane, offcuts from a local plasterworks – cornicing, ceiling roses and so on – decorate the living room walls. 'Does putting something on a wall give it value?' Barnes wonders.
Structural columns in the kitchen hold a dialogue with trees in the garden and are painted as surveyor's ranging poles. The billboard-mountain at the back of the house is a riff off an archive photograph of a reproduction Matterhorn being built over a steel frame, an exploration of a paradox whereby something immensely heavy is improbably supported by something light. The wall of the dining room is conceived as a cave, textured with concrete. The rippled surface of the dining room table resembles a lake, and the work surfaces – made from recycled plastic from chopping boards and milk bottle tops – complements these landscape elements with an overt marble look. A compressed steel fire surround has been moved to an implausible location in a nod to surrealism and Le Corbusier, while trusses in the extension reference the Hopkins' House.
Barnes' commitment to minimal wastage is enshrined in mosaic lettering on the kitchen stairs: 'Waste not want not' – his grandmother's motto, also appearing on a plate by Augustus Pugin. The original back wall has been left in a state of decomposition, framed with columns that reference the acrow props in the background of a scene from Trainspotting. Soane's drawings often showed scaffolding or buildings in their eventual ruined state. 'How do you know if a building is finished?' Barnes muses. Indeed, most architects' homes never are.
This webinar was produced in association with Maxlight, Paint & Paper Library, Tile of Spain