Even Covid and the Afghan crisis are eclipsed by global warming – but how much international co-operation can we realistically hope for at October's UN summit? Plus picks from the PiP postbag
The disastrous, if foreseeable, turn of events in Afghanistan have only added to this pretty febrile summer. For sure, there was the rank confusion surrounding the opening up of the UK's economy with a global pandemic still very much with us; but all that took a back seat to more headline-grabbing news on the world's climate. It's official: US scientists confirmed that last July was the hottest July since records began there 142 years ago, with global temperatures reportedly averaging 0.9°C hotter than the 20th century mean of 15.8°C.
But it wasn't just stateside wildfires that had us transfixed. With the highest European temperature so far of 48.8°C recorded in Syracuse, Sicily, fires ripped through Turkey, Greece and Spain too, destroying both lives and livelihoods. Of course, the UK may have watched the events with a certain detachment. With Covid travel policy changing almost daily and the only planes operating at capacity the ones leaving Kabul, Brits were left to holiday at home in jumpers and wellies, facing August's cold fronts and biblical levels of rainfall. But we should all be flying less anyway, right? So perhaps the rubbish weather here is just a case of our carbon chickens well and truly coming home to roost.
So it can only be with anticipation that we await the upcoming UN Climate Change Conference, COP26, to be held in Glasgow from the end of October, where we might hope to see evidenced some of the levels of international co-operation that have been so sorely lacking in the past 18 months. For in a society divested of a plan and engaged in knee-jerk policy-making, our hopes are – arguably – as probable as anything else.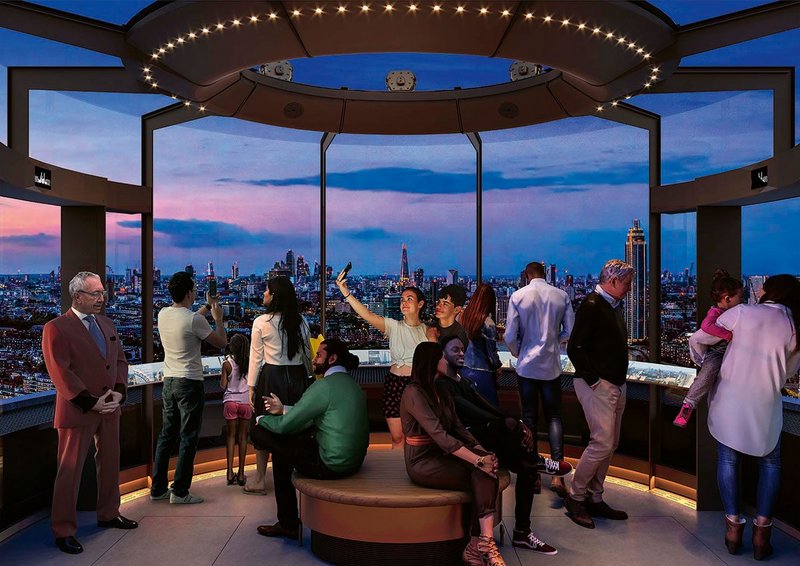 CHIM-CHIMINEY
Our appetite for 'urban experiences' knows no end. It began with the London Eye (even though the 'down' bit at the end offers little more than catching the look on your face the camera as you're bursting for the loo); and the less said of Westminster's Marble Arch Mound the better. So it's with some reserve that we await the 2022 opening of IMG's 109m high Battersea Power Station 'Chimney Lift', offering 30 people at a time 'breathtaking, 360˚ panoramic views' of the city. Probably not unlike those afforded to poor 12-year-old sweep George Brewster RIP, the last unfortunate to get run up a chimney in 1875; though at least he didn't fork out for the privilege.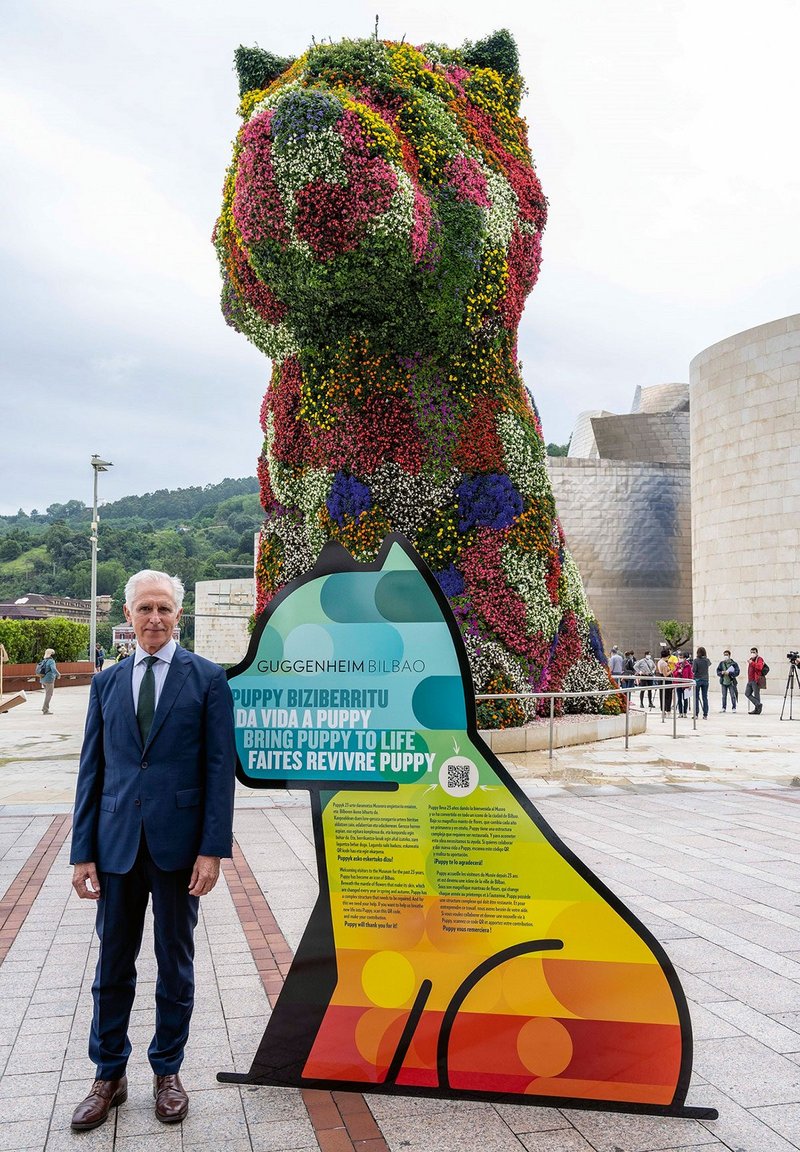 Credit: Guggenheim Bibao
MAKE PUPPY BEG
Last month Guggenheim Museum Bilbao launched a crowdfunding campaign to raise funds to restore the inside of Jeff Koons' 12m high floral sculpture, 'Puppy', which sits outside its main entrance. Turns out upgrading its steel skeleton, internal watering system and geotextile fabric will cost around €100,000, to make it fit for the future. Now, outside any national collection of art, the general public probably wouldn't bat an eyelid at being asked to stump up for an acquisition, but since its Wiki citation puts the collective worth of the Guggenheim assets at around $US250bn, could its directors be, ahem, barking up the wrong tree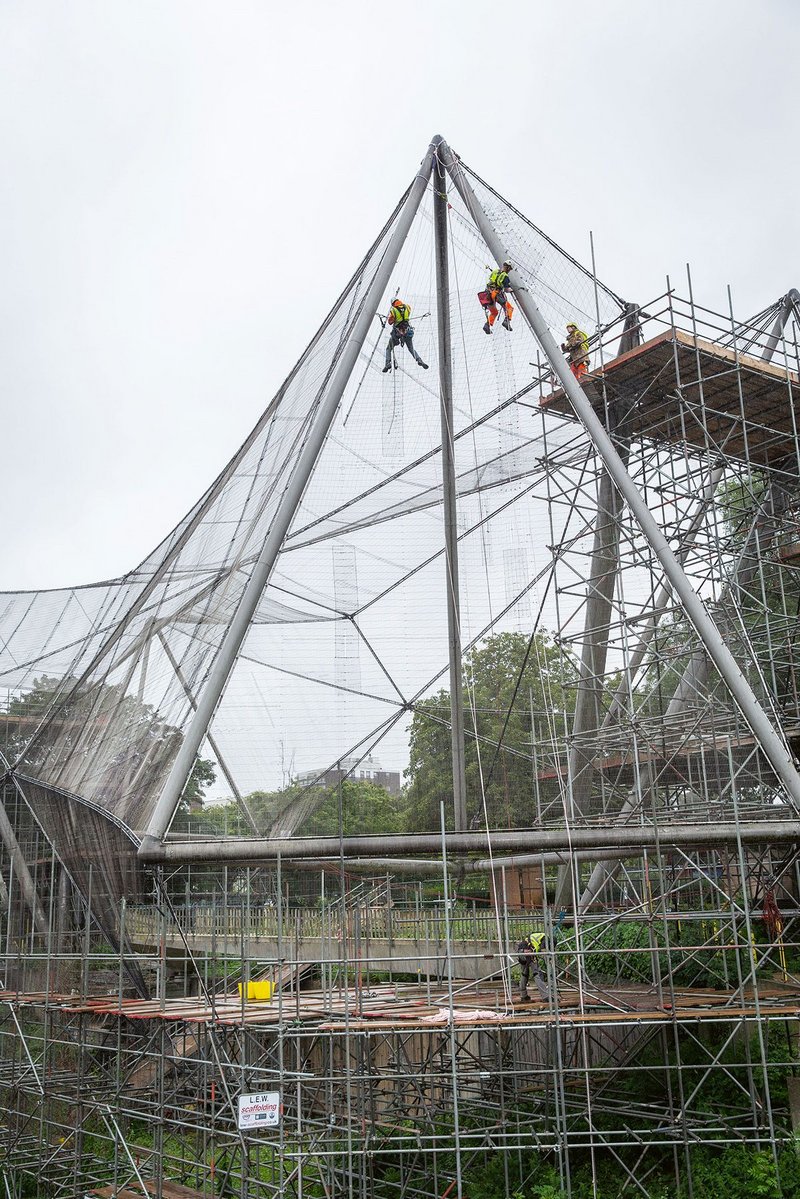 Credit: ZSL London
'HOW MUCH DOES YOUR BUILDING WHOOP, MR FOSTER?'
As urban zoos globally reinvent themselves as humane and relevant, at London Cedric Price's grade II-listed, 1965 Snowdon Aviary is being stripped of its 3800m2 of transparent metal mesh panels in a multi-million pound overhaul by Foster + Partners, to house the zoo's Colobus monkeys. As a result, its name will be changed to 'Monkey Valley'; a rebranding that would surely not have impressed one of modern architecture's most sharp-witted visionaries. In honour of Mr Price's quotable 'If technology is the answer' line, we take the liberty of appropriating Buckie's question to that above.