From Passivhaus, through modular housing, multi-generational living and community led self builds.
Catch up on the February 2021 PiP webinar on housing and residential developments. This event included a diverse selection of projects of various sizes, plus the author of Radical Housing, Caroline Dove.
Hear technical presentation from the event partners, Oscar Acoustics, VMZINC and Ibstock Brick
Evolving needs demand housing adopts many guises
With housing high on everyone's agenda, PiP's webinar gathered expert views on issues such as Passivhaus, modular housing, multi-generational living and community-led self builds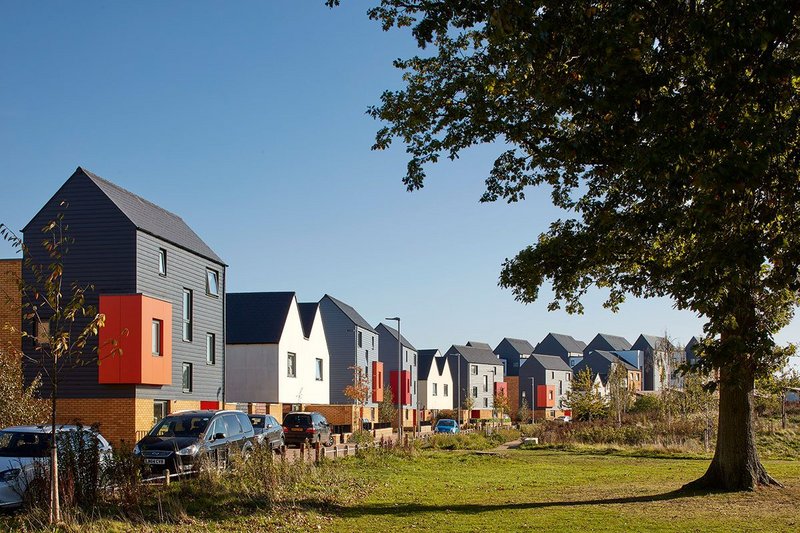 Wallis Fields by AHR. A 180-home, predominantly affordable scheme in Maidstone.

Credit: AHR
'As safe as houses' goes the idiom, and, as if to prove it, the architecture profession can thank the housing sector for offering a safe haven in the coronavirus storm. With a buoyant outcome in the latest RIBA Future Trends survey and a marked increase in demand for RIBA contracts, (suggesting that architects are securing work in this sector consistently) the future of housing looks promising in an otherwise bleak market.
PiP's webinar showcased a wide range of projects and featured key architects in the field.
The speakers' diverse housing experience ranged from small-scale projects of 10 units, to larger developments of 200 and over; their talks were illustrated with case studies detailing collaborations with developers, clients and communities in pursuit of new housing models. Caroline Dove kicked off proceedings with an introduction to Radical Housing, her timely study of multi-generational housing solutions. The book's premise is all the more pertinent today, with the make-up, location and physical set-up of households hugely influencing people's experience of the pandemic lockdown.
'It is the nuclear family that is the recent phenomenon', argued Dove, and a fixation on accommodating small family units to the exclusion of other permutations results in unaffordability for young adults and isolation for the elderly.
Dove elaborated on three typologies: multi-generational family homes (purpose built or adapted homes); multi-generational communities; and co-living communities. Each has the potential to offer alternative ways of living which combat loneliness, provide independence, foster community, improve access, affordability and sustainability, and promote physical and mental wellbeing. Feedback from residents of several collective and community-led schemes (Hanham Hall by HTA and Mole Architects' Marmalade Lane in Cambridge, for instance) revealed how the sociability of multi-generational co-living arrangements helped people 'not only survive but thrive' in dire circumstances.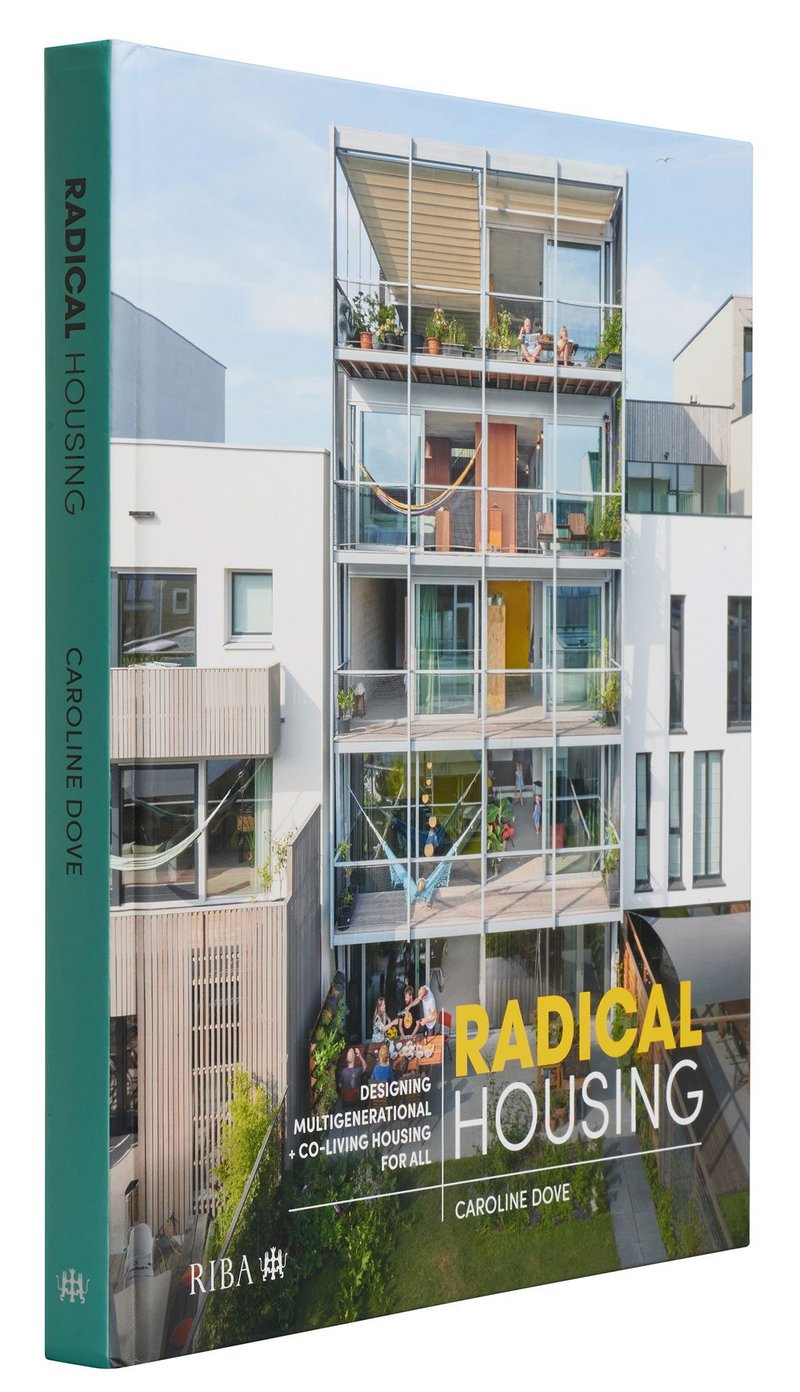 The cover of Caroline Dove's Radical Housing: Designing multi-generational and co-living housing for all.

Credit: RIBA Publishing
Moving on to the specific lockdown challenge of home working, Ben Hancock of Oscar Acoustics – experts in acoustic enclosures and sprays and soundproofing products – explained the principles of acoustics and vibration, and introduced Iso-Mount, a new isolating mount/acoustic floating ceiling. Crucially, this reduces impact vibrations without any need to access the floor above. Over the last year, the firm's enquiry rate for home soundproofing 'went through the roof', he quipped, with people increasingly (and understandably) intolerant of disturbance.
Matt Bridgestock of John Gilbert Architects discussed Passivhoos, a design-and-build initiative which applies international Passivhaus standards to social housing in Scotland. The scheme, shortlisted in this year's RIBAJ MacEwen Award, aims to encourage energy efficiency and reduce fuel poverty, both urban and rural. Successful contributing factors include a knowledge transfer partnership (through Innovate UK), an R&D programme and dedicated supply chains.
Back down south, Kristofer Adelaide presented a new nine-unit infill scheme in Hanwell. The stepped scheme, which draws inspiration from Shepherdess Walk, sits on a narrow plot neighbouring a convent and listed churchyard. Adelaide detailed his material choices, in particular the light-coloured bricks and mortar essential for making the large volumes unobtrusive. He also introduced the AFRO concept – Architecture for the Reasonably Ordinary – KA–A's modular building concept shortlisted for Croydon developer Brick by Brick's 'Housing for a better world' competition 2020. In building a community, 'the front door should always be equal', he states.
VMZinc's Jonathan Lowy's presentation took us further afield – from 'Parisienne Boulevards to Shipyards on the Tyne' – tracing the journey of zinc: its material versatility is the key to its suitability in such diverse contexts. Lowy showcased several particular residential projects, including House Lessans by McGonigle McGrath (RIBA House of the Year 2019) – which made extensive use of pre-patinated quartz zinc cladding, and Bell Phillips Architects' housing scheme for older people in Greenwich – which uses zinc in its distinctive butterfly roofing.
From the rooftops of Paris to Yorkshire: next Deramore Hutchcroft discussed the process behind AKA community's sustainable, self-build scheme at Laureates Place, Saddleworth. The hamlet's inhabitants had been strangers to one another when the project began in 2014; working with landowners and the local council, the group acquired land and gained input into the design and management of their homes, leading to a thriving community.
Bricks and mortar are synonymous with housing, and Ibstock has been a leader in brick manufacture since the Industrial Revolution. Drawing on the company's rich past, Irina Hughes and Robert Saunders laid down the history of the use of this ubiquitous material from Victorian times to the present, taking in functionalism, minimalism and postmodernism en route. The evolution of the brick soffit, self-supporting brick arches, steel-backed systems and the material's fire safety credentials were discussed in reference to today's requirements.
Rounding off, David de Sousa told us about the Wallis Fields Regeneration – a site of 180 homes in Maidstone, 90% of which are for affordable rent, which replaced a deprived estate. The new development is the result of working alongside tenants and studying local vernacular. Using modern principles of good urban design, the streets were reclaimed for pedestrians and cyclists, while the homes themselves reference those of Kentish coastal towns, with the pitch of the roofs and characteristic weatherboard cladding. At the heart of the new development, a health centre and café provide amenities for residents. Surveillance has improved, crime has reduced and, in the words of one tenant, nowadays 'you always get a good morning'. This altogether lovelier environment – alongside the other projects discussed in this webinar – is testimony to residential architecture done right.
---
Watch this webinar: ribaj.com/pipresiwebinar

Find out more from our partners
www.oscar-acoustics.co.uk
www.vmzinc.co.uk/
www.ibstockbrick.co.uk