Speed of construction, sustainability and flexibility head the considerations for designers and suppliers to the transport, infrastructure and warehouse sector, reports Michèle Woodger
'If the architecture of the great train termini defined the 19th century, perhaps it was Umberto Bocconi's Futurist manifesto, exalting with benzoic headiness the prophetic hegemony of the automobile, that proved to be their swan song', began PiP editor Jan Carlos Kucharek. Yet the first project introduces the possibility that railway architecture could once again, and soon, return as an exemplar of good design with civic value.
Network Rail wants to replace the UK's aging infrastructure with elegant, recognisable and coherent stations. Principal architect Frank Anatole introduces HubStation, a benchmark concept for a small-medium station that integrates sustainability goals – such as becoming carbon neutral by 2050 – with a strategic ambition to promote community empowerment and connectivity.
HubStation embodies an ethos that builds only what is needed, makes it adaptable, reusable and accessible and gives back to the public realm. The project started four years ago with numerous stakeholder consultations, including the RIBA competition Rethinking Small Stations. 7N Architects was chosen for its open, clean and simple concept – a kit of predominantly CLT modular parts that, thanks to a PV canopy, is sustainable, configurable to different scales, easy to install and cost effective.
HubStation has great potential. 'We are trying to create a benchmark design for stations that are fit for the future,' says Anatole. 'It is vital to invest in social and green infrastructure. It will aid in the recovery from our current instability.'
While HubStation is notable for its use of timber, most industrial and transport settings still rely on concrete and steel, whose hard surfaces often reverberate and make an indoor acoustics uncomfortable. Ben Hancock of Oscar Acoustics – specialist in spray applied architectural acoustic treatments – presented Loud and Clear: the dangers of noise in industrial spaces, which alerted us to the HSE implications of bad noise attenuation. Such environments make for stressful workplaces, particularly for those with a hearing impairment, leading to negative health outcomes.
Acoustic sprays, however, can be applied easily and affordably to nearly every finish, bringing relative peace to the sonic battleground that is an industrial warehouse. SonaSpray, made from recycled paper, is the only acoustic spray that us safe ti use over cementitious fire sprays and allowed within 50mm of intumescent steel coatings.
Next, Hugo Braddick, associate director at Haworth Tompkins, introduced the Industria Centre in Barking, a new typology of a stacked industrial unit. A whole range of new industries now exist in our cities, including e-commerce logistics hubs, data centres, dark kitchens, urban farming, artisanal and wholesale food, EV fleet charging hubs and microbreweries. Industrial space is critical in delivering the services that make modern urban life possible. But how to optimise it?
Industria must demonstrate that a multi-level industrial estate can be viable. It spans two wings of light industrial units, stacked across three layers of deck, served by a helical vehicle ramp for vans and small vehicles. HGV deliveries arrive at ground floor and are moved up the building with a goods lift. Three cladding types on the building give interest and provide fire safety and insulation: on the ground floor is a panellised precast concrete facade system with an unexpected pebble appearance to add texture and interest; above this is a composite black metal-clad facade, with elegant tongue and grooved joints making it fast to install; on the deck-facing facades is a more playful coloured corrugated profile, again, slim and efficient.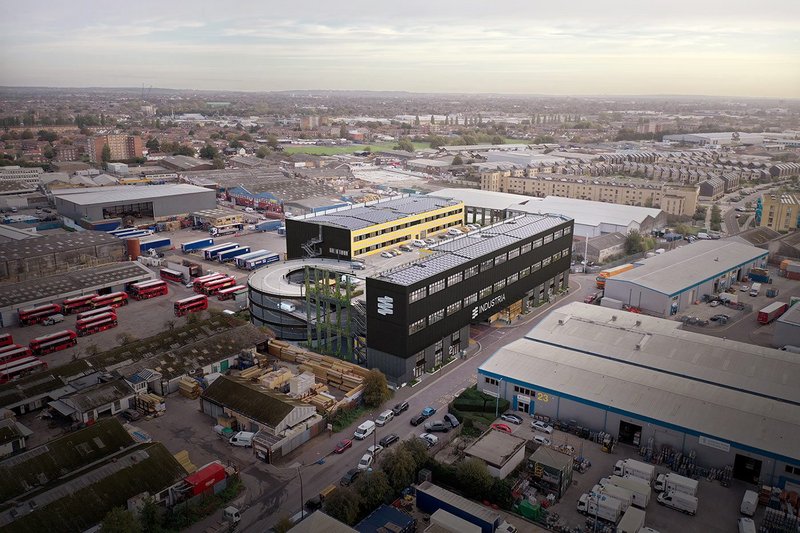 Industria, Barking.

Credit: Haworth Tompkins
Throughout, the intention was to create a high quality, flexible and long-lasting building. 'The building is a real stretch for the client in terms of viability and risk, and there is a great deal of scepticism in the industry to see if this will work,' explains Braddick. 'We are pushing the envelope very hard'. Despite extensive use of concrete and steel (necessary due to the loadbearing requirements) Industria is achieving BREEAM Excellent, a positive start.
Many industrial and transportation buildings require speedy construction, since downtime means less traffic and less income. Tim Boarer, head of specification at Mapei, illustrates the range of product types his company supplies for fast-tracked projects. Briskly walking us through different scenarios (station concourses, corridors, industrial units and underground tube platforms), Boarer unpeels layer by layer the materials making up a durable and sustainable system: separating membranes, fast drying screeds, high strength tile adhesives, abrasion resistant tile grout, sub floor preparations, primers, sealants, reinforcing meshes and epoxy resins. Think of these hard-working yet hidden materials next time you travel through Birmingham New Street, Bond Street or London Victoria.
From underground tunnels to canal-side footbridges, Ezra Groskin, director at Moxon Architects, unveils Esperance Bridge at Coal Drops Yard, Kings Cross. Because of its proximity to other bridges – including Moxon's Somers Town Bridge further along the Regent's Canal – Esperance 'needed to punch above its weight', explains Groskin. 'It is not just connecting A to B, but it is increasing porosity over the canal and providing more options to people moving through the site, through the arcade of shops and restaurants – and anticipating the high density housing to the north'.
Kings' Cross was historically a very well connected area with the rail network and Regent's Canal making it the perfect site for industry and transport. Yet as that died off during the 20th century, the divide created by the rail corridors and body of water made the site hard to redevelop. The ongoing development reconciles and celebrates much of this post-industrial heritage and Esperance bridge is another attempt to integrate people into the urban environment, while celebrating the historic landscape; Camden in fact pushed to make the bridge narrower to be more comfortable at the pedestrian scale.
'Rather than a singular gesture, the end result was about repeated elements and making the most of a highly crafted system of units,' says Groskin. 'That idea of homing in on elements, and the craft and finish, sit well within the historic context.' The bridge, with its flamboyant red colour, completes the urban theatre by forming a side balcony to the gap steps leading down to the canal. Despite its use of steel, the carbon assessment achieves 'B'. The bridge succeeds in making a bold statement while offering intimacy for the pedestrian within a varied and multi-layered urban setting.
Finally, placing pedestrians front and centre may not seem the primary goal for a car parking system. However, Andrew Smith, managing director of WÖHR Parking Systems, discussed how automated parking systems can achieve this very aim by reducing the space required to house cars and creating efficient means to store them away, thereby improving pedestrian experiences.
'The space that cars take is a big problem' Smith explained. 'To give people back the urban realm, and make space for human beings, we need to be cleverer about how we use the car and make our transport nodes more efficient'. Changing markets and greater sustainability awareness have driven WÖHR to develop ever more space- and energy-saving systems. Compared to a conventional carpark, an automated system can bring a 52% saving in materials and resources. Integrating fobs and cameras with the security systems of buildings can make them seamless and stress free. Positively, the company also now provides large scale automated bicycle storage in response to ever-growing demand. This surely indicates the future direction of travel.

Hugo Braddick
Associate director
Haworth Tompkins
Hugo leads the industrial intensification team with Graham Haworth at Haworth Tompkins and is currently working on two major innovative, multi-level industrial schemes at Albert Island in the Royal Docks, and Industria in Barking. He has recently been invited to join the NLA Expert Panel on Industrial & Logistics. Hugo has over 20 years experience delivering large, design-led construction projects on challenging urban sites, across a wide range of sectors and clients. Prior to joining Haworth Tompkins in 2017, he was a director for six years at MeadowcroftGriffin Architects, focusing on education and community infrastructure projects for Local Authority clients. Subsequently he was a partner for four years at Frame Property, a start-up development, design and construction company, specialising in residential-led developments in South-East London.

Ben Hancock
Managing director,
Oscar Acoustics
With a design background, an eye for detail and extensive product knowledge, Ben has assisted architects and contractors in bringing acoustic concepts and designs to fruition, whilst building lasting relationships. Past projects include Warner Bros Film Studios & Harry Potter Studio Tour, Blavatnik School of Government, Hampton Court Palace, Tate Modern, Britain & St. Ives.

Jan-Carlos Kucharek
Deputy editor RIBAJ & editor of PIP
Jan-Carlos is an architectural journalist and registered architect. He studied his part 1 at Canterbury College of Art and his architecture diploma at The Bartlett (UCL) and worked for five years at Foster + Partners. He took a part time role at the RIBAJ in 2004 and continued working freelance at Marks Barfield, Hudson Featherstone, David Morley and Fourthspace architects. He became editor of Products in Practice (PiP) in 2013 and deputy editor of RIBAJ in 2021.
Andrew Smith
Managing​ director
WOHR Parking Systems
Having, gained an HND in mechanical and production engineering, Andrew worked for a number of years with Mannesmann Demag, supplying industrial cranes and high bay automated warehouse systems. Then in 1993, together with a business partner, he formed the UK subsidiary for Wohr Multiparking Germany, which in 1995 became an independent UK company 'Wohr Parking Systems'. Since then, Andrew has helped shape and develop the whole concept mechanical and automatic parking systems in the UK. He works closely with architects and developers on a daily basis, to understand their issues and requirements and develop solutions that meet their cost and performance needs. His experience and expertise are second to none in the UK, a fact which countless architects who have worked with him over the years will happily confirm.