Tuesday 25th April 2023, 9 am – 11am
Join us for this RIBA Journal PiP Architecture for Schools and Education Buildings Webinar.
We will cover the latest products and materials and explore how collaboration between architects, consultants and manufacturers are helping create better designed, inspiring, sustainable and future-proof schools and education buildings.
Featured speakers include:
Dr Sharon Wright, senior associate, the-learning-crowd and Helen Taylor, director of practice, Scott Brownrigg who will deliver a RIBA Authors talk, sharing insights from their new book: Community Schools: Designing for sustainability, wellbeing and inclusion | RIBA Books.
Noel Cash, associate director and project architect, Henley Halebrown who will deliver a case study presentation on Neave Brown Award Winner, 2022, Hackney New Primary School and 333 Kingsland Road, designed as part of a housing scheme on a single tight urban site and challenging educational and environmental norms.
Mark Dawson, associate director, Reiach and Hall Architects who will deliver a case study presentation on RIBA National Award Winner, 2022, Forth Valley College - Falkirk Campus, designed to provide innovative learning spaces throughout and incorporating the latest teaching technology, the building is finished in a beautiful handmade brick.
Tim Allen-Booth, associate, Niall McLaughlin Architects who will deliver a case study presentation on Stirling Prize Winner, 2022, The New Library, Magdalene College, which echoes the gabled architecture of the College and houses a suite of interconnected, single, double and triple height rooms leading to a long, elongated gallery overlooking lawns and water.
Sponsored by: Oscar Acoustics and Kawneer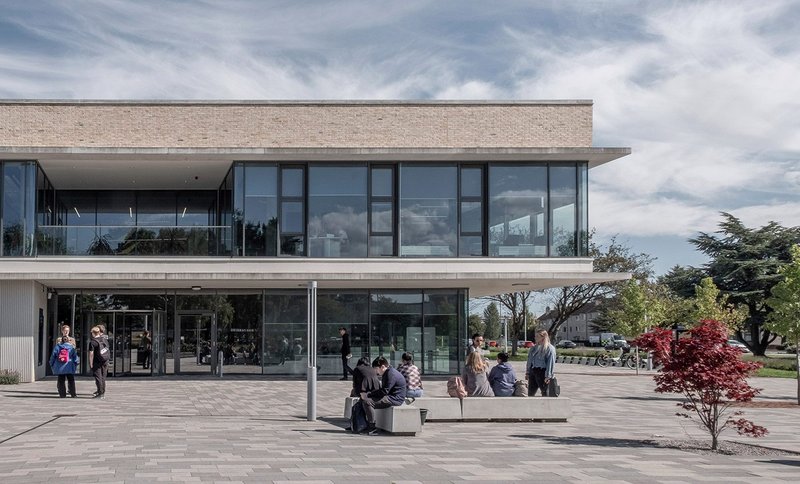 Credit: Tricia Malley & Ross Gillespie
Programme
Chair's opening remarks
Jan Carlos Kucharek, editor, PiP and deputy editor, RIBA J
RIBA Authors Talk: Community Schools: Designing for sustainability, wellbeing and inclusion | RIBA Books
Dr Sharon Wright, senior associate, the-learning-crowd and Helen Taylor, director of practice, Scott Brownrigg
The importance of acoustics in schools
Ben Hancock, managing director, Oscar Acoustics
Case study: Hackney New Primary School and 333 Kingsland Road
Noel Cash, associate director and project architect, Henley Halebrown
Case study: Forth Valley College - Falkirk Campus
Mark Dawson, associate director, Reiach and Hall Architects
Façades: Optimise Without Compromise
Gary Ledger, UK technical director, Kawneer
Case study: The New Library, Magdalene College
Tim Allen-Booth, associate, Niall McLaughlin Architects
Chair's closing remarks

Jan-Carlos Kucharek
Deputy editor RIBAJ & editor of PIP
Jan-Carlos Kucharek is an architectural journalist and registered architect. He studied his part 1 at Canterbury College of Art and his architecture diploma at The Bartlett (UCL), and worked for five years at Foster + Partners. He took a part time role at the RIBA Journal in 2004 and continued working freelance at Marks Barfield, Hudson Featherstone, David Morley and Fourthspace architects. He became editor of Products in Practice (PiP) in 2013 and deputy editor of RIBA Journal in 2021.

Ben Hancock
Managing director
Oscar Acoustics
With a design background, an eye for detail and extensive product knowledge, Ben has assisted architects and contractors in bringing acoustic concepts and designs to fruition, whilst building lasting relationships. Past projects include Warner Bros Film Studios & Harry Potter Studio Tour, Blavatnik School of Government, Hampton Court Palace, Tate Modern, Britain & St. Ives.

Helen Taylor
Director of Practice
Scott Brownrigg
Helen is a chartered architect and RIBA client advisor, director at international design practice Scott Brownrigg, and fellow of the RIBA. She has worked in education design for more than 20 years – particularly early years, primary, secondary and special schools, further education and technical colleges – and loves engaging young people in the built environment. She has long been passionate about sustainability, inclusion, health and wellbeing and has taken a leading role in a number of collaborative projects with the RIBA, the Department for Education (DfE), schools of architecture and other organisations to drive design standards and communicate the importance of education spaces as critical social infrastructure that can bring communities together. She frequently shares practice research through Scott Brownrigg's Design Research Unit publication 'iA', and other recent publications, including the DfE's 'Further Education Sustainable Estates Guidance'. She is currently leading development of the DfE's Design Code for Schools and Colleges. She is also a proud mum of two amazing children.

Sharon Wright
Senior associate
the-learning-crowd
Sharon has spent the past 20 years working with education leaders, architects and contractors to create the best possible learning environments on a wide range of education capital projects nationally and internationally. She has particular expertise in creating the vision and design brief for new projects, and in engaging users in the process to build ownership and ensure their needs are understood. She often acts as an internal client to design teams, supporting design development and advising on how to get the best outcomes for future users. With a background in education policy and organisational development, Sharon is a Doctor in Education from King's College London, with a research interest in the history and policy context of community schools. She is a Fellow of the RSA, a Fellow and UK Executive Committee Member of the British American Project, an RIBA Affiliate Member and on the Board of Bees United, the Brentford Football Club Supporters Trust.
Helen and Sharon have worked and collaborated together for many years and were awarded AJ Collaboration of the Year for their previous jointly edited RIBA publication Urban Schools: Designing for High Density.

Mark Dawson
Associate director
Reiach and Hall Architects
Mark joined Reiach and Hall in 2004 and has worked on a number of award winning buildings across a variety of sectors - education, healthcare, research and residential. Recent projects include the design and delivery of 3 campus buildings for Forth Valley College, including the new campus headquarters at Falkirk. All 3 buildings were nominated for the RIAS Doolan Award, with the Falkirk campus being shortlisted for the 2022 Stirling Prize. Mark has a keen interest in environmental design and was recently awarded an MSc in Advanced Sustainable Design and is also a Certified Passivhaus Designer.

Gary Ledger
UK Technical director
Kawneer
Gary Ledger is the UK Technical Director for Kawneer UK and leads the development of high-performance aluminium facade products. Gary is an expert in designing and engineering innovative façade solutions that meet the demands of modern architecture. Gary's role involves overseeing the technical aspects of product development, working closely with engineers and architects to ensure our products offer performance, functionality, and exceptional aesthetics. He and his team have helped Kawneer to create several market leading products that feature in some of the UK's most iconic buildings, through their dedication to pushing the boundaries of façade design.

Tim Allen-Booth
Associate
Niall McLaughlin Architects
Tim is an associate at Niall McLaughlin Architects with 25 years of experience in architecture. Since joining the practice in 2006, he has led many of our major higher education and cultural projects. Tim is also involved in the practice's legal and risk management working groups. Prior to joining the practice, Tim worked as a project architect at Avanti Architects on healthcare and education projects, and for Development Workshop in Kosovo on a post-war housing reconstruction programme. Tim studied architecture at Nottingham and London Metropolitan University and completed his Part III studies, gaining a distinction in 2002.
Noel Cash
Associate director and project architect
Henley Halebrown
Noel Cash graduated from The Dublin School of Architecture, DIT in 2006 and completed his RIBA Part 3 at The University of Westminster, London in 2010. Since graduating, Noel has worked at Murray O'Laoire Architects in Dublin and Walter Menteth Architects in London. Working predominantly on urban master-planning schemes at the former and award winning social housing schemes at the latter. Since joining Henley Halebrown in 2007, Noel has worked on a range of educational, leisure, and healthcare projects. One of his most notable achievements is his work on Hackney New Primary School/333 Kingsland Road, a Stirling Prize finalist last year. Noel is currently working on a range of large scale mixed-use residential led social housing schemes across a number of London boroughs, forming part of large urban estate regeneration programmes, and incorporating PassiveHaus design. Noel is member of the LB Hackney, LB Harrow and RB Greenwich Design Review Panels. Noel is a lecturer in Architecture with over 10years+ experience, teaching at Kingston University since 2013 where he co-ran a final year degree design studio 'Typology and Topography.' He has also taught at The Oxford School of Architecture of Oxford Brookes, teaching in both Diploma and Degree level from 2010-2013. As part of his role as an Associate Director, Noel is responsible for coordinating the office's processes and its student mentoring scheme.