Architectural lighting provider Sylvania's award-winning Concord Pixer system offers a customisable, modular solution for an optimum working environment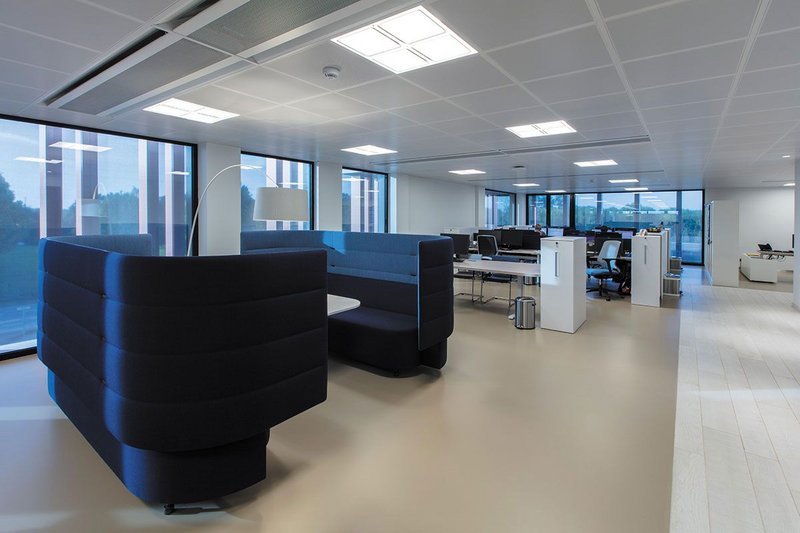 The Concord Pixer lighting system: 'The modern office is a valuable asset and it is important that business owners take advantage of every square metre of floor space to get the best return.'
Concord has launched Pixer, a smart office lighting range that offers high-performance, stylish optics in a modular design.
Concord Pixer can be laid out in 'pods' of squares or rectangles, in either a fully recessed or dropped setting. It features glare control to less than UGR19 in line with office lighting guidelines and an output of up to 4700 Lumens, with some versions achieving up to 150 lm/W. Pixer helps create an ambience that can improve workplace well-being, ideal for generating increased productivity.
The new range is DALI dimmable and offers SylSmart Connected Building functionality - an intelligent, de-centralised lighting control system. The system enables businesses to manage their lighting by making energy savings through granular control of each luminaire based on usage, presence and natural daylight. It can help to achieve less than 4W/m2 building energy consumption.
Pixer's modular architecture allows for quick customisation and flexibility in both design and control. The range is available in varying Lumen output levels and features three-hour emergency options as required. It also comes with SylSmart Standalone Office, which allows occupants to control lighting through an easy-to-use app, including automatic on/off functionality via sensors and scene setting for the optimum ambient working environment.
'The modern office is a valuable asset and it is important that business owners take advantage of every square metre of floor space to get the best return,' says Richard Turner, general manager at Sylvania's EMEA Specification Business Unit. 'By improving user comfort through better lighting, employee well-being and productivity levels will benefit too. Lighting, cooling and ventilation are responsible for more than 60 per cent of electricity use in office buildings, so energy-efficient, smart-controlled lighting solutions are a must.'
Concord Pixer was voted Luminaire of the Year at the 2018 Lux Awards, which recognises and celebrates those who have used lighting in exceptional ways to improve the lit environment, reduce energy consumption and help clients achieve their business objectives.
For more information and technical support, visit: sylvania-lighting.co.uk
Contact:
0800 440 2478
---