Can you build a block of apartments containing hardly any plastic? Green Square Accord Housing Association is doing that, but sometimes it's been a struggle to find the alternatives
The 12-bed apartment block features around 80% fewer plastics than the equivalent conventionally-built block
The UK's first 'virtually plastic-free' residential property is taking shape on a site in the West Midlands.
The block of 12 one-bed apartments for affordable rent, next to Redditch train station, is estimated to contain around 80% fewer plastic parts and components than the equivalent traditionally-built development.
The project is being designed and delivered by Green Square Accord Housing Association and part-funded by the EU's Interreg North-West Europe programme as part of the CHARM (Circular Housing Asset Renovation & Management) initiative involving social housing organisations from four different countries.
Efforts to eliminate plastics stemmed from a focus on waste minimisation and the realisation that single-use plastic packaging, of which construction is a major consumer, is not the only hazard to the environment and ecosystems.
Carl Taylor, assistant director of new business and growth at Green Square Accord, said: 'There's a myth that housing products have a long lifespan, but in reality the average kitchen is changed after eight years and typically includes a large amount of plastic. Bathrooms last about 22 years and windows and doors about 18 years.'
He added: 'We know that 80% of the plastic produced either ends up in landfill or being sold to third world countries where they often don't have the same standards in terms of how they treat plastic.'
All the electricity wiring in the property had its plastic insulation replaced by mineral insulation with a copper sheath. Plastic was removed from cavity wall insulation, the kitchens feature timber units and worktops and plastic was removed from bathroom units. Windows have aluminium frames and all plastic tiling and flooring was swapped out for environmentally friendly alternatives.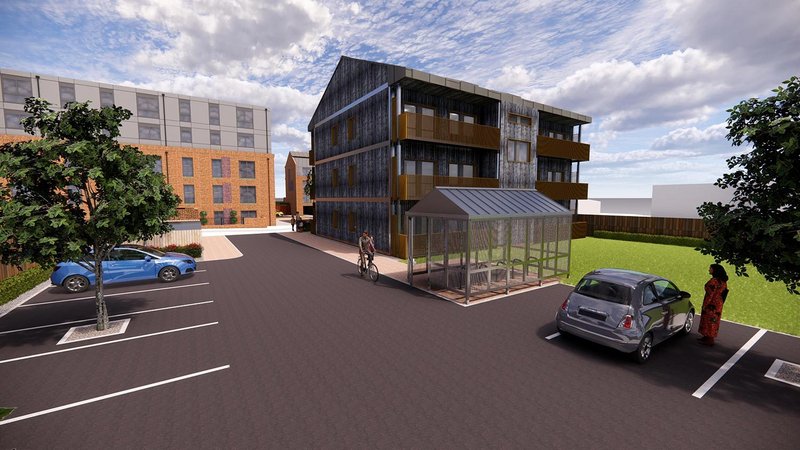 Designers went to great efforts to detail out plastic rather than simply replace a component with a non-plastic alternative
The internal heating system comprises copper pipes and metal radiators. The Mechanical, Ventilation and Heat Recovery system (MVHR) was modified to include metal ducts and a metal housing, rather than plastic. However the MVHR supplier was unable to replace plastic used for the internal switchgear. All paints are a mix of lime and graphene; fire doors are solid timber.
Sometimes alternative products could not be identified so designers were forced to specify plastics. These include intumescent strips used to seal off areas to stop smoke ingress and a plastic membrane that had to be installed underneath the building to protect residents against radon gas.
'We thought it would be really easy to find plastic-free insulation but in fact it was incredibly difficult. In previous zero carbon houses we used sheep's wool but we discovered that it had 20% plastic fibres in it,' said Taylor. The solution was to use expanded glass as a form of insulation.
On other occasions, warranty providers refused to accept alternatives to plastic products, even when designers tried to justify their choices. According to Taylor, Brexit-induced materials shortages make it more of a challenge to develop plastic-free homes efficiently.
'When one material runs out, the construction industry's answer to every problem is to turn to plastic,' explained Taylor. 'There has been a constant discussion about why that is not an acceptable route forward for us in this build.' The project is due for completion in April 2022.
Green Square Accord Housing Association was formed earlier this year through the merger of Oxfordshire-based Green Square Housing Association, and Accord Housing Association based in the West Midlands.