Architects at Curl la Tourelle Head have designed a lightweight low-cost structure, built from 2m-long timber cassettes, to help improve the lives of residents at the UK's refugee camps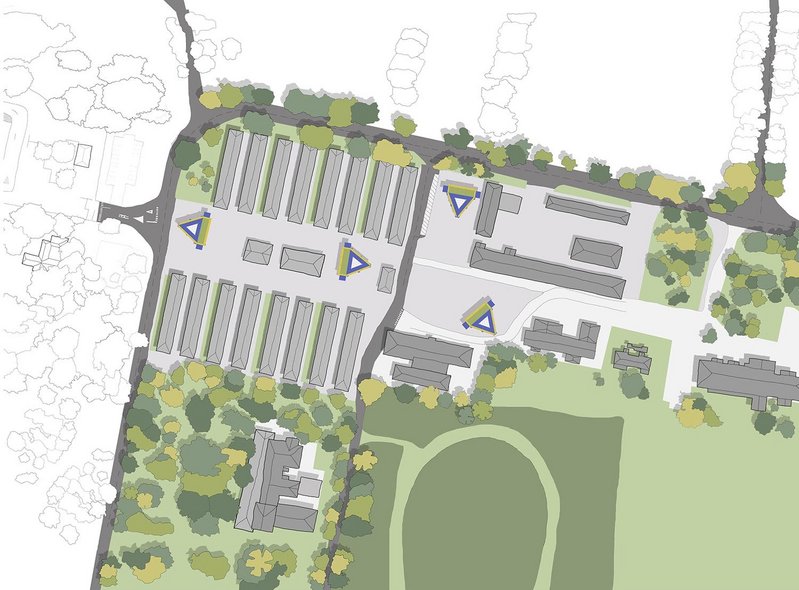 Plan of the Napier Barracks site in Folkestone including triangular-shaped pop-up structures.
A pop-up structure made with modules small enough to fit inside the back of a van is being proposed as a solution to substandard refugee accommodation in the UK.
Practice members at Curl la Tourelle Head Architecture developed the system of 2m-long fully-dismantleable timber cassettes as part of research looking at how to improve conditions for people living in camps, such as the one at Napier Barracks in Folkestone.
The lightweight low-cost structures would be dropped in and around existing accommodation and used for a variety of applications, such as a children's play area, social space, sanitary space, or fresh air ventilated learning environments. According to the practice, they are also suitable for use as post-Covid outdoor learning environments and emergency shelters.
Napier Barracks and Penally Camp in Pembrokeshire both witnessed protests over living conditions last year, and in April independent inspectors said both were 'run-down and unsuitable'. The research proposal was developed specifically for use at Napier, which the practice describes as 'woefully inadequate' in terms of space provision.
Practice director Wayne Head told RIBAJ: 'Seeing the conditions talked about in the news, we thought it was appalling, and wondered what we should be doing as architects and designers to assist. At the very least, dropping in something like this could make life decent and take away some of the pain from the situation of shared bathrooms and bunks and other awful conditions.'
The accommodation concept builds on learning from a previous Curl la Tourelle Head project where the practice designed a series of tent-like pop-up structures for schools across the country in response to the need for Covid-safe learning environments that maintain social distancing.
The new units, developed with input from an advisor in modern methods of construction, were designed to be small enough to be handled by a small team from the back of a transit van, rather than the conventional approach of transporting larger 4m-long volumetric modules on the back of a lorry, which can block traffic. Using vans to transport components is quicker and cuts transport-related carbon emissions.
The 'Ikea-like' kits would be configurable to meet different needs and include full fresh air ventilation through hoppers in the walls, says Head, with 'a big emphasis on fully daylit space without the need for artificial lighting, with the exception of winter evenings'.
The design embraces sustainable construction; the timber cassettes are filled with hempcrete, a bio-based carbon sequestering material, thermally efficient and fully dismantleable when no longer needed to eliminate waste to landfill. Manual handling saves on heavy site equipment and structures can be assembled quickly, using mixed teams of skilled site workers and untrained volunteers in case of an emergency.
The visual aesthetic, says Head, draws on playful shapes from architectural history. 'We wanted to make it attractive to those staying in poor conditions or interesting on a school site. The aesthetic is quite cheerful, almost Lego-like.'
The architect hopes the research will help drive the conversation around conditions in refugee centres. 'The Home Office haven't issued a tender, or asked what designers can do to address this, so perhaps this might trigger some thinking on their part,' he says.