Domus tiles feature strongly in the renaissance of Glasgow's Apex Hotel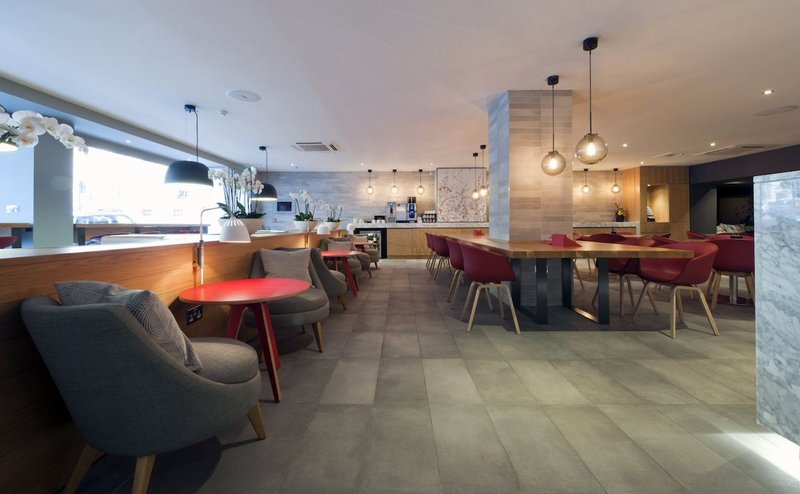 Café area
The Apex City of Glasgow Hotel is the ninth Apex Hotel to specify Domus tile and wood products in order to balance contemporary design with high performance characteristics. Maté (DFZT 04) in grey was specified for the floors and walls of the bars and café area. Made from porcelain, the collection brings together the two worlds of concrete and marble. These can either sit singly or together, contrasting or coordinating to offer a multitude of design possibilities.
The Burlington (DFZB 03) porcelain tile was installed on the foyer floor, chosen for its high slip-resistant surface and modern natural stone look. This porcelain replica offers a more reliable alternative to its natural counterpart: porcelain minimises the time-consuming maintenance tasks required by natural stone, such as sealing, periodic resealing and intensive cleaning.
The bedroom en-suites use a modern dark grey colour palette for the walls and floors with Conceptual (DMRC 03) and feature an innovative use of 800 x 800mm Floortech (DFTC 03) structured finish tiles to form minimal styled shower trays.
Completed in November 2015, the Apex City of Glasgow was by Edinburgh-based architect ISA and involved significant refurbishment and upgrade of an existing hotel following its purchase by Apex. In addition to its city centre location, it now offers guests contemporary comfort along with exceptional value.