The latest tile collection from Italian manufacturer Ceramiche Refin is DISTRICT. Inspired by modern urban architecture and reclaimed industrial buildings, District comprises three ranges: Garage, Road and Track.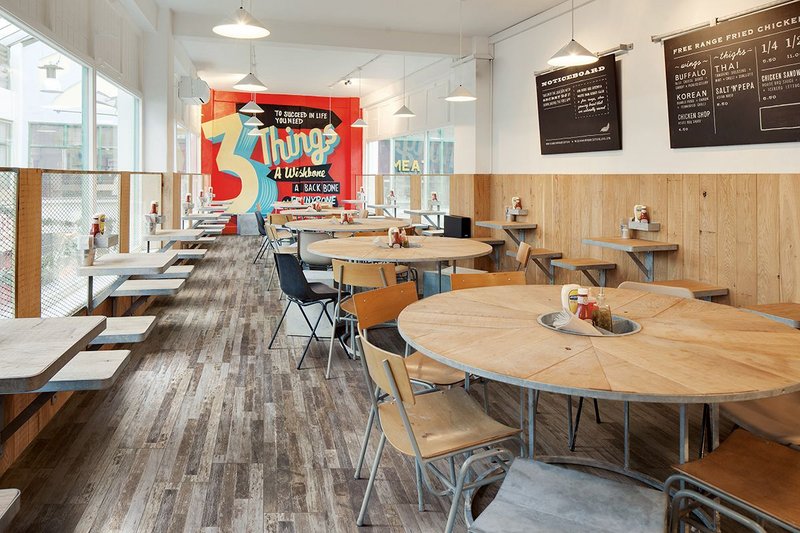 The porcelain tiles in the Garage range reference scratched painted metal surfaces and well-worn antique marble. The range of muted colours and large size tile formats of Garage make it suitable for a variety of commercial or residential applications. Road is, as its name suggests, is series of tiles resembling asphalt and tarmac. The black, grey and neutral tiles in this range can be accented with tiles featuring road markings. Additionally, Road 2.0 features 2cm thick tiles for outdoor use which are suitable for either traditional or raised installation. Track is a new addition to Refin's successful range of wood-effect ceramic tiles. Inspired by sports hall and velodrome interiors, these digitally-printed and textured tiles simulate aged-wood surfaces with incredible accuracy. Decorative tiles featuring worn paint markings and white painted bricks complement the Track range.
The porcelain tiles in the District collection are available in a variety of sizes, from large format 75x150cm slabs to 25x150cm planks, and are suitable for residential or commercial use.
Ceramiche Refin
With over 50 years of manufacturing under their belt Ceramiche Refin is one of the world leaders in ceramic tile production. Based near Bologna, the tile capital of the world, Refin produces over 6 million m2 of tiles per year. With their new state-of-the-art factory and a Milan showroom, they boast both a prodigious output in terms of design and manufacturing. Their in-house research and technical laboratory is constantly developing new products; advancing tile technology is a vital component in enhancing Refin's reputation as a leader in this field.
Porcelain tiles are vitrified and compact making them exceptionally resistant. Refin's ceramic tiles have many properties: durability, versatility, suitable for indoor/outdoor use, and available in thousands of colours and finishes. These tiles can be used in residential, hospitality or commercial projects and are frequently seen in public spaces.
Refin has introduced new sizes to their portfolio, including two new maxi-sizes: 75x75 cm (the largest size that can be installed by a single technician) and 75x150 cm. Using large format tiles reduces the number of grout lines, enhances the continuous effect of the surface and allows for different sub-cuts. Maxi-size tiles can also be used in ventilated facades.
www.refin-ceramic-tiles.com/series/district
UK Specification Consultant: Massimo Sferrazza
T: 020 3603 1884 / 07503 778938
Email: ukstudio@refin.it
---