Squeezed budgets are torn between demand for better fire safety measures and improving energy efficiency in tower blocks. But that needn't be the case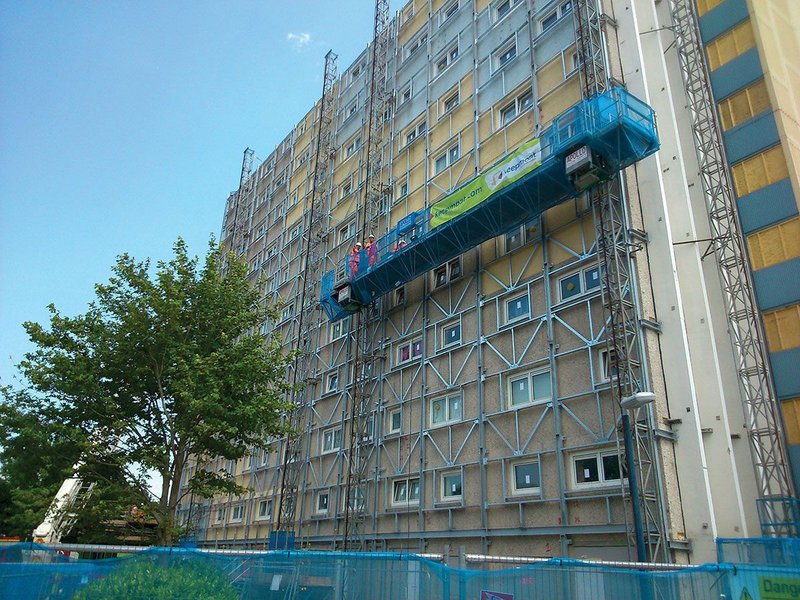 Wilmcote House mid-upgrade. A lightweight insulated frame encloses previously open corridors.
In the aftermath of the Grenfell Tower fire, Hammersmith & Fulham Council announced a £20 million fire safety programme for its high rise homes, which included installing sprinklers in blocks of six storeys and more. The council is just one of many tower block owners to react swiftly to the tragic events. While providing an immediate response and reassurance for tower block residents, bigger questions about the causes and consequences of the fire have yet to be addressed by the Grenfell Tower Inquiry, chaired by Sir Martin Moore-Bick.
The industry is also looking to Dame Judith Hackitt's review of building regulations and fire safety to provide guidance on the way ahead.
It is PIR insulation that has come under the most intense scrutiny. 'Post Grenfell, there was a huge amount of hurt and confusion, and it is still a difficult time for residents. But the industry is settling down to a more considered approach. PIR should still be the first choice in a lot of applications,' says Simon Storer, chief executive of the Insulation Manufacturers Association (IMA).
Data moved on
In its submission to the Hackitt review, the RIBA is calling for the external walls of buildings of more than 18m high to be constructed of non-combustible materials. This view, shared by others in the industry, is being challenged by Kingspan Insulation. 'That's one solution, but in most facades it would be impossible to do in its entirety,' says John Garbutt, the company's marketing director. 'You might be able to do it with insulation and cladding, but you could struggle with other components, like sealants. Also, large-scale system testing has indicated that their performance with some insulation materials deemed "combustible" can be very similar to ones containing those deemed "non-combustible", so that approach could reduce design options for architects.'
The company is also campaigning for reform of the desktop study process, which demonstrates whether a cladding design complies with building regulations to take on board data from small/intermediate whole system testing. Alongside government-initiated large scale cladding tests, carried out by BRE, it commissioned fire laboratory Effectis to carry out intermediate scale system testing at Ulster University. 'We wanted to assess the value of smaller scale testing,' explains Garbutt. Its nine tests returned very similar results to the government's large scale tests, indicating, he adds, that smaller/intermediate scale testing could be effective in the desktop study process.
Kingspan's test regime raises questions about many aspects of regulation, says Garbutt, illustrating why system testing is needed. As a result, it is putting its case to the market in roadshows. 'We want to get our test data out to local authorities,' says Garbutt, 'because if you take current government advice at face value you could be taking down cladding systems that would pass the large scale fire test mandated by Approved Document B and replacing them with systems that could fail. It is important to tell people the test data has moved things on.'
All manufacturers are working to ensure that specifiers are as well informed as possible amid the confusion. Before the Grenfell fire, Recticel Insulation was upping its technical support for specifiers, both in the UK and globally. 'We wanted to ensure the right information goes to each specific marketplace,' says Kevin Bohea, the firm's commercial director. The company does not target the high rise market, although it works on a white label basis with partners in a range of applications. Like many in the industry, Bohea believes there is a need for much greater scrutiny of delivery: 'The key question is, how do we move forward to see how every part of the supply chain adheres to the specification and installation?'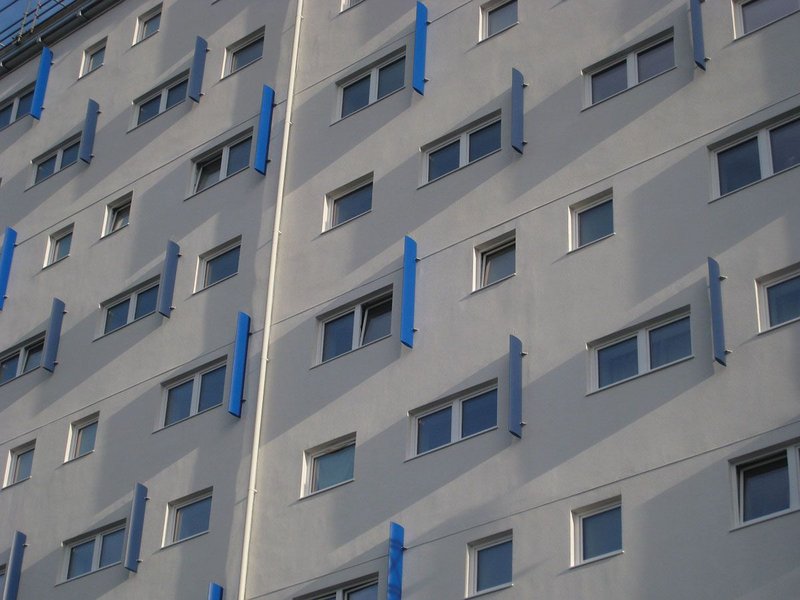 EDC Architects' and SBD's completed Wilmcote House.
Clear responsibility
To answer that, the industry may not have to look far. Lessons from overseas and the days when the clerk of works and architect had project oversight are being highlighted as it plots a course for best practice in high-rise refurbishment.
Energy consultant Peter Rickaby says there are already working examples, such as Ireland's requirement for two building professionals to sign off a project, which has brought clear responsibility to a poorly controlled system. Rickaby is co-author of a forthcoming report for non-profit group the Energy and Climate Intelligence Unit, which is looking at global regulation and practice to inform Sir Martin Moore-Bick's review. That research has identified a spectrum of regulatory approaches, ranging from Germany's extremely prescriptive route to Sweden's performance based thinking, which relies on fire safety engineering. But the approach to certification and inspection is more consistent, says Rickaby: 'Very few countries allow self-certification, and a lot say they have independent inspection.'
He sees lessons from global good practice in low carbon refurbishment, such as the EnerPHit approach which requires design oversight in projects to deliver the Passivhaus standard, but caveats: 'It would be hard to replicate that at volume through the UK industry, but it could provide a model.'
Grenfell also puts the spotlight on Each Home Counts, a report published last year. Led by BRE group chief executive Peter Bonfield, the independent review looked at consumer advice, protection, standards and enforcement for home energy efficiency and renewable energy, largely in the light of the failure of the government's Green Deal. Now an implementation board is working on follow-on measures. 'There are direct parallels between the processes and organisations we're trying to design and deploy and what's applicable in the post-Grenfell world,' says Peter Caplehorn, deputy chief executive and policy director of the Construction Products Association, who is leading on the building fabric and technology workstream for the Each Home Counts implementation board.
For example, one workstream is developing a framework of standards, including a new Publicly Accessible Specification 2035. 'This will be the overarching standard in the framework for domestic retrofit,' adds Rickaby, who co-leads the Each Home Counts standards workstream. Compliance with PAS 2035 is expected to be key to a quality mark, and it's all due to be in place by autumn 2018.
Lessons from overseas and the days when the clerk of works and architect had project oversight are being highlighted
A question of fire and energy
But while scrutiny following Grenfell may improve fire safety best practice in high rise homes, it may not help the drive to make them warmer and healthier to live in. 'Any money councils [have to] invest in towers will go to sprinklers before overcladding,' says Mark Elton, director of Cowan Eco Design. 'Although now is the time to be talking about concurrent works.'
Starved of political will, energy efficiency dropped down the agenda long before Grenfell. The cost of retrofitting high rise made it the Cinderella of refurbishment – although that makes it all the more important, argues John Pratley, associate of Gardner Stewart Architects, which is working on the EnerPHit Passivhaus retrofit of Wilmcote House in Portsmouth. 'Passivhaus certification [here] will improve 107 homes and living conditions for 400 residents, so you can see how standards could be pushed up and the impact and reach increased,' he says.
There are signs of a government rethink in the form of its Clean Growth Strategy, which looks to upgrade fuel-poor housing to Energy Performance Certificate level C by 2030. But that will have little impact on higher rise homes, says Elton. 'It's not hard to get to a C with these blocks, because they've only one or two external surfaces. But that's not dealing with the building. Tower blocks of the 1960s and 70s are often quite airtight, but poorly insulated. You find very cold surfaces, internal moisture, poor ventilation and mould growth. Some have internal risers for services or waste that have been messed with over the years, with the risk that fire compartmentation is breached.'
Overcladding is the answer to these issues – and those presented by blocks' ageing concrete structures, he says. 'We need a national investment programme that sees overcladding as an investment in terms of fire and energy.' But in an economic climate where tower block owners appear unable to secure government help to install sprinklers, that may be too big an ask.
The EnerPHit way
Retrofit of Portsmouth City Council's Wilmcote House is nearing completion after a lengthy process that has seen work carried out with some 400 residents in situ. The scheme involves three 11-storey Bison Reema precast concrete blocks connected by open walkways. Homes suffered numerous problems, including cold, mould, high heating and maintenance costs, and security issues arising from open decks. They were earmarked for a major heating system replacement, but the comprehensive EnerPHit retrofit means only a minor heating upgrade is needed. 'The council was fairly technically minded, so it was not a hard sell,' says Mark Elton, who worked on the early design at ECD Architects and SBD.
EnerPHit's Passivhaus approach has seen blocks overclad and balconies and walkways enclosed. Because it was not possible to increase loading on the blocks, the superinsulated exterior is effectively supported on a steel exoskeleton. Triple glazed windows and doors, and mechanical ventilation with heat recovery, have also been installed.
The original designer, ECD, has been retained by the client, with Gardner Stewart Architects as lead designer for the contractor team. Project manager Keegans has had its clerk of works on site during construction. 'We have had a very good dialogue with them and the original design team throughout,' says Gardner Stewart Architects associate John Pratley. 'This is very important when retrofitting an existing building of this size and complexity, and because of the very high standard of design performance and build quality required to achieve Passivhaus standard.'
The retrofit has extended the life of the social housing and improved living conditions, with an 80% reduction in energy bills expected. Monitoring of the homes is being undertaken by Southampton University and although this is in its early stages, is already showing positive results, says Pratley. 'Residents did not have to use heating last winter and a lot of the mould and condensation issues have gone.'