Made from a majority of natural fibres, Trespa's premium facade solution is designed for longevity, simplicity and aesthetic appeal - it performs technically too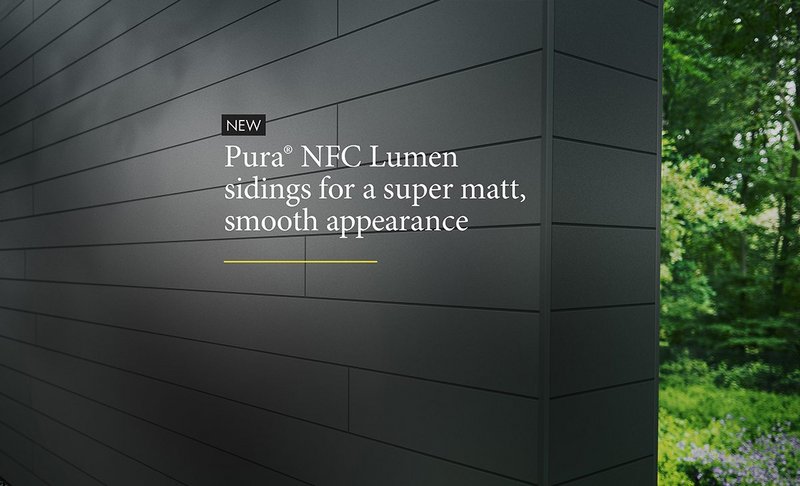 Pura NFC by Trespa adds two eye-catching Lumen decors for facades that stand out.
Pura NFC by Trespa is a premium facade solution that creates buildings with an enduring elegance by maintaining its beauty and smooth surface, no matter what the climatic conditions. It is designed to be as durable as a diamond, low maintenance and easily installed.
'NFC' stands for natural fibre core. The high-pressure Pura laminate is made of up to 70 per cent natural fibres, which go through an advanced in-house developed manufacturing process. Its closed surface minimises dirt build-up and makes the siding easy to clean.
The complete solution includes installation clips, colour-matched profiles and fasteners. The tailored collection comes with everything needed to create an evenly hued facade. The rich palette of the portfolio of Pura NFC Wood Decors has options to suit many architectural styles. Pura NFC Lumen is a smooth matt decor that gently diffuses light for a modern or ethereal look. It is durable with a texture that looks as touchable as velvet.
Pura NFC is engineered to be used in a ventilated facade solution that's easily installed. The system includes an air cavity in front of the load-bearing wall, allowing an airflow that prevents heat or moisture accumulation. The ventilation combines with resolute durability to help Pura NFC withstand even challenging climates.
Trespa has carefully engineered and thoroughly tested its Pura NFC product. The company has returned decades after construction to colour-test products made by the same process as Pura NFC. The building facades showed no appreciable fading and were just as eye-catching as when it first debuted. Pura NFC projects will look great for years.
For more information and technical support, visit: pura-nfc.com
Contact:
0808 2340 268
---