The robust construction and stylish design of the Square Line 60x30 made it the balustrade system of choice for a new pontoon, ramp and bridge on the River Thames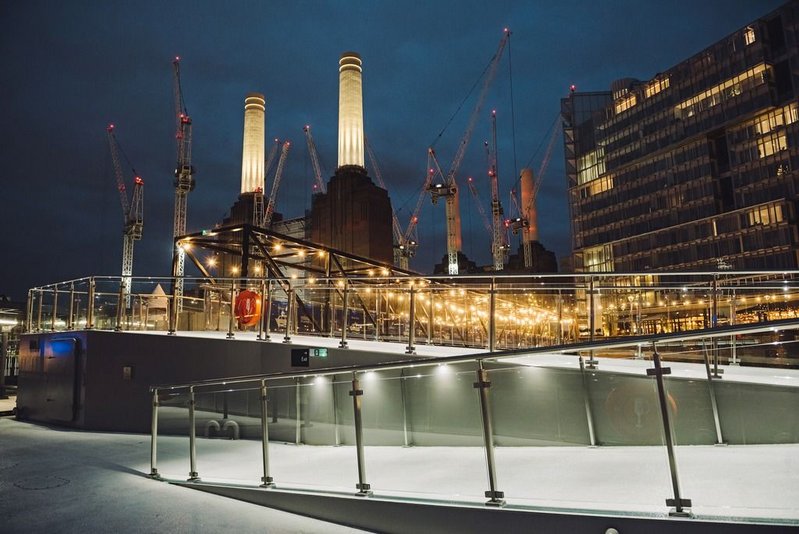 Q lights were added to the handrails for extra safety and added ambience.
The River Thames has always been London's natural east-west thoroughfare and, thanks to increased pressure on other transport systems, it's making a comeback. In 2011 on the south side of the river at Battersea, work began on the new urban village Circus West near the former power station.
Its proximity to the river makes it a highly desirable setting with many iconic buildings within view of Circus West, including the Houses of Parliament and the historic, low-rise area of Chelsea. As part of the development, a new river bus service was planned, providing residents with the option of a waterborne commute. The embarkation point is a specially designed pier consisting of a pontoon and a bridge and ramp for passengers.
The balustrades used throughout had to be capable of resisting a uniformly distributed load of 1.5 kN. Q-railing's Square Line 60x30 system was specified and stainless-steel posts were welded to the pier for extra robustness, while 10mm thick toughened glass infills were used to help block river breezes. Q-railing's Spotlight LED lights were embedded in the handrails to guide the way for passengers at night.
Square Line 60x30 stainless-steel railings have a stylish, industrial look based on strong geometric forms and they are robust enough to create broad spans of glass between posts, creating uninterrupted views.
For more information and technical support, visit www.q-railing.com
Contact:
0800 781 4245