Rafael Viñoly's award-winning River Campus places roomy modern laboratories and lush public gardens over a busy highway beside New York's East River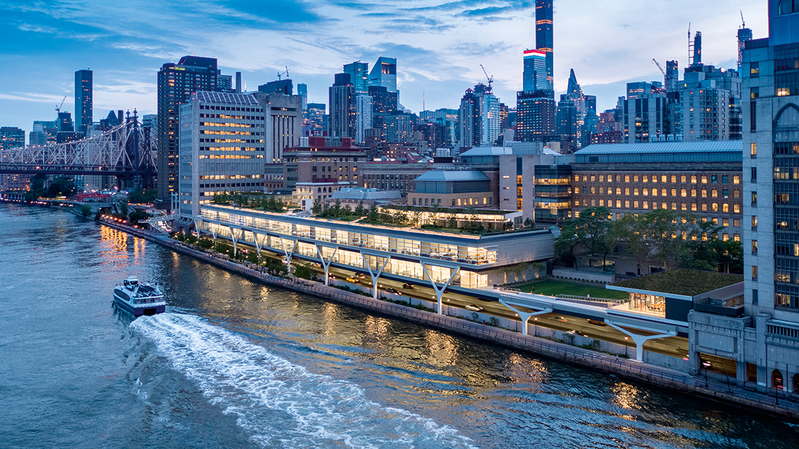 David Rockefeller River Campus, north east aerial view.

Credit: ©Halkin Mason
The Stavros Niarchos Foundation David Rockefeller River Campus in New York has won the 2020 SEFA Lab of the Year award. The project architect was Jay Bargmann of Rafael Viñoly Architects.
The Scientific Equipment and Furniture Association (SEFA) is a global trade association whose members are among the world's most prestigious architects, planners, manufacturers and dealers involved in the design and construction of laboratories.
The Rockefeller University, located in a garden-like setting on the Upper East Side of New York City, was founded in 1901. Since then the university has maintained its focus on bio-medical research in chemistry, biophysics, chemical biology, structural biology, immunology, virology and microbiology, mechanisms of human disease, genetics and genomics, neuro-genetics, cancer biology, cell biology, morphogenesis and host-pathogen biology.
Rockefeller University scientists have been awarded 25 Nobel prizes, including five in the past 20 years in medicine and chemistry.
Rafael Viñoly Architects was asked to provide large, flexible laboratory spaces, extend campus gardens, maximise existing vistas, connect with existing research buildings and centralise community amenities on a platform that sits 20ft above one of Manhattan's major arterial highways.
The result is a campus extension that is invisible from the University's main entrance and historic campus walks and extends the historic gardens. This is done via two monumental stairways, flanking Founder's Hall, ascending from the main campus walk to rooftop gardens and a promenade overlooking the East River.
The building is a platform for pedestrian-oriented vegetation, a dining commons, new conference centre and centralised offices for the university's senior leadership - each with an individual identity expressed as pavilions within a garden. When seen from the east, the building's 1000ft long continuous horizontal band of steel and glass gently underscores and unifies the beautiful but disparate campus buildings that had grown organically over the past 120 years. Between the building and the East River, the project provides a fully rebuilt linear park that is open to the community and maintained by the university.
A campus that five years ago had no recognisable identity from the east now has a singular clear yet understated presence and has two new acres of gardens, 160,000ft2 of new research space interconnecting ten existing buildings on campus and shared common spaces.
The research space, the Kravis Research Building, occupies two open floors of contiguous laboratory space, each approximately 1000ft long and 105ft deep. Each floor is bisected by a large collaborative space - with kitchen and dining facilities at the midpoint - which looks out across the Sze-Donohue Amphitheatre to the historic Welch Hall facade.
The building was prefabricated in 19 modules to meet logistical requirements in a cost-effective and timely manner. Each 750-ton module was constructed in New Jersey, transported by barge to the site and hoisted by crane on to its foundations in five-hour intervals over 19 nights.
The laboratory casework, write-up desks and support rooms consist of a vertical service module containing power, data and gases and supporting adjustable worksurfaces and storage components. The modules plug into boxes beneath the raised floor. The laboratory casework design allows for benches and support space to be modified in response to changing research modalities.
The project's site is its most sustainable aspect. It renders urban land usable, creates new pedestrian-orientated garden spaces and brings daylight to over 75 per cent of building spaces. Redevelopment of the East River esplanade renders the city's public space more resilient with its native planting and creates safe, pleasant public space with bicycle and jogging lanes.
All mechanical equipment is designed to be located in two large mechanical rooms embedded behind the existing schist wall and accessible from the FDR Drive for maintenance. Laboratory exhaust is housed in two towers clad to visually blend into historic buildings.
Judging the competition in the middle of Covid-19 was only possible thanks to the dedication of the jurors: Charles Klee (Payette), Punit Jain (CannonDesign), Laura Carlson (Princeton), Lou DiBeraradinis (MIT), Bruce Nepp (Abell Nepp), John Saad (Vanderweil), Dario Tonelli (Tonelli AG) and Pulitzer Prize winning author and architectural critic Paul Goldberger.
To view the project video or learn how to enter your project in the 2021 SEFA Lab of the Year Competition (entry deadline is 1 July 2021), visit sefalabs.com
Contact:
00 1 516 294 5424
---