A scheme in Panama is reclaiming hardwood trees from land flooded to make a reservoir nearly 40 years ago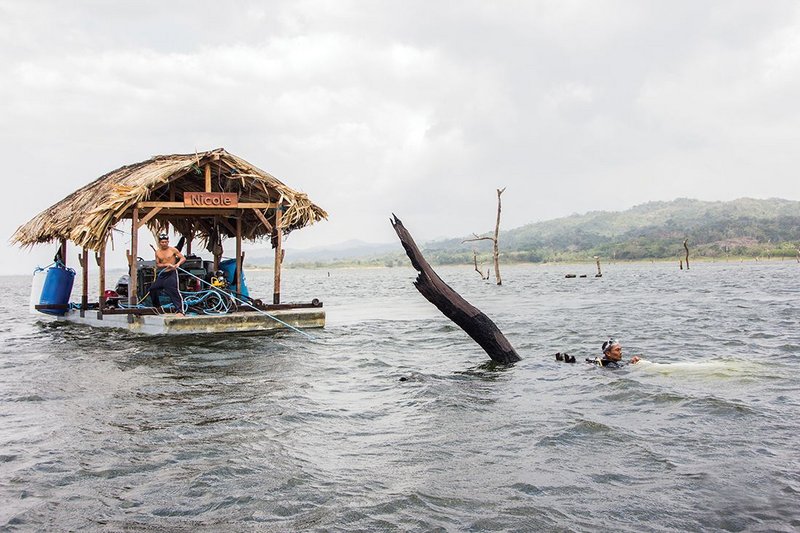 Trunks being brought to the surface.

Credit: Arnaud De Grave
What: Reclaimed submerged timber
Where: Bayano dam, Panama
Not all buried treasure is gold. At the bottom of Panama's Bayano dam, built in 1979 to supply hydroelectricity to the national grid, lies a hardwood forest, which, if it weren't for Canadian timber entrepreneur Alana Husby, would remain submerged and slowly rotting. Instead, Husby's barges are busy panning out across the Bayano reservoir's surface sending divers down with chainsaws to free them from their watery bed and return them to the land of the living. Attached to large ballast tanks, tree trunks are not so much felled as floated. 'Once the tanks are pumped full of air, divers cut the tree and it pops up to the surface like a whale breaching. It's quite a sight!' says Husby.
Husby is self-proclaimed fifth generation logger harking from a remote community between Vancouver and Alaska, whose degree in forestry led to an interest in the waste processes of logging, reprocessing and re-use. So when she heard that a small Panamanian firm was underwater logging in the reservoir, she flew down and bought it out to form CoastEcoTimber – but not before she'd carried out research that included the Smithsonian Institute confirming the nature and quality of timber there. Once it was secured, they reached a financial deal with the local Kuna Madugandi tribe to secure a 15-year concession to access its 15,000ha of underwater forest. Half of her 110 logging and saw mill staff are Kuna, bringing their knowledge of the watery landscape to bear; and, she says, helping halt the drain of families from surrounding villages to the city.
Husby explains that while the 700m board ft of hardwood she's extracting is not 'sustainable' (as she isn't replanting what she removes), it is ecological, with a full chain of custody allowing it to be FSC certified. The extraction process meanwhile seems both high tech and incredibly primitive. While sonar mapping checks the underwater terrain, palm-roofed timber barges made of recycled propane tanks carry out the divers. 'Felling' occurs anywhere from 50-80ft below the surface depending on the season, and is all carried out with hydraulically powered chainsaws lubricated with vegetable oil. Husby's looking to do a deal with firm Triton Logging, which makes an underwater harvester that can deal with flat runs; but in any case it's the Kuna who'll be harvesting the drowned peaks and troughs of their ancestors' former lands.
From reservoir bed to bedroom floor
Retrieving the hardwoods from the bed of the lake is just the start of the story. Once jet boats have pulled the trunks to shore, they need to be laid in a row and identified, graded and sorted. At the lakeside, CoastEcoTimber has a small sawmill for carrying out blocking and slabbing, and a larger one further away where the firm manufactures finished decking product. Interestingly, Husby explains, trees that have been submerged for a length of time have no higher water content than trees on land; which means they need no more kiln drying time than standard felled timbers. The firm is now working with a Costa Rican business to manufacture engineered flooring, so that after being dried in industrial kilns, the 4mm thick hardwood veneers are applied to a birch ply base. CoastEcoTimber has recently signed a deal with distributor Timbmet to market six of its 14 hardwoods here in the UK (see below).
Available Panamanian hardwoods
• Amargo Amargo/ Central American Danto. Similar in colour, grain and working properties to teak or African Iroko.
• Cedra Espino/ Spiny cedar. A hard, stable timber; ideal for window and door frames.
• Zapatero/ Panamanian Walnut.
Similar to America black walnut.
• Grand Cashew/ White Mahogany. Easily worked, veneers beautifully. For internal use
• Dragonwood/ Canary wood. Comparable to Zebrawood, light-coloured, hard timber with dark streaks.
---