Dutch set to trial stronger, lighter, greener, reused plastic pavements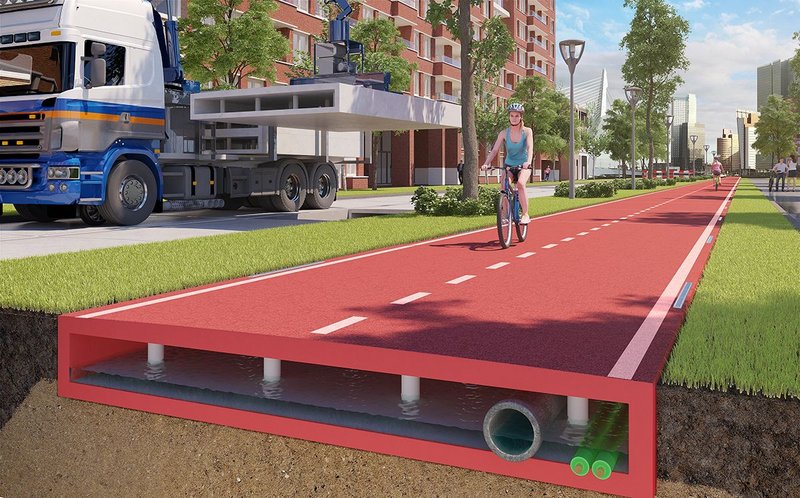 Bike path view.

Credit: PlasticRoad
A Dutch project to prefabricate roads entirely from recycled plastic could provide a greener and more durable alternative to concrete or asphalt.
PlasticRoad is a lightweight system of polymer cassettes, with a hollow core for cables and ductwork, designed to slot together like Lego.
The product is the brainchild of inventors Anne Koudestaal and Simon Jorritsma, who last year teamed up with construction firm VolkerWessels, pipe manufacturer Wavin and oil giant Total to develop the first prototype, a cycle path due to be installed at an as yet unconfirmed location in the Netherlands at the start of 2018.
PlasticRoad is made from 100% recycled plastic and is fully reusable, significantly cutting CO2 emissions compared to asphalt production and laying, and in line with principles of the circular economy.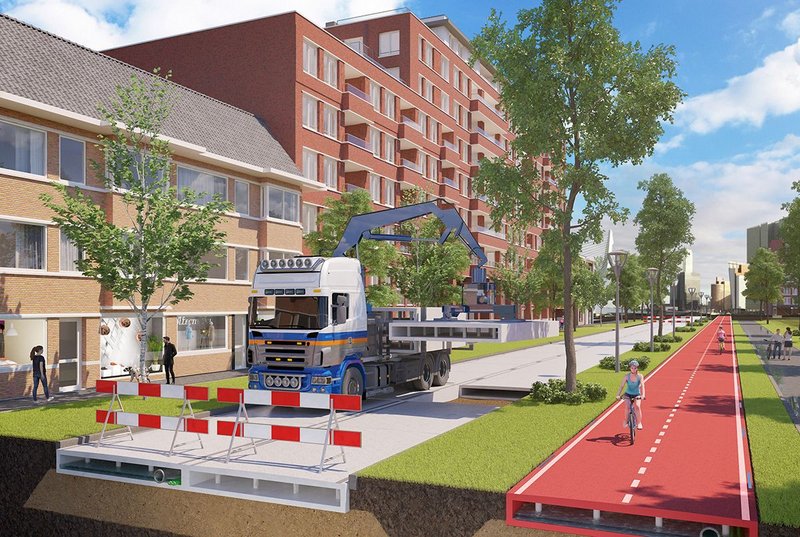 Total view.

Credit: PlasticRoad
According to the company, road construction would take days instead of months and the finished product would last three times as long, reducing the need for maintenance and related traffic disruption.
Anne Koudestaal, who is employed as advisor for business development at KWS, a unit of VolkerWessels, told RIBAJ: 'Traditional asphalt roads incorporate stones, a binder like bitumen, and fillers. The materials are sourced from different locations which can create very different reactions, and this makes it difficult to estimate the overall lifespan of traditional asphalt. In contrast, Plastic Road is homogeneous and prefabricated, and can be laid quickly in any weather conditions.'
The cassettes are engineered to an optimal shape to ensure the effective transfer of loads into the ground. Koudestaal came up with the idea to include a hollow core, used as space for cables and pipes, based on experiences in local government where he witnessed many problems with workers hitting cables or pipes when digging in the ground. It can also be used for water drainage to help relieve pressure on existing sewer systems impacted by flooding as a result of climate change.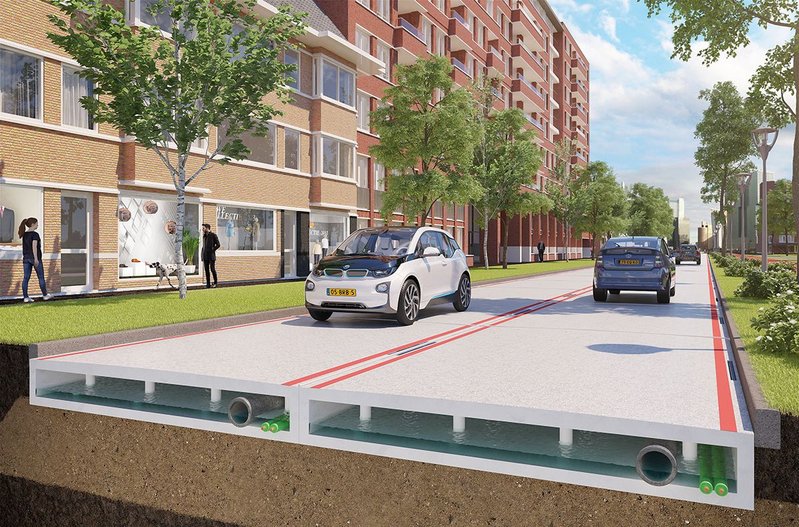 Road view.

Credit: PlasticRoad
'Any necessary maintenance should be executed as fast as possible to prevent inconvenience for road users, and the government sees it as vital to make roads last as long as possible without maintenance,' he pointed out.
PlasticRoad was tested to withstand extreme hot and cold temperatures, which should help it avoid the cracking that can affect concrete surfaces. It won't melt either, at least not in the Dutch climate, says Koudestaal: 'We don't anticipate any problems for the climate in the Netherlands and surrounding cities, but we don't yet know how it will react in a climate like Dubai or Mali where temperatures are much higher. That's a question that's still on our development list,' he concludes.
---