Azure Printed Homes is using bottles, food packaging and other plastics normally destined for landfill to contribute 60% of the material making 3D printed buildings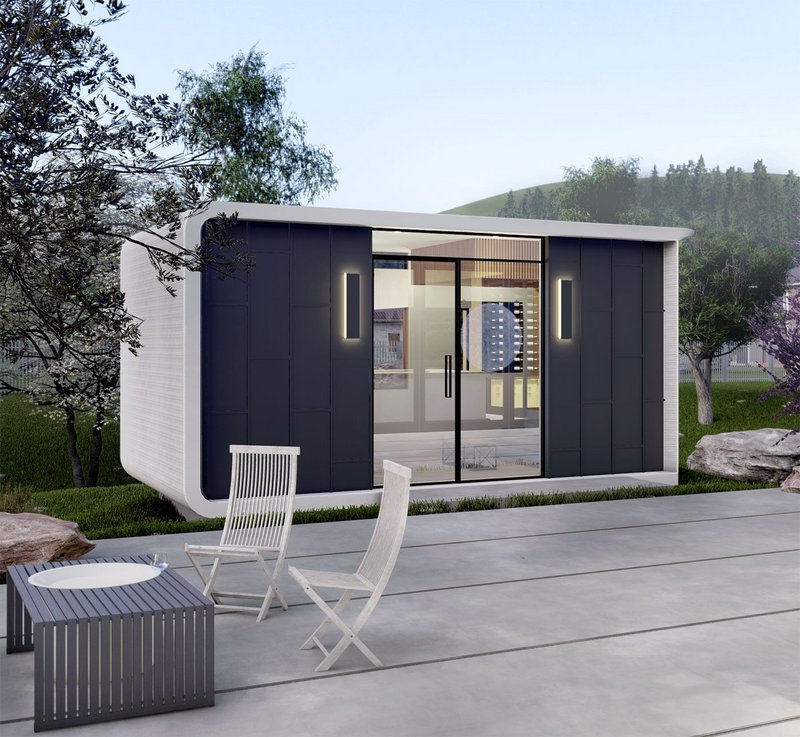 Artist's rendering of 'D series' 3D printed home planned for the Ridgecrest development in California.

Credit: Azure Printed Homes
A surge of innovation in 3D printed construction has seen efforts recently to improve the sustainability and circularity of materials extruded by robots and on-site printers.
Earlier this month we reported on new research by Nanyang Technological University in Singapore to replace the sand component in 3D printed concrete with recycled crushed glass. Academics at Tongji University in Shanghai published a study exploring the viability of using recycled fine aggregates from construction and demolition waste in 3D mortar printing. Furthermore, ETH Zurich has developed a new foam for 3D printing formwork made from recycled waste used to create highly-optimised concrete slabs.
Reducing the impact of concrete, which is responsible for 8% of global greenhouse gas emissions, is critical, but an additive manufacturing start-up in California has turned its attention to the mountains of plastic waste littering the land and oceans and used it to make homes.
Azure Printed Homes has opened a 15,000ft2 factory in Culver City which forms homes from 60% recycled waste plastic normally destined for landfill, including plastic bottles and food packaging.
The company claims its printing process can build structures 70% faster and 30% cheaper than traditional home construction methods.
The focus so far has been on smaller buildings, such as backyard studios and 'accessory dwelling units' (ADU) – small homes in the grounds of another house – but in August it begins construction of the first ever community of 3D-printed plastic homes.
The contract with Oasis Development will see 14 homes built in the city of Ridgecrest, California, all within a slender one-month timeframe. The plan is to cut the homes' energy bills to zero through a combination of high levels of building airtightness and the use of low-carbon technologies including heat pumps and solar panels.
According to Azure, the Ridgecrest development will feature its 'D series' single storey units, with the shell comprising the roof, floor and two walls printed in one day and assembled in a quality-controlled factory environment, leaving the two end walls for 'customisation'.
Ross Maguire, co-founder of Azure Printed Homes, explained: 'We use our own custom 3D printing stack to generate our structures. After the shell is printed, services are run internally before being closed with interior finishes. The printer stack and modular design currently limits the vertical height of each module, rather than the [structural capabilities] of the material.' The company plans to evolve the system in future to make multi storey units, he added.
Construction 3D printing is already considered sustainable because structures are optimised to minimise waste and when printed on site they cut the need for materials deliveries. A growing emphasis on the circular economy and recycled content could strengthen the technology's credentials as a mainstream method of construction.