The global pandemic has revealed how vital a robust ventilation strategy is to building design. Specialist Renson offers a case study and a RIBA-approved CPD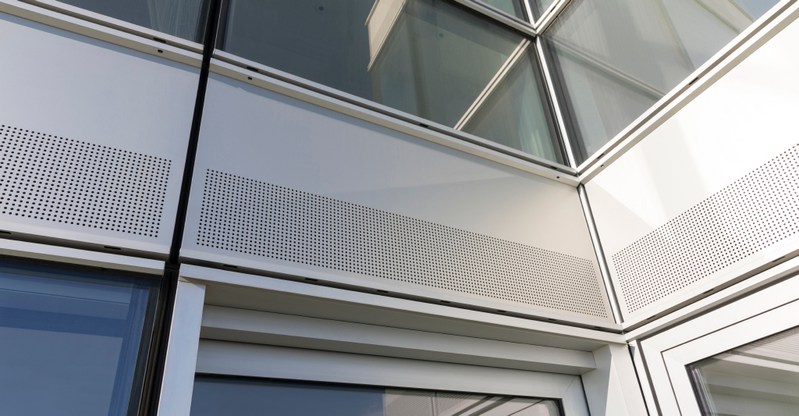 Renson Invisivent thermally broken window ventilators at Providence Tower, Isle of Dogs. The vents sit behind the perforated facade panels.
Research suggests we spend around 90 per cent of our time indoors. Critically, this is often in poorly ventilated spaces that are having an adverse effect on our health and our daily lives.
The global pandemic has put air quality and the effect of microscopic particles on our bodies under the spotlight. Covid-19 will shape and leave its mark on our lives and a 'new normal' is being created before our eyes. It will also affect the future of architecture and the way we approach our living and working spaces. We must ensure that the health and wellbeing of occupants is of paramount importance.
Ventilation is a legal foundation set out in Part F of the Building Regulations; with coronavirus it has become fundamental to minimising the transmission of viral and microscopic particles in indoor spaces. We have known for years the physiological impact of poor air quality, with asthma cases rising in children and lung and heart diseases directly attributable to polluted air. The fact this is usually a slow and undetectable trigger has meant it has been easy to overlook and ignore. That situation is now changing for the better.
Good ventilation is one of the ways we can reduce the concentration of the virus in the air, minimising the risk of airborne transmission. Ventilation provides good air quality into a building. Fresh outside air expels the polluted inside air using principles of supply, transfer and extraction.
Renson's Invisivent is a thermally broken tricklevent that is installed on top of the window frame, whether aluminium, timber or PVC. The almost invisible installation guarantees maximum light penetration as the glass size is not reduced. The Invisivent incorporates a self-regulating flap that ensures the supply of fresh air without draughts. The product range provides sound absorption up to 48dB, ideal for urban environments, and there is a weather-cap option to ensure no water-ingress in exposed locations.
The Invisivent is not just a window vent. It can be used in curtain wall facades too, incorporated via single unit solutions into the facade. The company's first major project of this kind was Providence Tower in east London. The Invisivent was located behind perforated facade panels, providing effective, sustainable, low energy, low cost ventilation with the acoustic attenuation so vital for the comfort and wellbeing of the occupants.
By creating single unit solutions, Renson provided safety by design, offsite manufacture of quality watertight, airtight solutions that enabled its construction partners to reduce installation time and complication on site. Renson also took on the responsibility for performance through rigorous testing and certification.
Renson has created a RIBA-accredited CPD that explores ventilation strategies in mid to high-rise residential apartments. It considers the psychological and physiological benefits of ventilation and includes advice on how to meet performance criteria and create an optimal balance between air quality, thermal, visual and acoustic comfort using natural ventilation, mechanical ventilation with heat recovery (MVHR), purge ventilation and external sun protection. These concepts also lend themselves to mixed-use, commercial, student accommodation, hotels and healthcare projects.
To book in for the ventilation CPD with the Renson specification team click here or email cpd@rensonuk.net
For more information and technical support, visit renson.eu/professionals
Contact:
01622 754123
---