Retrofit, densify, diversify: how the out of town business park is working to stay relevant despite sustainable commuting, mobile working and work/life balance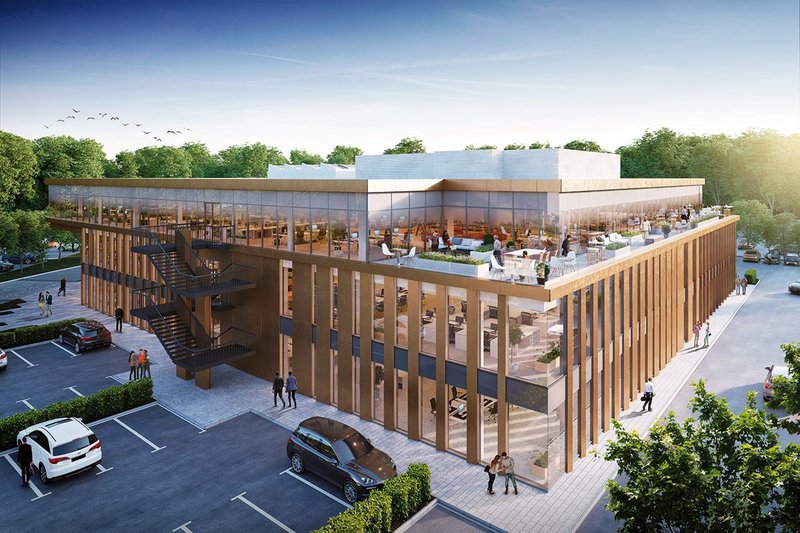 Scott Brownrigg's Foundation Park in Maidenhead, where staff can relax – and get to work.

Credit: Scott Brownrigg
'Ed always describes them as croutons in soup.' I'm in conversation with Nick Ridout, director at Scott Brownrigg, having just spoken to his colleague, fellow director Ed Hayden. We're discussing out of town business parks and Hayden has used the analogy to sum up the traditional arrangement of box buildings sprinkled across a massive car park to be found on the outskirts of so many towns and cities.
The 20th century suburban business park model has looked increasingly at odds with today's focus on sustainable commuting, urban working and living, mobile working and co-everything. The British Council for Offices ­acknowledged as much in its 2019 report, The future of business parks, which noted that many were starting to become obsolescent. Inevitably in some locations, like Langley Business Park in Macclesfield or west London's Fairview Business Centre, the solution is to replace most if not all of the workspace with homes.
But others are fighting back and refurbishing, intensifying or diversifying to retain employment and create a more resilient business park, capable of remaining relevant as the workplace continues to evolve. These redevelopments draw on lessons from new workspaces in cities and out-of-town science and higher education campuses and clients are looking to architects to innovate to create new models.
Taking care of business
A key priority in redeveloping 'croutons in soup' parks is to retrofit placemaking, says Hayden. 'Plots are being redeveloped to be more urban with street facing facades, there is a big push for public realm to prioritise pedestrians and integrate cycling and car parking is being centralised in multi-storeys. Older buildings had car parking ratios of 1:25m2 but now it is 1:40m2 or 1:45m2 as buildings go up and car parks reduce.'
Arrival and departure points – historically traffic pinch points at the start and end of the working day – now have to accommodate vehicle commuters and sustainable travel options, while showcasing the park's presence. Cambridge Science Park includes a transport plaza and arrival portal, which link to a guided busway and cycle network. In future, visitors will pick up an autonomous vehicle here to take them to their destination building. It is fittingly high-tech for a park that was a trailblazer when it was built in the 1970s to house University of Cambridge spin-out start-ups and larger companies wanting to access top academic talent. More than 40 years later the site is adding amenities, including a hotel, and replacing buildings to provide more flexible workspace.
'The original buildings catered for small start-ups, but now the park needs flexibility to accommodate occupiers taking anything from 10,000ft2 to 100,000ft2,' says Hayden. Its designs include a 40,000ft2 building for start-ups, created using its own flexLAB concept where space can be adapted to office or laboratory use and demountable walls allow tenants to create laboratories of varying sizes.
Perhaps the biggest change over the life of the business park has come in work culture. 'Business parks were designed for a 9-to-5 culture, but mobile communication technology now means we are contactable and working 5-to-9, so buildings are changing to reflect that, with more relaxing spaces, such as roof terraces, external workspaces and atria,' says Hayden. Amenities are increasingly part of the workplace, and help to spread the flow of commuters at start and end of the working day.
A new hub planned for Foundation Park in Maidenhead will provide café, gym, cyclists' changing rooms, co-working space and meeting rooms. The top floor is designed to open out onto the top level of an adjoining multi-storey car park, allowing the latter to be used for events ranging from a pop-up cinema to a tenant party, while the masterplan for the improved public realm includes spaces for summer screenings or street food. 'It is emulating the level of amenity we're seeing in London, but without going over the top; the level of amenity needs to reflect the population of the park, and be flexible to accommodate social events. Workers want to feel part of a community,' adds Ridout. Its latest building on the park has a roof terrace for top floor tenants, but its next project will incorporate a communal terrace for all to enjoy.
The team is also exploring the potential to create a building where tenants can expand upwards or downwards. 'We're looking at how you might make that work by having a sliding panel between floors,' says Ridout. 'We're trying to think of as many permutations as possible so the client can offer tenants flexibility and tenants can grow and remain on the park.' Buildings have to be designed to accommodate not only more tenants, but also evolving leases. 'Leases of 20-25 years coincided neatly with the lifetime of the M&E. Now we have 5-10 year leases so you have got to make the space work harder,' says Ridout. 'In design terms that requires a configuration that allows multiple entrances off an atrium and the M&E has to be flexible.'
Owners and occupiers of business parks are also seeing the value of design, as can be seen from such projects as its design for ARM Holdings' office on Peterhouse Technology Park. 'Ten years ago, business parks were all about net area and minimum toilet provision; now tenants are more discerning,' says Ridout. Its latest building at Foundation Park has a semi-cantilevered top floor to create an entrance canopy, as well as semi-exposed services. 'These features don't add space, but they create identity and clients are saying they can sell them,' Ridout continues. 'Business parks must deliver a viable, attractive alternative to urban office buildings and provide a genuine sense of place.'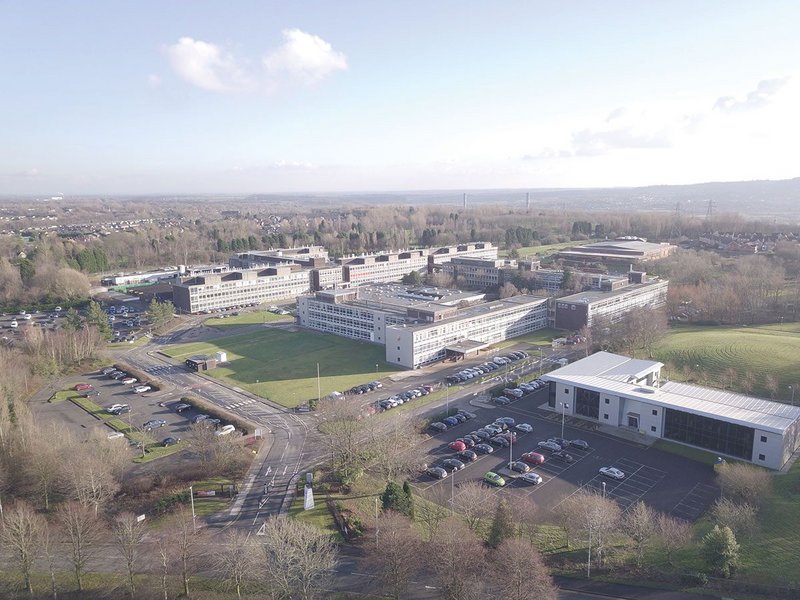 SOG Group's The Heath Business and Technical Park outside Runcorn. A 1960s campus is now being reconfigured, via an RIBA competition, for 21st century working.
Ten years ago, business parks were all about net area and minimum toilet provision; now tenants are more discerning
Park life
For clients, however, regeneration is challenging, demanding significant investment and longstanding tackle tenant and lease arrangements. Watford Borough Council is starting to redevelop its Watford Business Park, which was created more than 50 years ago. The council owns the park freehold but the sale of leases over time has resulted in complex ownership structures and under-investment, which the council is now addressing through compulsory purchase. Like many local authorities, Watford is keen to retain valued employment, the park being home to more than 100 businesses with around 1,200 workers on site.
The council is now appointing an architect to intensify the site, doubling its space to 8,000m2 and creating around 300 more jobs. As some buildings to the rear have been replaced, it is looking to redevelop the front of the park, giving it a fresh face. 'The first site is at the entrance so we are looking to set the tone for the development. We want to get away from the stereotypical shed,' says Lauren Sharkey, property development project manager with the council.
The park's tenants include industry as well as commerce and the council wants to retain both. 'We have Leavesden Film Studios nearby, so have businesses like prop makers needing space and don't want to be too prescriptive about tenants,' says Sharkey, 'Often messier businesses are shut out by regeneration, but they make an important contribution to the economy.'
Independent business park operator SOG Group has already guided The Heath Business and Technical Park, in Runcorn, through one renaissance, and has ambitious plans for its future. The campus was developed in the 1960s as a headquarters for chemicals giant ICI, and its departure in 2000 left the site and Runcorn in some uncertainty. Since then, The Heath has become a successful business park with around 2,000 workers – more than in ICI's day – engaged in activities from dressmaking to scientific research in its 300,000ft2 of office and laboratory space. 'Businesses come here because the location is good, we can attract good staff and have affordable space,' says Lesley Banks, sales and marketing manager with SOG. 'But while there is good interest, we know it can't stay like this forever. Our buildings were advanced at the time but are now ageing and energy inefficient'.
The site has potential to densify business space and add housing, which could help offset the cost of major redevelopment. It already has residential neighbourhoods on its fringes and has long been at the heart of its community, many of whose families have worked on the site over generations. 'It is a major hub for Runcorn,' says Ryan Lewis, head of operations at SOG, whose own grandfather worked as a contractor at The Heath. As well as being a source of employment, the site houses amenities open to the community, including a gym and café, and hosts events such as comedy nights.
SOG is seeking ideas that may help shape The Heath's future via an open ideas competition with RIBA. 'We wanted to innovate and speak to world-class experts, whether futurists, technologists or architects,' explains Lewis. The brief for its competition invites entrants to embrace social, environmental and technological factors, including health and happiness, and think innovatively. 'What we'd want to deliver is a place for living, work and play that is sustainable, cleaner, greener and inclusive,' says Banks. That could include such innovations as hydrogen energy, which is already being promoted in the north west of England by the HyNet consortium.
This is a beacon project for Liverpool city region and personally significant for Lewis and for Banks, who worked on the site under ICI. The competition winner won't be announced until June but enabling works are already under way. Redevelopment will continue over several decades.'We'd like to see drastic change in the next decade or so,' says Lewis. 'On the same footprint we would like to have more employment and community and build homes. We can do a lot more of what we're good at, and would like this site to be a model that can be replicated.' The urban office sector may have to watch out.