Ten years after opening, Saint-Gobain revisits St Pancras International Station to remember what makes it such an iconic building, known for its quality and effortless ambiance
St Pancras International Rail Station is one of London's landmark buildings. Originally constructed in 1868, saved from demolition in the 1960s, the building was substantially renovated and extended in the early 2000s, opening in 2007. Saint-Gobain goes back to rediscover what makes it still such a successful building and project in terms of lighting specification.
Commissioned to work on the project in early on, it was Saint-Gobain's goal to enhance the original design of the building by taking advantage of natural lighting techniques, recognising that while man has long sought to replicate natural light, there is no substitute for the real thing.
At St Pancras, building design, the choice of materials and equipment played a decisive role in building for visual comfort. One of the many specific challenges in the project was to create a visually impressive environment that complemented the existing building, as well as merged 21st century products and technologies with the listed Victorian features to balance the English Heritage guidelines with the requirements of modern rail travellers.
As natural light varies all the time, ensuring a constant quality of light demanded a sympathetic fusion of controlling the building's light levels by prioritising cool northern light, reducing too much incoming light by shading, and by compensating for low light levels with artificial light. The building's sophisticated control systems manage all these variables, helping to achieve a successful balance in the combined use of artificial light and natural daylight.
As part of this balancing effort, a range of building materials were used at St Pancras Station to improve visual comfort. Manufactured to provide energy efficient and aesthetically pleasing options for modern buildings, 16,544 shaped panels of 6.8mm clear laminated glass were supplied to fit the iconic curved roof. In total, 10,175m2 of individually shaped panels were fitted to the main station roof, also known as the 'Barlow Shed'. And, due to the shape of the building's roof, each panel was shaped individually during the manufacturing process to ensure perfect fit and clarity. Glassolutions also supplied more than 1,000 rectangular panels of 6.4mm glass to other areas of the building, totalling a further 1,600m2 of glass.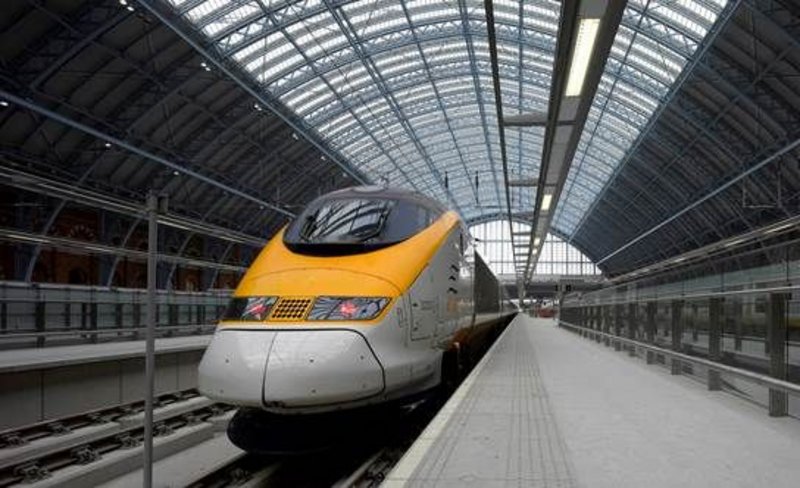 Yet, it should be remembered that there is more to exceptional visual quality than meets the eye. It's not just about the installation of individual products, but rather how they work together to deliver a truly sustainable and comfortable environment. This is why the glazing solution specified also featured acoustic properties to minimise noise disruption.
British Gypsum's Gypwall 'Classic' partitions, the industry's original lightweight non-load bearing drywall partition system, were used to create division walls to retain units, business lounge and ticket areas, to maximise acoustic efficiency. At ground level, Saint-Gobain PAM also provided solutions to ensure superior strength and longevity needed for the station's soil, vent and rainwater systems from its Timesaver and Ensign range of cast iron pipe products and fittings.
The Timesaver system is a trusted and durable solution, and was awarded BSI Kitemark in 1982. In addition, Ensign meets the requirements of ISO 6594, offering individual cast iron drainage systems for above and below ground applications. It is also the only system tested and Kitemark-approved to the product standard BS EN 877 in the UK. What's more 2,500 tonnes of ductile iron segment tunnel linings were supplied at the project, which comprised more than 700 complete rings and opening sets.
As a world leader in sustainable building solutions, Saint-Gobain recognises the importance of the interrelation between multiple building elements, creating systems that enhance our daily lives, demonstrated in the specification of solutions that work together to deliver comfortable and sustainable environments.
For information about sustainable buildings that speak for themselves visit our solutions selector: www.saint-gobain.co.uk
Contact:
024 76 560700
---