Boasting the high performance you would expect from Reynaers, Hi-Finity sliding doors create maximum transparency, with a sleek ultra-slim appearance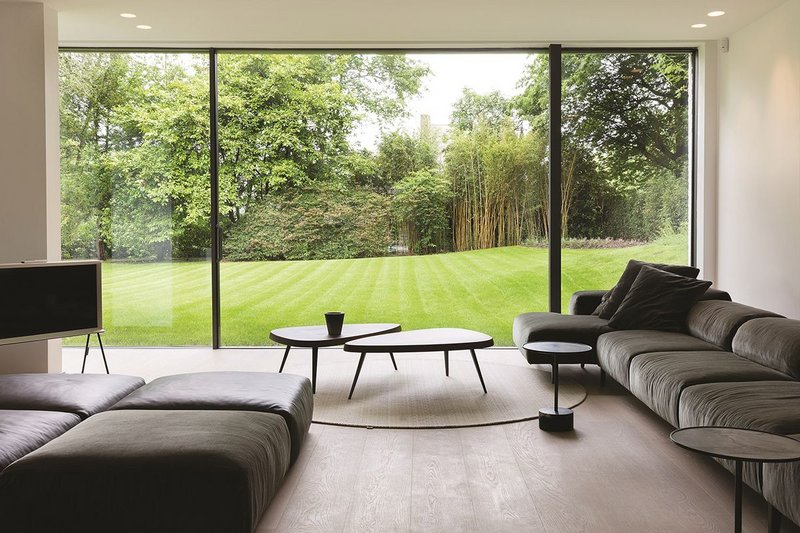 Floor to ceiling glazing from Reynaers at a house designed by Atelier d'Architecture Bruno Erpicum in Belgium.
Technical innovation has allowed Reynaers to ensure that its award-winning Hi-Finity sliding door system combines minimalist design with maximum performance, as seen at one of its latest projects, a new home designed by Atelier d'Architecture Bruno Erpicum in Ukkel, Belgium.
The huge glass surfaces reach from floor to ceiling, transforming the space. Fully integrated frames create a flush threshold, allowing for easy entrance and accessibility. Despite minimal visual sight lines, the system's high strength allows Hi-Finity to carry the weight of a large glass pane, up to 750kg when used in a motorised application. Fixed panels can weigh as much as 1200kg.
Hi-Finity maximises architectural freedom to play with transparency and light. The system allows multiple configurations and opening types such as duo-rail, three-rail and central closing solutions, providing the option of multiple movable glass panes. Architects are increasingly specifying high performance Hi-Finity as it offers Ud-values as low as 1.0 W/m²K, depending on the frame/vent combination.
Award-wining system
A number of patented concepts within the Hi-Finity system have been acknowledged by the Henry van de Velde label. This label is awarded to top products with special attention for innovation and aesthetic quality by Design Flanders. Thanks to the modern design, the superior performances and the variety of applications, Hi-Finity was also named 'Best of Category' for Building Shell by an international jury, compising members of the 25 most influential architectural practices from all over the world.
For more information and technical support visit: www.reynaers.co.uk
Contact:
0121 421 1999
---