Glazing Vision's Ridgeglaze rooflight fills the apex of Hudson Architects' redesigned Machrie hotel on the isle of Islay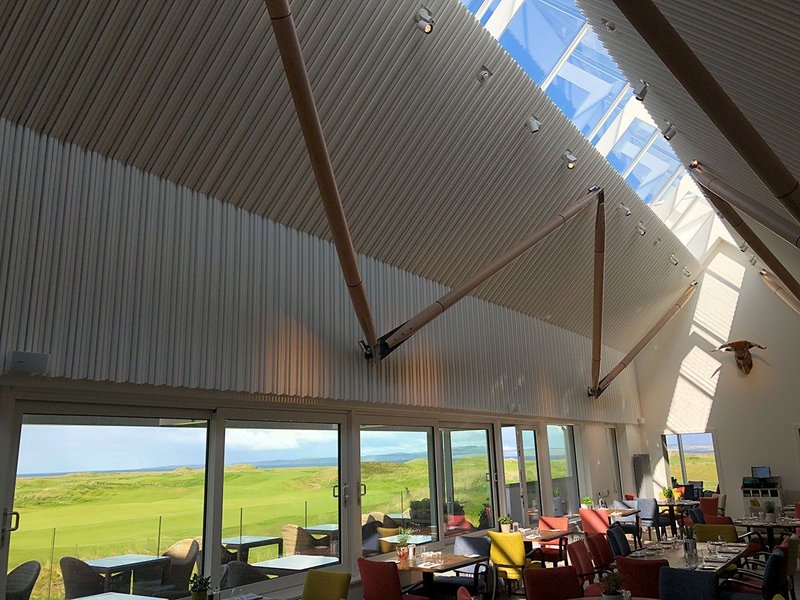 A dramatic multipart Ridgeglaze rooflight runs along the entire apex of the roof in the redesigned Machrie Hotel in the Inner Hebrides. Providing natural daylight, it has become a feature of the restaurant and bar area, allowing in plenty of natural light and helping to create a brighter, more open space.
The Machrie is an 18-hole championship links golf course and 47-bedroom hotel set in the sand dunes of Laggan Bay on the west coast of the isle of Islay. It re-opened to the public in the summer of 2018.
Hudson Architects was appointed to carry out the work and its scheme included the addition of a new south-facing wing and four new lodges. A new elevated restaurant and bar area with a west-facing terrace was proposed as the centrepiece of the development and the architects were keen to make the most of the natural light at such a unique location overlooking the Atlantic Ocean.
The inclusion of a large rooflight system was key to maximising light in the restaurant and bar area and a Ridgeglaze modular rooflight arrangement was specified to run along the entire apex of the roof.
Hudson Architects has worked with Glazing Vision on several award-winning projects, including the Le Petit Fort private residence on the island of Jersey.