Flanagan Lawrence's conversion of a 1920s Art Deco cinema into a hotel restores original features while also reflecting them in the interior new-build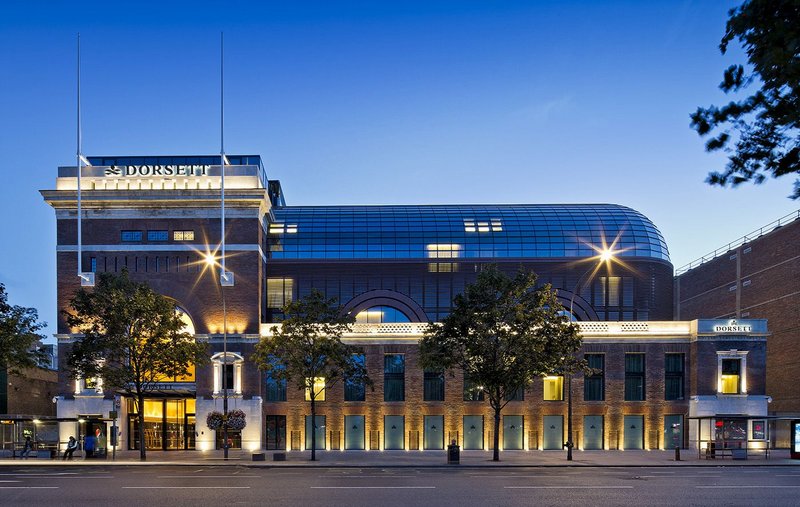 Dorsett Shepherds Bush exterior - dusk

Credit: Anthony Weller
If you've ever wondered what the experience of living inside a chandelier might be like, the plushly lit atrium of the Dorsett hotel in London's Shepherd's Bush could give you a good idea.
The elegant seven-storey space runs through the centre of the 320-room boutique hotel, its internal walls clad in horizontal bands of gold-painted GRG, each spandrel panel embedded with LEDs that give off a yellow glow through vertical strips cut into the surface.
For customers frequenting the hotel bar on the ground floor below, the panels give the space a warmth and splendour befitting of the Art Deco cinema the building once housed, while also acting as acoustic absorbers to prevent chatter from reaching residents in the rooms above.
The Dorsett Shepherds Bush is architect Flanagan Lawrence's ambitious conversion of the 1923-built grade II listed Shepherd's Bush Pavilion, originally designed by Frank Verity as a cinema.
On completion, the building won the RIBA London Street Architecture Award for the best London facade, but it was badly damaged by bombing during the second world war, and subsequently went through several conversions, most recently becoming a bingo hall in 1983, before closing its doors for good in 2001.
Flanagan Lawrence sought to restore and recreate the original facade, with its distinctive triumphal arches and domed roof, as well as reflecting elements of the original in the new-build hotel interior. Thus the atrium features simple curved surfaces in alternating bands of black and gold, capped by a fully glazed rooflight which forms part of a glazed dome replacing the original domed bitumen roof.
The rooflight provides a source of natural light for rooms running around the atrium's perimeter. Their windows are fixed between black panels in horizontal bands running between the bands of GRG.
'The principal purpose of the gold panels is as acoustic absorbers,' explains Jason Flanagan, director at Flanagan Lawrence. 'We wanted to keep noise from the atrium out of the rooms, whilst making the experience of being inside the atrium bar very comfortable in terms of the quality of light and sound, as opposed to some atria that can be quite hard and reverberant and noisy.
'The vertical slots on the front allow sound to enter and become trapped. In the evening, the whole panel glows muted orange from within, and the vertical openings emphasise the height of the space, and make it feel like being inside a huge chandelier.'
GRG, manufactured by Simplicity Mouldings and Interiors, was chosen as a lightweight but rigid alternative to timber, which could be premanufactured with all the vertical slots in place. It is simply attached from a met sec frame and fixed to the building's concrete slabs without adding excessive load on to the structure.
'We wanted to visually play down the bands of apartment windows so that people in the bar wouldn't feel overlooked,' says Flanagan. "The GRG panels are quite deep, giving the impression that the windows are in a recess.'