Mobbot's super-fast 3D-printed concrete components for unexpected obstacles in the ground will cut construction times and cost, and reduce carbon emissions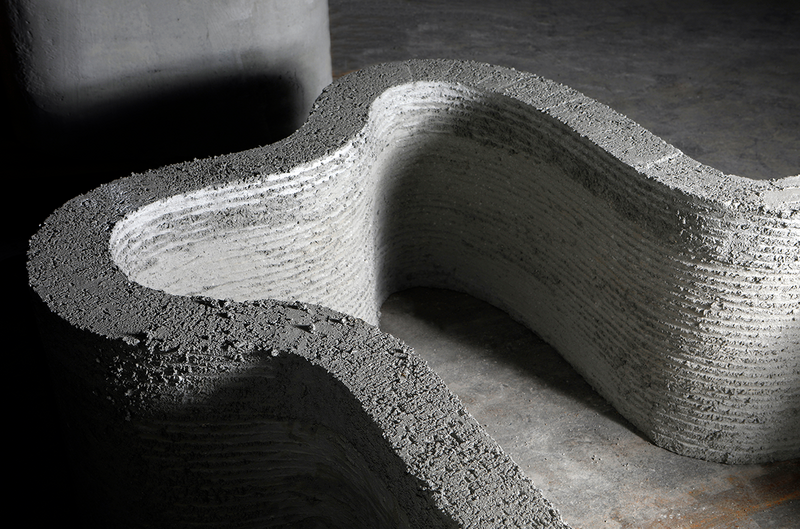 Continuous printing can produce monolithic structures with no cold joints.

Credit: Mobbot
An innovative method of 3D printing prefabricated components in sprayed concrete is around 25 times faster and 40% cheaper than traditional mold casting, it's inventor claims.
The robotic system, developed by Swiss start-up Mobbot, is designed to rapidly manufacture customized concrete elements for construction projects as they encounter unexpected obstacles in the ground, such as services or ductwork, that threaten delays and related costs.
The technology is initially targeted at utility and telecoms projects, but could also be applied to buildings to produce non-loadbearing walls, or elements for balconies or lift shafts.
Agnès Petit, founder and CEO of Mobbot, wants the firm to become 'the Tesla of the construction industry' and says sprayed concrete has multiple benefits over the competition.
'The system enables construction firms to use their own local raw material – conventional concrete – instead of a proprietary mix of concrete commonly used in 3D printing, so they are not dependent on a supplier,' she told RIBAJ. 'Spraying eliminates cold joints and creates a monolithic structure, integrated with rebar, in line with the standards for regular prefabricated elements.'
The methodology reduces the carbon footprint of prefab components by up to 30%, she adds, due to the reduced volume of concrete required to achieve required concrete strength performance, and fewer lorry movements associated with using local raw materials.
It's hoped sustainability will improve even further through a new research partnership with building materials supplier Holcim to introduce recycled material into the mix.
The patented technology is based on an industrial robot with a print head that combines sprayed concrete with 'new technologies' to achieve a smooth surface in a single manufacturing step. The arm has a maximum reach of 3m and is able to make products with a volume of around 2m3 and weighing up to 3-4t. The process is paused at certain points to integrate prefabricated rebar cages.
The automated deposition process produces concrete structures with no cold joints – and therefore weaknesses – between the layers. According to Petit, complex one-off shapes can be printed in a matter of minutes with no waste: 'Where customized elements typically take two people one to three days to manufacture using cast-in-place molds, we can do it in just one to two hours.'
Mobbot launched in March 2018, and spent the first 18 months developing the technology and proving market acceptance. Efforts to commercialise the system began in October this year.