With curing times of 30 minutes and tolerating working temperatures of -30°C to +90°C, TREMCO roof membranes solve the problem of waiting for sunshine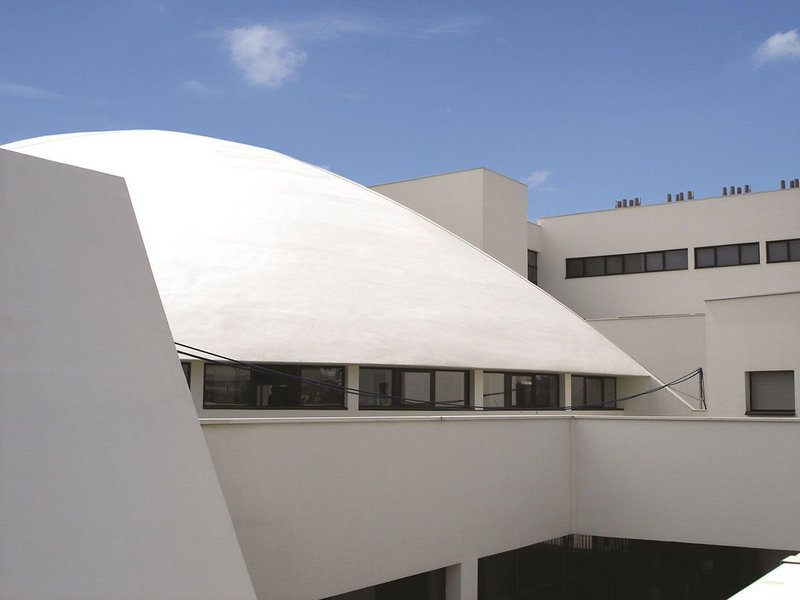 TREMCO's Repoma Rapid Cure Roofing Membrane is ideal for renovating existing roofs, as well as for new-build projects
As the saying goes, you should always mend the roof when the sun is shining. But in real life, you can't always afford to wait for a heatwave. The British climate means that professional roofing contractors have to be prepared to work in less than perfect weather conditions all year round; and, while it is possible to fix felt and tiles in a steady downpour, a liquid flat-roofing membrane demands dry conditions.
This liquid membrane technology is invaluable to the flat roofing industry: it's quick to apply, produces excellent results and lasts a long time. Extended curing times have traditionally been the only chink in its armour because of the unpredictability of the British climate.
Now though, with TREMCO's Rapid Cure Roofing Membrane which is based on methyl methacrylate (MMA) technology, the problem is solved. With this fast-curing membrane that has a service life of at least ten years, a new flat roof can be installed all year round.
TREMCO's MMA Rapid Cure Roofing System is suitable for both new-build and refurbishment work, presenting the flexibility as well as crack-bridging abilities of PU technology, combined with the wider attributes of MMA resins. Importantly, the base coat is compatible with different forms of construction and bonds to most surfaces.
The membrane cures in just 30 minutes and can be walked on after an hour. Curing times are unaffected by temperature. Because the system can be installed at such low temperatures, the application season is extended even into the winter months.
At the other end of the weather spectrum, TREMCO's Rapid Cure Roofing Membrane can also be installed at temperatures up to 30°C. Not only can the system be applied in a wide range of ambient temperatures, but it can also tolerate working temperatures from -30°C to +90°C while remaining fully flexible and vapour permeable. It is also fire resistant, offers the best possible penetration resistance and can withstand extended UV radiation at far higher levels than we get in the UK.
A typical installation of TREMCO's Rapid Cure Roofing Membrane comprises two layers. A layer of CP380 Rapid Cure Membrane is applied to the existing substrate. Strips of CP581 reinforcing fleece are then bedded into the still wet layer of CP380, ensuring a good overlap. A second layer of CP380 is then applied over this fleece. Subsequently, a layer of CP930 sealer, which is available in a range of colours to suit the requirements of each job, is applied to complete the project.
TREMCO's Repoma Rapid Cure Roofing Membrane is ideal for renovating existing roofs, as well as for new build projects, as it bonds well with most forms of construction surfaces without need for a primer. For example, it can be used over an existing asphalt substrate while the system comprises CP581 Reinforced Polyester Fleece which means that it can be used to address the most complex of details around parapets, service penetrations and other features to the roofscape. It is also suitable for installing green roofs and inverted applications and can even be applied direct to suitable insulation in warm-roof constructions.
'Standard PU membranes are very effective and give excellent results but, when time is of the essence, MMA-based products are often the way forward,' comments Peter Bitten, area sales manager. 'The entire system can be installed and be rain fast in hours compared with days for a PU System,' he adds.
For more information and technical support visit: www.tremco-illbruck.co.uk
Contact:
Wigan 01942 251400
---