If you're designing a smoke control system for your building you can now expect much more from the latest smoke ventilators than ever before.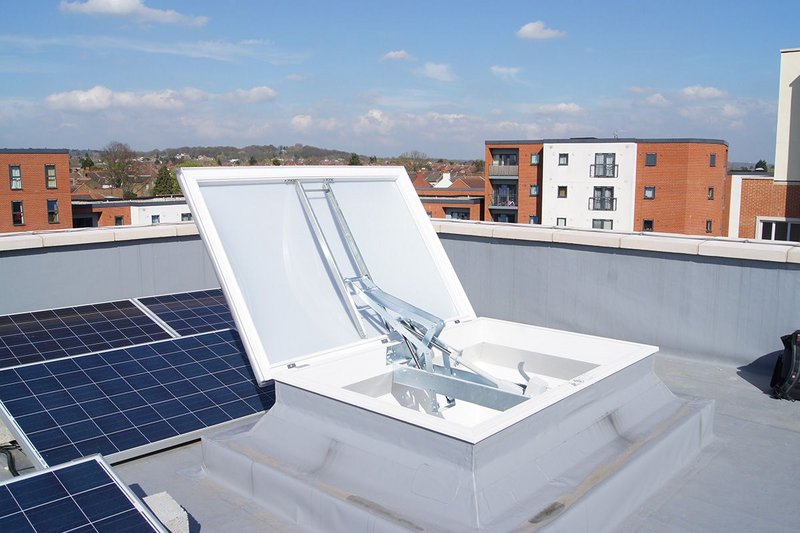 Whitesales' Em-Vent is a contemporary rooflight that automatically opens in the event of a fire to reduce smoke and heat build up and to keep key fire escape routes smoke-free.
As well as saving lives by automatically aiding building evacuation, these CE marked EN 12101-2 certified systems also improve quality of life and morale in buildings by increasing natural light. They may also be opened electronically for convenient and secure roof access and maintenance, and offer excellent comfort cooling and ventilation.
These flat roof smoke ventilators open to 160°, which exceeds the requirements of the new Natural Smoke & Heat Control System Standards BS EN 12101-2. Available in a range of shapes and glazing options, the polycarbonate glazing is up to 250 times stronger than glass and has unrivalled thermal efficiency and performance for reducing overall energy spend.
Em-Vent can also be integrated with the building management system, or supplied with the Em-Vent smoke vent control panel, certified to BS EN 12101-10, with options to include fireman's priority switches, manual control points and smoke & heat detectors. Want to know more?
Contact Whitesales by emailing sales@whitesales.co.uk for more information and to order our new Smoke and Access brochure, or visit www.whitesales.co.uk
---