With low-profile frames, impressive structural strength, outstanding thermal and acoustic performance and maximum daylight ingress, rooflight expert Whitesales' Em-Glaze range is inspired by the overwhelming evidence in favour of daylighting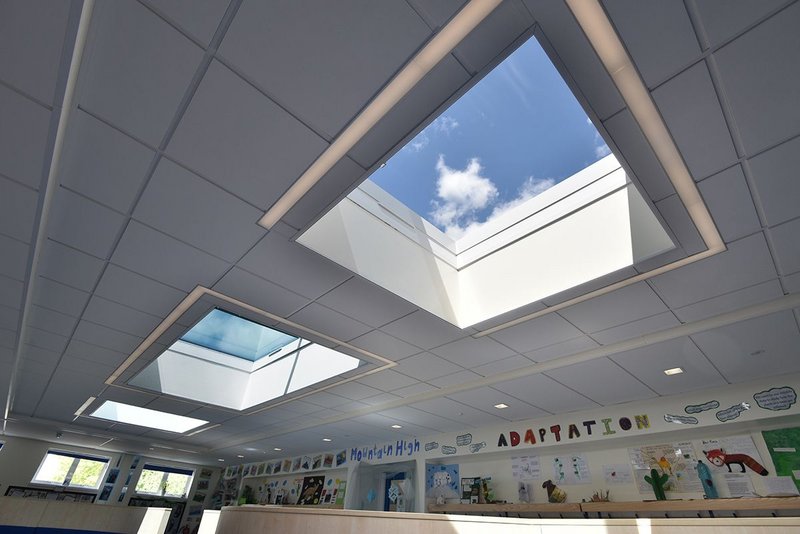 The Em-Glaze modular rooflight from Whitesales has been engineered to strike the perfect balance between eco-credentials, flexibility in design and size, thermal and acoustic efficiency, and affordability in build phase and use.
Skylights add value, lowering costs in use, reducing carbon footprint and supporting client aims for a more sustainable build. Above all, they enhance the interior experience for occupants. Daylight reduces stress, illness and absenteeism, improves mood and morale, boosts productivity and positivity, and sharpens focus and concentration.
The overwhelming evidence in favour of daylighting is the inspiration behind Whitesales' ethos: maximum daylight, minimum frame. The new slimline aluminium frame increases the glazed area for superior daylight ingress - up to 78% - and a more visually pleasing experience inside and out. Solar gain is readily overcome with optional solar control: clear, opal diffused and self-cleaning glass are all available.
That low-profile frame does not compromise the thermal performance, however. As standard, whether double or triple glazed, the products are manufactured as 30mm hermetically sealed Low E, argon-filled units with a warm edge space, guaranteed for full compliance with the latest building regulations. Em-Glaze can be specified with trickle or controllable rotating ventilation and manual hinged, electric hinged or electric sliding roof access, depending on size and roof location.
The Em-Glaze range includes modular, continuous and ridgelight variations in standard sizes and shapes, or bespoke to architects' most ambitious design plans.
For more information and technical support visit: www.whitesales.co.uk
Contact:
01483 271371
---