Leading bespoke kitchen specialist Roundhouse Design discusses how to mix contrasting materials to achieve a palette of rich textures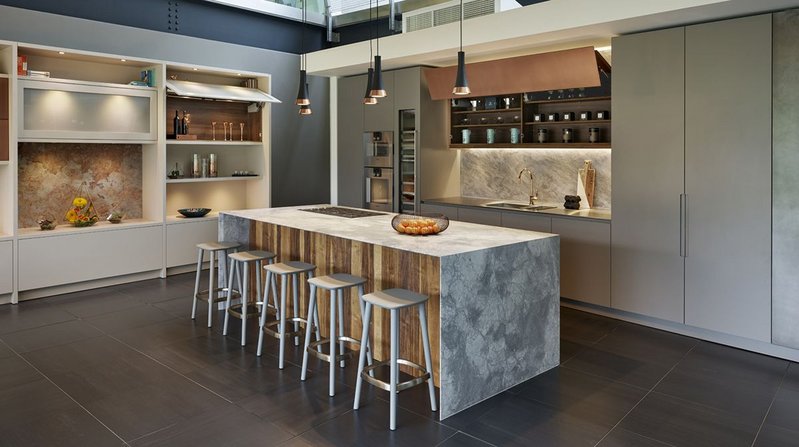 A Roundhouse 'urbo island' is counterbalanced with a 'white fantasy' work surface, burnished copper cabinetry and a travertine splashback.
Roundhouse, a bespoke kitchen company, is pushing the boundaries of design. The company, founded by architects, has set a trend of using mixed materials and finishes in discreet yet skilful combinations.
Following Roundhouse's innovation, there has been a recent fashion across the high-end kitchen design industry of layering textures; such as mixing natural and organic materials or highlighting with contrasting metallics and fine veneers.
Some instances of this technique in Roundhouse's kitchens includes combining rough sawn surfaces with polished concrete and antique bronze mirror glass and metal wrap furniture with natural stone. One kitchen in particular boasts a combination of patinated metallics, developed exclusively in-house, with smooth stone surfaces and matt-painted furniture with Carrara marble. Such experimentation has placed Roundhouse at the forefront of this approach to interior design.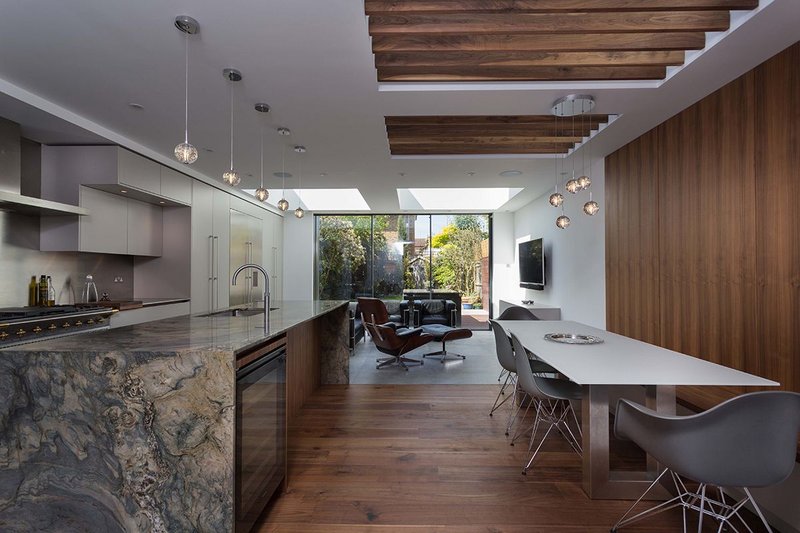 An open plan living space demonstrating contrasting matt lacquer, walnut, stainless steel and Farrow & Ball purbeck stone.

Credit: Tony Timmington
New finishes
River-washed ply is a recent addition to Roundhouse's catalogue of tried and tested novel finishes, with its textured surface working against a 'white fantasy' granite worktop.
The company has played with polished concrete worktops, introducing an architectural or sculptural dimension to its kitchen arrangements. Furthermore, Roundhouse has taken full advantage of concrete's neutral colour by setting it against a variety of colours and veneers.
Contrasting materials avoid a uniform look by creating a palette of textures. Polished concrete offers many possibilities: it can be set against rough sawn finishes, metal wraps and patinated or burnished metallics. An example in Roundhouse's design is an antique brass metal wrap finish juxtaposed with a black leather finish stone, adding a rich character to the kitchen.
Texture in open plan spaces
Open plan spaces influence experimentation with different materials due to the lack of division between rooms. Roundhouse's interiors are a lesson in mixing materials across such spaces with care. Using luxury veneers and contemporary textures in bespoke kitchen cabinetry blurs the boundary between kitchen and living areas. Additionally, new Roundhouse bespoke living room furniture features glazed cupboards and open shelving.
In a bid to move away from conventional cabinetry, the company mixes plain finishes with metals, such as brass or copper, and woods like Roundhouse's driftwood or deeply riven oak ply. Fixtures and fittings can also be matched to these new metals, namely antique bronze or blackened steel taps or even a hammered copper sink.
See Roundhouse designs and finishes
Roundhouse recently completed refurbishment of its flagship Wigmore Street showroom: one in a portfolio of six showrooms in and around London, Guilford and Cheltenham. New products and finishes are on display to provide a showcase for many of the textures, materials and finishes discussed throughout this article.
For more information and technical support visit: www.roundhousedesign.com
Contact:
​02072 976220
info@roundhousedesign.com
---