Q-railing balustrade systems offer architects an ideal solution for using state-of-the-art safety barriers in traditional wood and stone construction projects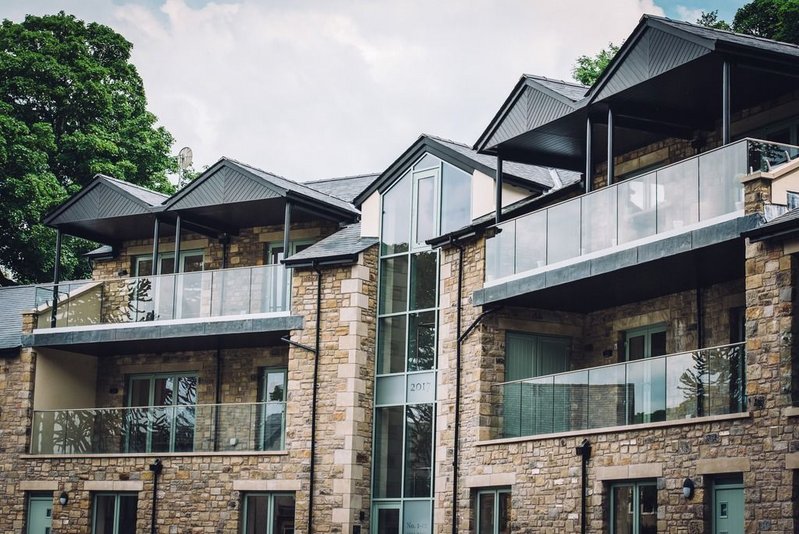 Q-railing balustrades at the Tall Tree Gardens development, Bolton-le-Sands: Glass and stainless-steel balcony railings perfectly match the stone and green surroundings.
The building envelope of the three-storey houses at the Tall Tree Gardens apartment development in Bolton-le-Sands, Lancashire owes much to the traditional stone construction style of the region. Inside the apartments everything has been selected with an eye for quality. Solid wooden doors, luxury tiles and ironwork features are used throughout.
With some apartments featuring balconies and floor-to-ceiling windows, there was a requirement for state-of-the-art safety barriers. Q-railing balustrade systems were specified to provide high levels of transparency without compromising safety.
Juliet balconies consisting almost entirely of glass were installed in front of the full-length windows. Minimalist but ultra-safe adapters attach them firmly to the facade. The effect is one of near invisibility, leaving the attractive stonework on full display. Full-glass Juliet balconies also allow maximum natural light into the apartment rooms.
The balcony railings at Tall Tree Gardens are frameless and offer similar high levels of transparency thanks to their ultra-slimline base shoes. This allows residents to enjoy the beautiful, leafy surroundings to the full while sitting on their balconies.
On each of the internal staircases, a stylish stainless-steel railing with posts and glass infills, also from Q-railing, has been added for safety. From an aesthetic perspective, the railings create a fascinating contrast to the traditional building materials of the development.
In total, 150 metres of railing have been installed at Tall Tree Gardens, all supplied by Q-railing. Its Easy Glass Pro's frameless infills are 15mm toughened glass and a 42.4mm cap rail has been added for extra safety. The Juliet balconies have 17.52mm toughened glass, secured with Q-railing's MOD 0749 glass adapters. In the stairways, its Q-line system was used to create the railings.
The balustrades supplied by Q-railing make a major contribution to the stylish setting of Tall Tree Gardens. The traditional look of the exterior is a major part of the development's appeal and the transparency of Q-railing's safety barriers allows it to be seen to best advantage. The bright and stylish feel of the interiors is enhanced by the Juliet balconies and by the synergy of traditional features and stainless-steel stair railings.
For more information and technical support, visit q-railing.com
Contact:
01782 711676