Samuel Heath's Powermatic door closers offer high performance for hotels and leisure applications, while also creating a relaxed, cosy feel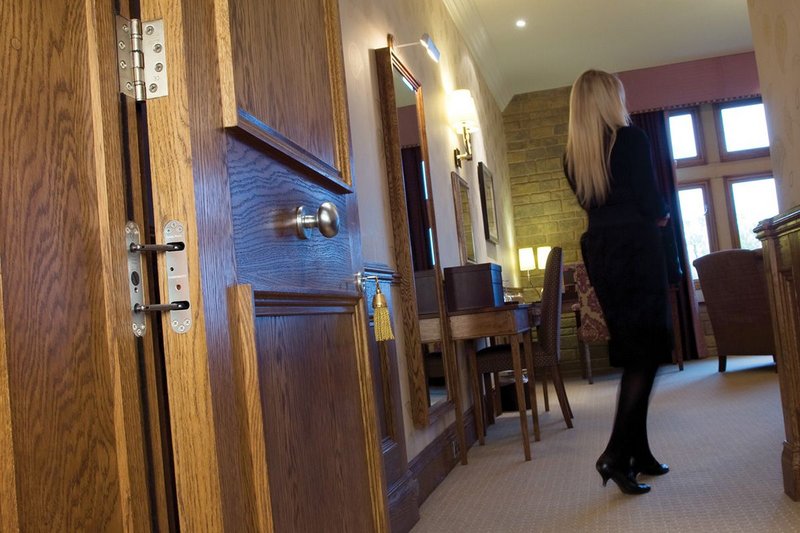 Samuel Heath Powermatic door closers installed at South Lodge Hotel & Spa in Surrey.
The choice of door closer can have a significant effect on the appearance, ambience and comfort of any project. When it comes to hotel interiors, these attributes have particular importance in assuring the quality of the guest experience.
The natural choice for the designer has always been the concealed door closer and, for many years, British manufacturer Samuel Heath has been at the forefront of the selection process with its Powermatic controlled, concealed door closers. The door closers deliver outstanding fire and accessibility performance, but it is their concealment that brings a host of benefits for hotel interiors.
Fitting neatly between the door and frame, Powermatic closers are totally concealed when the door is closed. Unlike surface-mounted devices, this ensures that nothing interferes with the desired appearance of the door or interior decorative scheme. It also creates a more homely, less functional, or institutionalised, ambience within the room, something which is highly desirable when comfort and relaxation are paramount.
Together, these benefits have seen Powermatic used by the world's leading designers on hotel projects across the globe, from owner-managed boutique residences to luxury hotel, spa and leisure resorts. All are seeking to make the guests' stay as comfortable and enjoyable as possible.
Recent additions to the long list of hotel projects that have benefited from Powermatic, in the UK and across the world, include Brown's Hotel and The Savoy in London; ARIA resort and casino, Las Vegas; the Hilton, Manchester, and the exclusive South Lodge Hotel & Spa in Surrey.