After two years of disrupted education, children's mental health has been put in the spotlight. What can architects do to help?
One of architect ADP's concept sketches for post-pandemic future schools' design, with a greater emphasis on pupil wellbeing rather than just the school 'estate'.

Credit: Timothy Soar
While there has been a focus on making workspaces for adults more playful, creative and inspirational, the places where most children spend their working days have largely gone back to basics. There's little scope for office-style colourful pods, landscaped terraces and indoor slides in the schools delivered under government programmes.
That is a consequence of the Department for Education's (DfE) focus over the past decade on space, cost, standardisation and build efficiency, together with the use, particularly by free schools, of constrained urban sites. Confined corridors and open spaces have helped contain delivery costs, but might also be contributing to British children's increasing unhappiness, as charted by charity The Children's Society.
'In many ways offices are way ahead of schools in innovation in responding to wellbeing and the different ways people want to work,' says Nick Mirchandani, director with ArchitecturePLB. While employers look to office environments to help attract, retain and get the best from workers, he says, 'productivity is relatively new as an explicit conversation in schools, and there have been times when it has been denied'. This is a reference to one-time education secretary Michael Gove, who began the Gradgrindian focus in 2010. That limited architects' opportunities to create more nurturing environments – although there are signs of change in the DfE's evolving requirements.
Delivered with dialogue
The DfE's Output Specification, which governs school design, promotes health and wellbeing through performance specifications for the internal environment. 'There are so many aspects to wellbeing. Some are measurable, like air quality and daylighting, and in the state sector they are really well covered by the Output Specification,' says Mirchandani. Other factors, like access to nature and views, are less measurable and, he says, 'Those are the areas that are more concerning. I'm a fan of the Output Specification, but there is still a need to focus on those less tangible qualities of space.'
Focus on such qualities – and on nurturing pupils' diverse needs – has come where the architect has been able to engage in dialogue with school staff. By way of example, Mirchandani cites St Mark's School in Southampton, an all-through school for 1346 pupils aged 3-16, being constructed on the site of an existing primary.
The primary head is to run the expanding school. 'It was really valuable to have the person in charge to talk to,' says Mirchandani. 'We have done a lot of thinking about how those groups can have their own territory but also a group identity. A five year old is very different to a 16 year old.' The architect's solution is an L-shaped design, having a three storey main building for secondary pupils and a two storey primary wing. The corner of the L where the two meet houses a dining room and other shared facilities while the whole is surrounded by spaces for boisterous play or contemplation.
This kind of connection with end users is more common in schools for children with special educational needs and disabilities. Harbour School, which is under construction in Bovington, Dorset, is designed to accommodate 160 pupils from two cohorts: those with social, emotional and mental health needs and autistic spectrum condition, from age 10 to sixth form. The two cohorts are attending the same school but have different learning requirements and need to be separated, having their own defined areas and entrances, the latter designed to accommodate specific drop-off procedures. The design solution couldn't be more different to the typical superblock secondary, being a single storey building set around a series of calming courtyard breakout spaces. 'To get that right we had to go into a lot of detail with the staff who will be operating it,' says Mirchandani.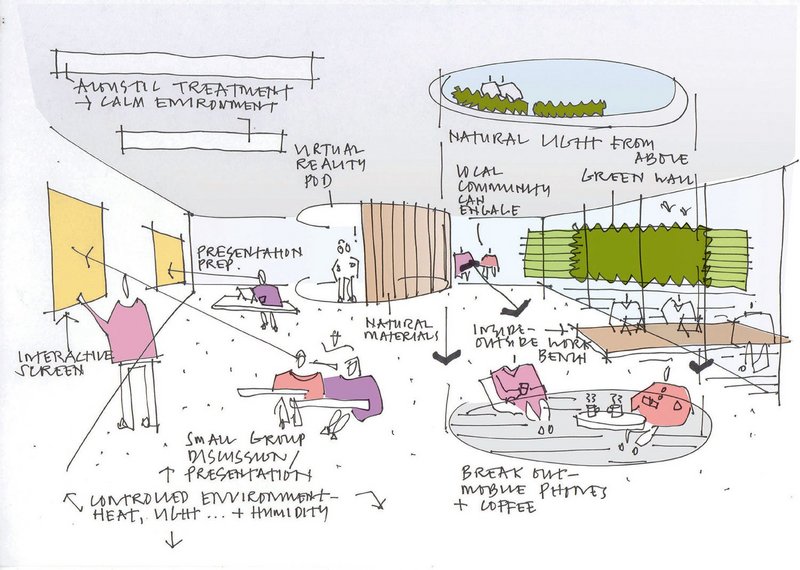 St Matthew Academy, Blackheath, is representative of ArchitecturePLB's commitment to an effective 'output specification'.

Credit: ADP Architects
Taking responsibility
With 10-minute reflection breaks for yoga or meditation incorporated into the school day, the timetable for Aureus School, in Didcot, reflects its head teacher's focus on health and wellbeing. So too does ADP's design for the 1200-pupil secondary, which is part of a new neighbourhood. 'Wellbeing was in the ethos of the school and we had to understand what that looked like as a building,' says ADP's school sector lead, Claire Mantle. Opened in 2017, the school has a dining room created for 'family dining', where pupils eat and converse around large circular tables, and outdoor spaces for quiet reflection and informal activities like trim trails. There's a biophilic sensibility to the design, with large windows at corridor ends framing rural views and fun in the graphics on the staircase wall.
The school's budget was higher than the norm, but only slightly so, says Mantle. Cost, construction frameworks and lack of user dialogue may limit the potential to incorporate health and wellbeing into designs, but she believes architects can help redress the balance, arguing, 'As designers we need to take responsibility and drive the agenda on what schools should be about, promoting healthy living and asking the right questions. At the moment, it is not being put at the forefront of conversations.'
Practising what she preaches, Mantle carries out post-occupancy evaluations (POE) of the practice's schools projects, which involves both examining data on building operation and environmental comfort and speaking to staff and pupils about less tangible aspects, such as their feeling on arrival, which can influence their school day. Small interventions – which are often down-specified in delivery – can make big differences to children's experience, as she explains: 'For smaller children, that might be about what door handles feel like or having a whiteboard at their eye level. For secondary pupils it could be about spaces where they can develop social skills or having a bench for reflection.' And the staff experience is relevant too, with a revisit to its Braywick Court Primary School, in Maidenhead, revealing that glazed panels beside classroom doors to allow daylight and passive supervision of pupils also gave the headteacher a quick connection with staff by walking along the corridor.
We have thought a lot about how groups can have their own territory and a group identity. A five year old and a 16 year old are very different
POE and round-tables with clients and educationalists have contributed to a body of learning and allowed the practice to identify some essential ingredients of good school design, including being outdoors, a sense of community, inclusivity and flexibility. Last year the practice developed the SBE Toolkit, an assessment tool it applies to all its projects and measures them against three core principles – sustainability, belonging and engagement. The second concentrates on forming connections through community and the third prioritises the internal environment, broader health and wellbeing.
With five sub-sections to each core principle and further questions under each sub-section, the toolkit helps shape priorities at feasibility, planning, completion and POE stages and drive continuous improvement. 'It prompts conversations among designers and their clients. If you ask the right question a head teacher might say they want a bug hotel or a green roof,' says Mantle.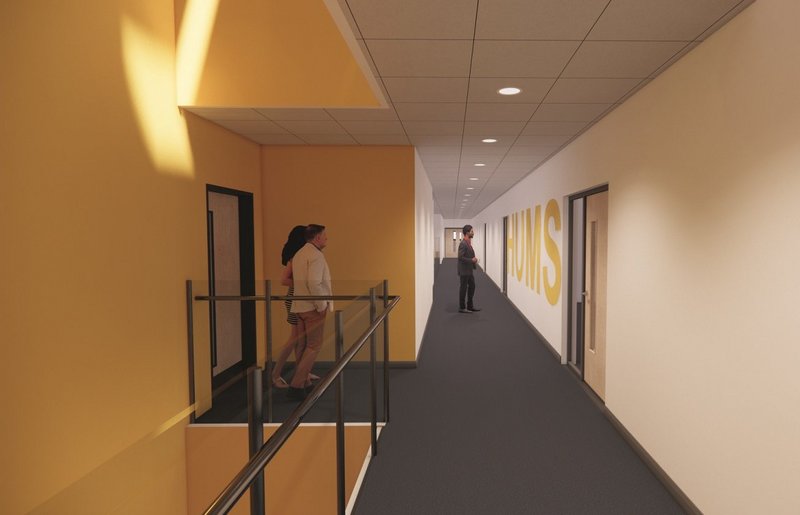 To counter bullying, more generous corridor widths than average are the norm at Stride Treglown's West Coventry Academy.

Credit: Stride Treglown
Sustainable benefits
Alongside the renewal of its construction frame­-work for school delivery, the DfE is revising its Output Specification and adding a technical annex on sustainability, which will drive a requirement for schools to be passive in design and net zero carbon (NZC) in operation – or, where that's impossible, for designers to state how carbon neutrality can be achieved over a building's lifetime. Ahead of the documents' formal introduction later this year, the DfE is applying it in draft form to its School Rebuilding Programme for England, for which the first 50 projects were named in February and 50 more in July.
Stride Treglown worked on test projects in the run-up to the programme, its experience informing the new DfE documents. Danny Harris, its head of schools, says pupil wellbeing will benefit from the focus on net zero carbon as well as some lessons learned. Of the latter, he says, 'Historically, everything was delivered to the minimum requirements and there was not much aspiration to go above and beyond those. I think that's changed, mainly because of the drive towards modern methods of construction (MMC) – it has been counter-intuitive to have area as the top priority when a system-build product can perhaps generate a different area but create more efficiencies in cost through its means of production in a factory.'
One concern has been corridors, long associated with anti-social behaviour and bullying. 'Some of the working to minimum requirements exacerbated the issue, so we did things like introduce offices near staircases to give good passive supervision,' says Harris. Minimum widths were increased in the 2020 update of the Output Specification, but NZC promises to be a gamechanger. Harris explains: 'With sustainability requirements and a passive approach to the building, the way the Output Specification works is that the air gets drawn in through the classroom to the central corridor and out via the roof. That means you need a much wider corridor with more daylight, which creates a more generous and visually stimulating space.' It is also hoped it will reduce anti-social behaviour.
Historically, everything was delivered to minimum requirements and there was not much aspiration to go above and beyond those. I think that's changed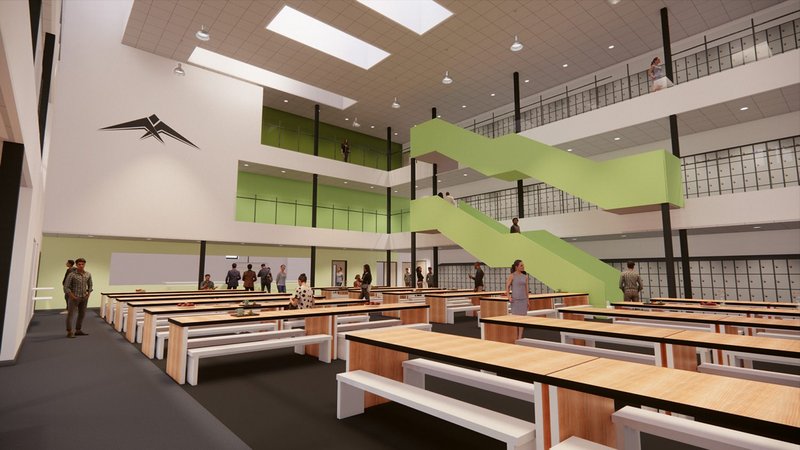 Generous common spaces, observed spaces and rooflights all contribute to the spatial generosity of the West Coventry Academy.

Credit: Stride Treglown
The difference will be evident at West Coventry Academy, an early project in the school rebuilding programme where the practice is working for client and main contractor Bowmer and Kirkland. Here, an outdated 1960s secondary with swimming pool is being rebuilt using a timber structural insulated panel system from a local supplier. In line with the passive approach, the design incorporates 3m wide corridors – instead of the conventional width f under 2m – with 1m deep light shafts above.
While sustainable design promises well­-being benefits, there are factors to reconcile. 'Opening up the classroom to the corridor so air can travel through presents fire and acoustic issues,' says Harris. Another problem is ventilation, which itself has gained prominence with Covid-19. 'There are quite stringent requirements about how you bring air into a classroom. For example, DfE's strategy is that you're not allowed to bring in cold winter air, so you can't just open windows,' says Harris. Air must, therefore, be mixed before it gets to the classroom, passively or mechanically. 'Passive is good for health, but the way we achieve that is quite challenging in practice,' he adds.
Health and wellbeing gains could also come from the need to maximise passive cooling potential, which strengthens the case for enhanced landscaping, and the adoption of renewable energy technologies. West Coventry Academy will have photovoltaics (PV) on the roof, but where roof space is limited contractors are installing PV-topped canopies in school grounds. 'That gives good opportunities for outdoor covered dining or teaching spaces,' says Harris.
Early projects show that simple strategies are the most effective. 'Passive buildings are very simplistic by nature,' says Harris. Perhaps, this time round, a return to basics can be better for health and wellbeing.