Peter Zumthor has substituted concrete for soil in a remote getaway that emulates its rammed earth neighbours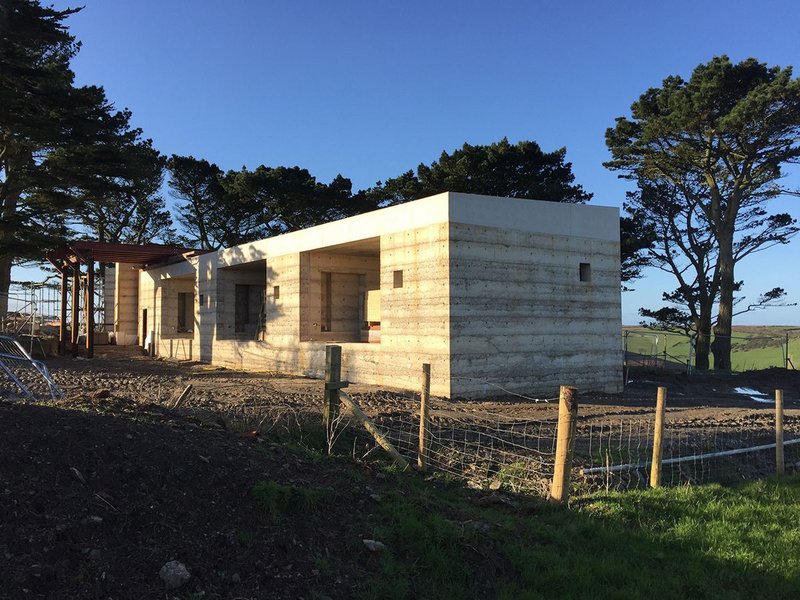 The latest piece of Living Architecture, a 340m2 holiday home supported on two rugged walls of rammed concrete, is taking shape at a remote spot on the south Devon coast.
Designed by Swiss architect Peter Zumthor, a man known for his stubborn adherence to 'natural' building techniques over formalistic design, the five-bed hill-top 'Secular Retreat' in Chivelstone, near Dartmouth, is being constructed under the supervision of executive architect Mole.
The use of rammed mass, unreinforced concrete is a relatively rare in construction, seen only a couple of buildings in Switzerland, most notably Zumthor's own starkly mystical Bruder Klaus Chapel.
In Devon, the technique was chosen to mirror the many rammed earth buildings built around nearby Dartmoor and create a sense of monumentality – rammed concrete walls require a much greater thickness than the reinforced equivalent.
The walls for the building's two bedroom wings were built up in 150mm-deep layers, with three to four layers completed a day; comprising a dry mix of concrete, aggregates, sand, cement and very little water. Each layer was rammed into formwork until the water rose to the surface, reducing the thickness to around 120mm to increase the wall's strength.
The resulting horizontal layers resemble strata lines in rocks, an effect that was enhanced by 'day joints'. These were created as daily changes in temperature and precipitation altered the texture and colouration of adjacent layers.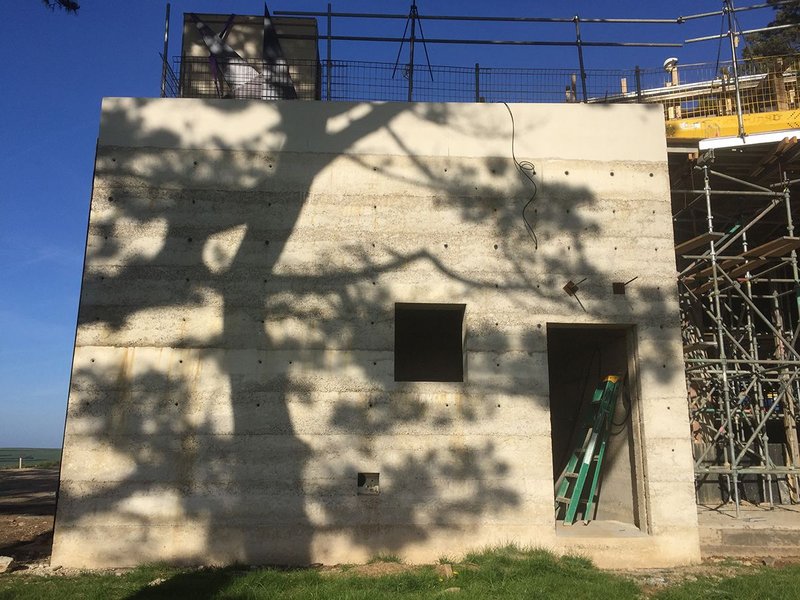 Ian Bramwell, senior associate at Mole Architects, told RIBAJ: 'When you get closer to the walls you start to see the smaller strata within. It's amazing the difference a small amount of rain makes to the colour and consistency of the concrete, allowing the fine cement particles to flow around the yellowish locally-sourced sand. We used a white cement to create a cleaner look when the mix was wetter.'
The process required craftsman-like input from the contractor, which had never worked with rammed concrete before and had to judge the amount of water add into the mix each day based on the effect produced when scrunching a ball of concrete in the hand.
The walls provide support for a massive in situ concrete roof that spans 26m, corner to corner, over a 140m2 central kitchen/dining/living space. Bramwell explained: 'The roof is a real feat of engineering. Its non-linear shape means there are vastly different loads on the corners, and it cantilevers out up to 5m with a 1.2m-thickness in some places. The eccentric loads you get acting over the top of it are enormous, creating deflections of up to 120mm.'
Despite the loads, just seven 300mm-diameter reinforced concrete columns, clad in rammed concrete, were required to support the underside.
---