When does our growing use of technology tip into digital architecture? And how does that affect the players and process of design? In Birmingham, a look through the window demonstrated the future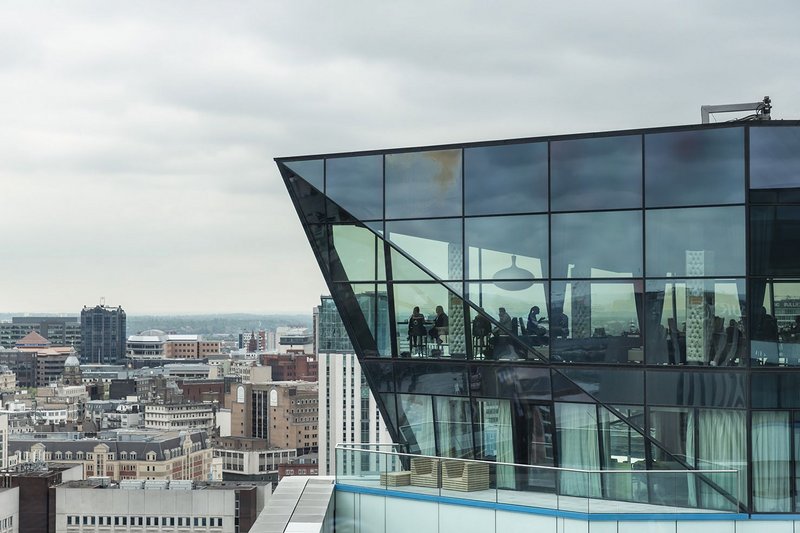 View from Make Architects' 26-storey The Cube, looking over north Birmingham.
Birmingham is undergoing a renaissance. Historically it was a centre for the industrial revolution and some of the most amazing technological advances of the time. Today it is the largest centre for growth in start-ups and enterprises outside London, specialising in anything from biotechnology to automotive design. With 46% of its population under the age of 30, the demographic is changing and the city's huge growth can be seen by the number of cranes and building sites.
So, from the top of Make Architects' 26-storey The Cube, the AluK roundtable on digital architecture – the third in the series into the future of technology in architecture – appropriately kicked off with a walk to the window to appreciate the fantastic views over Centenary Square and beyond.
'You might have come via New Street Station – a building that wouldn't have been possible without some of the technology we are talking about today,' opened James Spencer, session chair and project architect at local practice Glenn Howells Architects.
'From here we can see Mecanoo's Birmingham City Library, Centenary Square and the International Convention Centre. We can see one, two and three Snow Hill. Number three will be one of the UK's largest speculative office buildings outside London. You also have Argent's Paradise and the building site below us is the upcoming HSBC national headquarters, positioned beside what was the old Midlands Bank. It is nice to see HSBC coming back to next one of its original banks. New Street is just to the back of us, and behind that the Bullring and Selfridges – another building impossible without digital technologies.'
Bedded in the context of Birmingham, the objective of the day was to discuss the question of digital architecture, and in doing so cover sub topics including social media, virtual reality, production and style.
What is digital architecture?
As with AluK's two earlier roundtables on BIM and mass customisation, the event opened with a grounding question about what digital architecture is. While there were few precise definitions, the general consensus was that it is less a style of building that generates forms impossible 30 years ago – in the manner of Future Systems and Zaha Hadid Architects (ZHA) – but more a design process that incorporates computer use, shared/collaborative working, visualisations, testing/prototyping buildings and smart technologies. It integrates 4D for time and 5D for costing.
'It is difficult to label any particular building as digital architecture,' commented Marvin Chik, associate at Hawkins\Brown. 'We all tend to use some kind of digital process in design.' AHR associate director Simon Lamprell added: 'Digital architecture still applies whether we are doing a rectilinear building or modernist style. It is effectively constructed digitally and uses technology to improve real-life construction.'
'For me the big promise of digital architecture is to create a model of what I am thinking and have others contribute to it,' said Nils Fischer of ZHA. 'It buys me more time as a designer to do what human input is best used for, designing at the beginning, and in the longer term problem-solving because there is less overhead in recreating documentation or iterating the process.
But the client perspective, from Sunil Johal at Argent, saw stylistic consequences in digital working: 'We see it as a completely new platform to create edgy, complex forms; provide design flexibility and be more unsafe.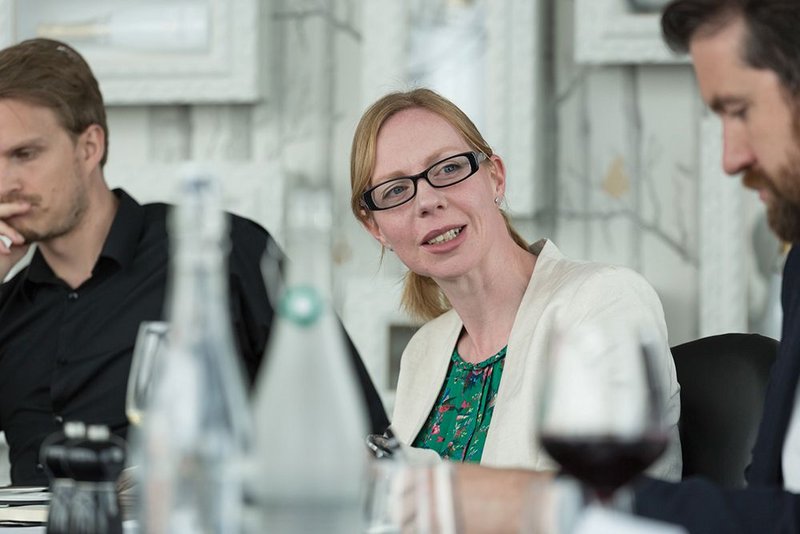 From left to right: Mark Rousseau, EPR Architects associate Claire Truman and James Spencer.
Has digital design changed the client brief?
One of the biggest impacts of digital design on architecture is what the client expects of the architect; from BIM requirements to almost photographic visualisations.
'Expectation has gone through the roof,' explained Johal. 'Architecture has allowed developers to sell projects before they are even built. Before we had drafts, sketches and drawings but to see these designs in 3D, to be able to walk through them, it helps us so much up front and creates better investment levels, making bigger developments more feasible earlier on. When we're working with architects and planners, we can transplant our vision into a proposal a lot more quickly.'
Testing/prototyping opportunities are seen as a major advantage of digital design. Though AluK's Graham Roche felt it perhaps wasn't fully integrated yet, Lamprell and EPR Architects' Claire Truman agreed it is important, and will become even more so. 'The testing side allows the client to take less risk with its investment as it can predict outcomes more accurately,' she explained.
At the centre of this, however, is the question of architects giving away their intellectual property too early and quickly.
'Over the past 15 years renderings have been a massive advantage in winning work,' responded Fischer. 'You won a competition with a sketch 20 years ago; now you spend three weeks on a design and sell an image that looks built. It's not always a good prediction of what you'll get.' And here all participants agreed an educated client is essential. 'We have had clients walk around a building at the end and say "that isn't on the visual". There's merit in sketching,' said Lamprell.
'It takes an educated client to be aware how easy it is to create high-quality images,' explained Fischer. 'Clients need to get used to the medium. It is important to look at built track record. And it is the task of architects to compare visualisations with built results to learn which parts of the construction process require more knowledge.'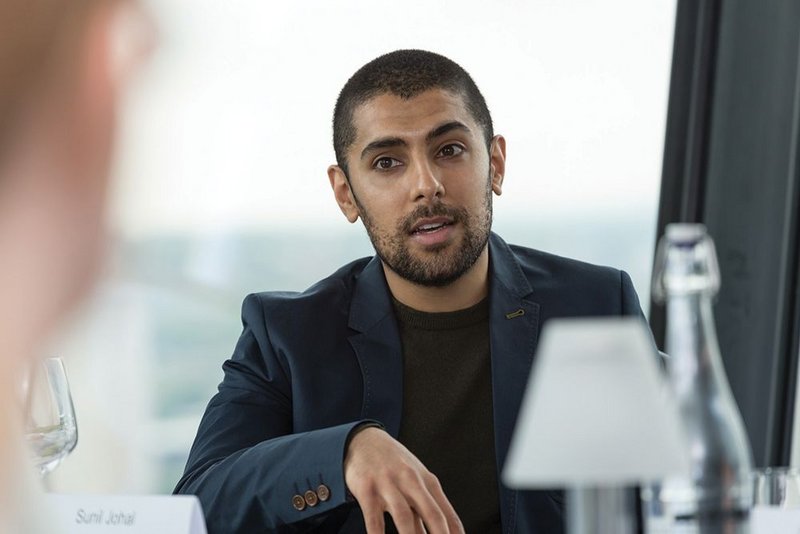 Argent project director Sunil Johal.
Has using technology every day changed us?
Technology has undoubtedly changed the way construction professionals work. Digital equivalents have replaced many processes that reduce time-wasting and energy.
'We talk about digital architecture and gravitate towards BIM, but it has a wider base,' explained Spencer. 'What we forget, because it is second nature, is how computers and the internet have helped us understand the world better. You now sit at your desk and visit, for example, a site in Rotherham on Google Streetview and you can pull up an aerial view from four sides of a site. You can then go into Google Earth and rotate around a site, you can drop your model in Google Earth. We have all taken this huge leap and nobody has batted an eyelid. It is interesting because of what we're doing just over there in Paradise Circus: a lot of the early exploration is done through Streetview and Google Maps, aerial views in Bing. It wouldn't have been possible 12 years ago but we have all just taken it on. We sometimes overlook at this technology. It is all part of a slow assimilation of an increasingly digital practice. Some of the digital software isn't second nature, like BIM, but others are commonplace.'
This digital revolution has extended to how architects market their work, with small practices benefiting greatly in terms of profile and business from self-publishing on Facebook and Instagram.
'I have a friend who posted their first project, a garage conversion, on Twitter and by the following day they had 30,000 likes, four client requests and were called by Channel 4 to do a TV feature,' said Fischer.
Yet for all its benefits, many participants felt social media could also be damaging. 'It works for smaller practices,' explained Chik, 'but for medium practices it might come across as trying too hard; there is a careful balance.'
And some qualities are being lost in the overall design process – most notably drawing. Participants agreed that the pen is a valuable tool and that there is less sketching but some, including BPN architectural assistant Mark Rousseau, suggested it has seen an upturn in both practice and education. Fischer made the distinction between using the sketch for internal communications or presentations, of which the latter is reduced but the former encouraged after a period of trying to go paper-free.
'Now there's the question of when each tool is appropriate,' said Spencer. 'BIM adds a bit of a stranglehold: when is the right time to use it, when do you bring it in – before planning, tender drawings, or further down the line? More and more people ask for it early on but it can choke the process because people are having to make a lot of decisions about wall construction. That early clarity is lost by having to practically work out fairly grubby things.'
The underlying feeling was that architects lack confidence over when and when not to use technology. In comparison, local firm Jaguar Land Rover was cited as still carving cars out of clay at its research and development centre, alongside using digital labs to understand proportion, shape and form. To do so, the company invests a lot in overheads to continue this analogue technology and plug it into its production mechanisms.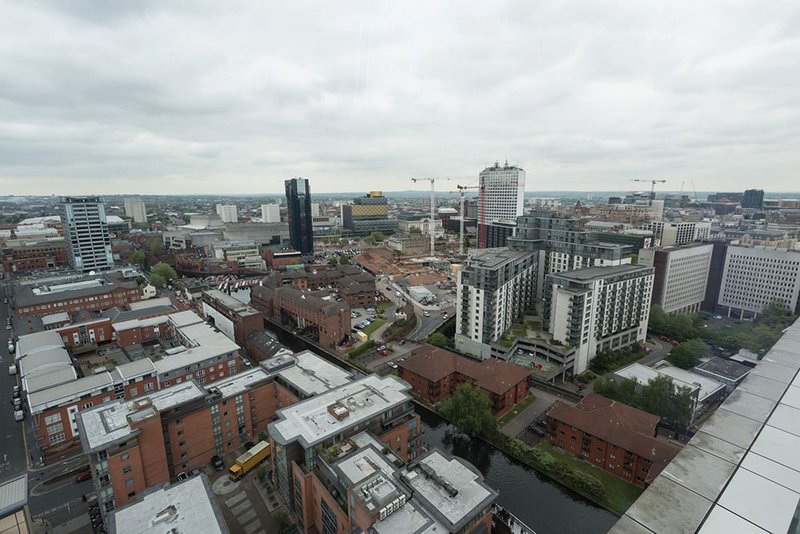 View towards Mecanoo's Birmingham City Library, showing the construction site of future HSBC national headquarters in the middle ground.
Limitations of digital architecture
While participants agreed that digital processes have improved production of the built environment in countless ways – particularly efficiencies – limitations remain. From the design perspective, the biggest is the way the software has been monopolised by one company in the past few years.
'If you look at the automotive industry, you have an amazing choice of creative tools that fully integrate into the digital workflow; sketching tools, evaluation tools, material testing tools etc,' explained Fischer.
Meanwhile Truman pointed out that BIM has been slower to take off in heritage projects because of the vast amount of upfront data to be collected, especially for highly ornate buildings. 'And finding the right people to use it has become its own problem in itself.' Again, the problem that each architectural project is unique remains a sticking point.
From the client perspective, however, Johal said: 'This has caused limitations in supply chain selection. Some supply chain members are oblivious to pieces of this software and before you know it, the investment you have put up front to produce an overall model becomes an obstacle.'
Rousseau added: 'If you can't get the right components, you are limited to certain companies that produce the components required for the model, so you end up with a much smaller palette of options.'
Fischer felt that architects need to get more attuned to developing the production pipeline and having confidence on when and where to use technology.
'From there you can learn from the film industry, where a third of the production team are programmers rather than creative directors. Architects need the skill to customise the process to make it suitable for the scale and type of project.'
What of the future? Virtual reality seems the most likely step, being used not only as a marketing tool as it is now, but as an interactive design tool integrating acoustics and lighting. Google is again at the centre of changes with Tilt Brush. But the question remains: Are there are buildings you can recognise as having been designed within the constraints of a computer programme?
---
Who was there
James Spencer (chair), project architect, Glenn Howells Architects
Graham Roche, national projects manager, AluK
AluK is an emerging brand in the UK supplying aluminium curtain wall and window products and trying to sell the products via specifications. It got involved in BIM and the digital side of things three years ago and now it wants to review what architects are looking for
Sunil Johal, project director, Argent
Developer Argent is well known for its Brindley Place and King's Cross schemes. Johal is working on the 'Paradise' project in central Birmingham. Essentially it is delivering more than 1.8million ft2 commercial space and 60,000ft2 for retail.
Nils Fischer, senior associate, Zaha Hadid Architects
Fischer has been involved in digital design from an early stage. He was co-founder with Patrik Schumacher of ZHA's design research group CODE about 10 years ago. This deals with front-end computational design research; form finding in the first place and then latterly large-scale delivery in China, where BIM became a means of survival in challenging timeframes and process management on site.
Simon Lamprell, associate director, AHR Architects
Lamprell lives and works in Birmingham. The practice is working on a range of city centre schemes, including 55 Cromwell Road and Phoenix House. Lamprell's own experience in digital design is on a more practical level rather than computational design.
Marvin Chik, associate, Hawkins\Brown
Chik heads up the digital studio, based in London, which looks at how a range of digital processes – including parametric modelling, visualisation and animation – informs the way the firm designs its buildings. Chik is interested in the common threads between similarly sized practices.
Mark Rousseau, architectural assistant, BPN Architects
BPN Architects is located in the Jewellery Quarter, Birmingham, the area in which most of its projects are situated. It has a broad portfolio of work ranging from single houses to multi-million pound commercial schemes.
Claire Truman, associate, EPR Architects
Truman has worked at EPR for 10 years. Since the recession, the firm has found that most BIM projects come out of the residential section. Truman is most involved in heritage schemes, which are large and complex. Truman's question is whether heritage is behind on BIM and how to get the efficiencies of it more integrated.
---