A £19 million investment in a stunning new UK headquarters, incorporating one of Europe's largest bathroom showrooms, has been designed with flair, imagination and the capability to accommodate future growth. This marks yet another stage in the success story of Bathroom Brands and Crosswater Holdings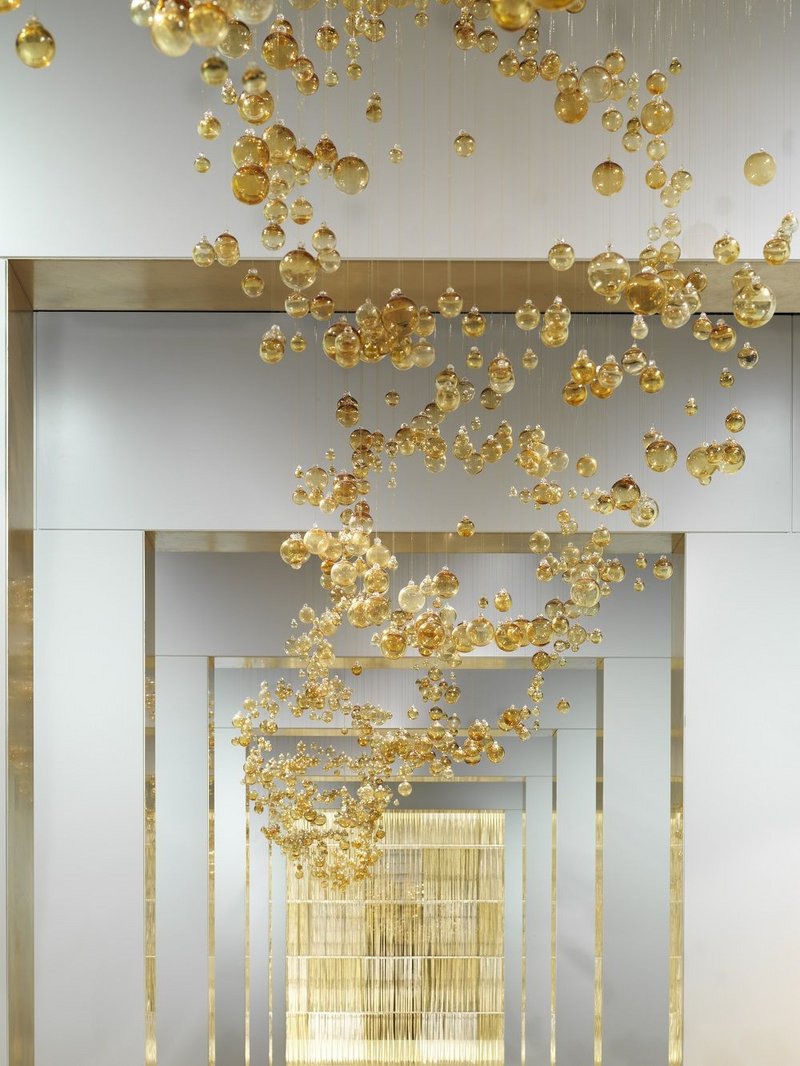 Over 5000 golden baubles have each been hand strung and hung in the art gallery inspired showroom.
Within the building there is a 10.000 sq. ft. gallery showroom, where customers can see and touch products. This is not just any showroom. It is one of the largest in Europe, occupying a space as striking as the north gallery of Westminster Abbey. Architects Coppin Dockray designed and created a gallery inspired space that fascinates with products shown in 32 beautifully decorated lifestyle settings. There is a decompression chamber before visitors enter – followed by a stunning movement-activated rainfall shower display. Over 5800 hand blown golden glass baubles suspended at different heights add a touch of magic. Each display has been created to allow for multiple changes – essential to ensure new products are seen as soon as possible. The ambience is one of luxury, quality and innovation. Craftsmen from fields as diverse as boat building, lighting design and jewellery added their expertise, making the showroom unique within the European bathroom industry.
The new showroom will be available to retailers, architects, specifiers and designers. "People from within the industry and from the design community will be astonished" says Bathroom Brands CEO Patrick Riley "This is a true landmark within the bathroom industry. We are enormously proud of what has been achieved. This fantastic new facility which brings our staff together under one roof allows us to offer our customers an unbeatable level of support that is genuinely unparalleled."