Classrooms become bedrooms while larger spaces above make the living area in CANICE Architects' Tipperary Silversprings House, a school turned home project that explores heritage, nature, modern intervention and materials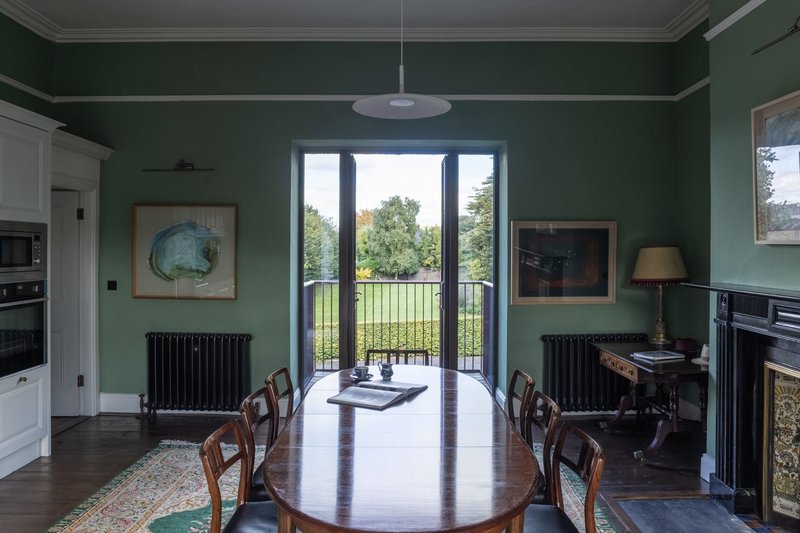 The usual domestic layout is flipped, with reception spaces on the first floor and bedrooms below. Interior colours complement the original building.

Credit: Ste Murray
There's no denying that the sharp blue of this well-proportioned mid-18th century property stands out against County Tipperary's luscious rolling greenery. The sides and rear are painted a stark Majorelle Blue, inspired by a somewhat different context and climate to Tipperary – Jacques Majorelle's house and garden in Marrakech, later home to Yves Saint-Laurent and Pierre Bergé.
'The minute you come around the building, you're shocked by it – which is a little fun twist for anybody coming to visit,' says Emily-Ann Gilligan, director and architect at CANICE Architects of Kilkenny. There is, however, much more than a bold splash of colour to the firm's renovation and reimagination of what was originally a charter school designed by English architect Richard Harrison.
Already a Protected Structure, the building was afforded Recorded Monument status following a local community petition against a hotel scheme that was considered to be an over-development. A decade and a half of abandonment and squatting followed, before an art lover purchased the property to create a family home. Gilligan says that from the start CANICE took a sensitive approach, working closely with the conservation officer on a scheme with minimal physical alterations, celebrating its historic fabric and context. There have been physical changes though, largely to pare back or remove latter additions.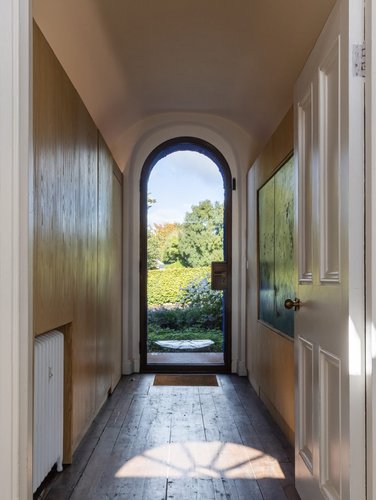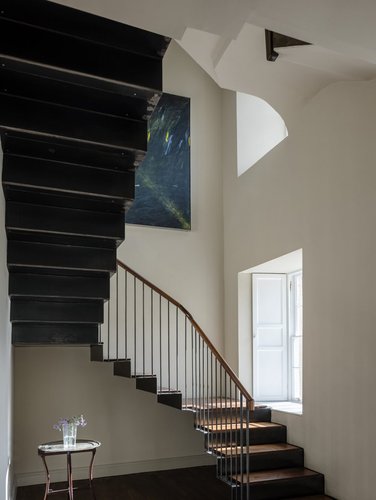 Recognising that former classrooms on the ground floor made better bedrooms than the larger spaces above, they decided to flip the traditional domestic structure. This also created first floor living spaces with dual aspect views across the garden to distant hills. A Corten steel box has replaced a latterly added bay window, offering a small balcony from the kitchen/dining room. 'We're very interested in the work of Carlo Scarpa, and a very sharp aesthetic right next to historic elements,' Gilligan explains.
A mild steel cantilever stair, replacing a section lost to rot, is another sharp, contemporary addition. 'The handrail and treads are American walnut, rich and warm, so if you're coming down with bare feet in the evening, you're touching some beautiful timber,' says the architect, speaking of a subtlety within a material, colour, and lighting palette designed to draw attention to the existing fabric.
The same walnut is used for entrance hall panelling, which replaces rotten wainscotting, conceals storage and a door to the guest wing, and frames a painting. It is also used to screen an ensuite and walk-in wardrobe from the main bedroom, where a glass panel admits light above and retains the room's original proportions. Lighting is designed to focus the eye on historic architectural elements and the owner's art collection.
Internal colours are more restrained than the Majorelle shock outside. Tones have been chosen to connect to nature without overpowering original floorboards and the Kilkenny limestone fireplaces.
The roof, which had suffered nail sickness causing serious structural damage, has been completely replaced. Loft spaces nestled within it will be used as an artist's studio and carry the deepest sense of history, retaining as much original material as possible, says Gilligan: 'The attic has a fantastic atmosphere; you get a real sense of its previous use as a charter school.'
Suppliers
Ceramic tiles/Sanitary ware: Mary Barry
Flooring screed: Ardex Building Products
Underfoor heating/shower drain: Schlüter Ditra Heat
Doors & Windows: Ottostumm
Door Systems: Hafele
Lighting: Willie Duggan
Insulation: Thermafleece Sheepswool
Paint: Lime mineral paint 'beeck' by Ed Byrne
Osmooil underpaint by Timber work
Ironmongery: Knobs and Knockers Dublin
Radiators: Wilsons Yard Radiators
Rainwater Goods: Alumasc