Siniat has developed a bespoke drylining system for Eastern High School, a new super school in Trowbridge, Cardiff, designed by Powell Dobson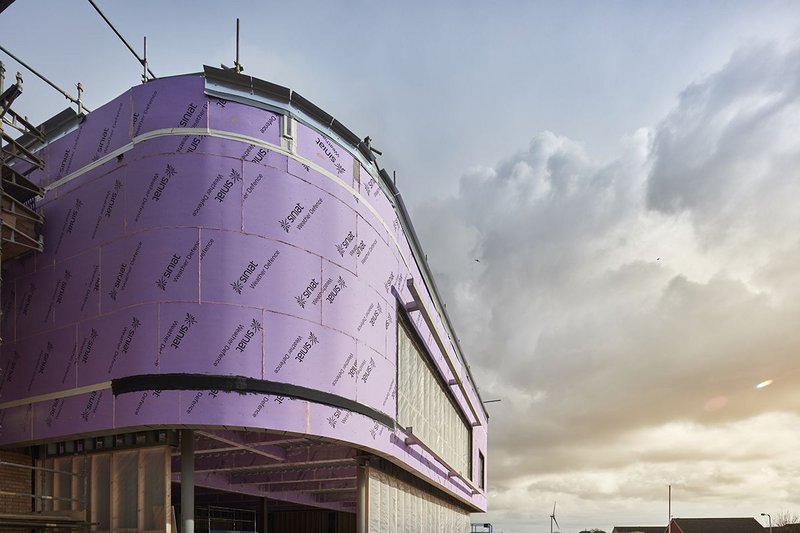 Siniat's Weather Defence with curve on frame at Powell Dobson-design school in Cardiff.
Innovation in school facilities once meant classrooms filled with computers. Now, however, there is a growing understanding that building design and construction are key to enhancing the learning experience. Eastern High School in Trowbridge, Cardiff is a product of this recognition – a £25 million state-of-the-art 'super school' for 1,500 pupils.
The development is being jointly funded by Cardiff Council and the Welsh government as part of the 21st Century Schools Programme. It will replace deteriorating school buildings with a new joint learning campus, bringing together pupils from the existing Eastern High School in Rumney with those from the Cardiff and Vale College, as well as providing a community hub. This integrated education campus called for the creation of a robust structure which could withstand frequent use and minimise the school's operating costs in the long term, while also providing a cutting-edge environment to support a first-class teaching experience.
Siniat worked with project architect Powell Dobson, main contractor Willmott Dixon and installation subcontractor M&P throughout the scheme to develop a highly durable and aesthetic design for the school that will inspire generations of pupils to come.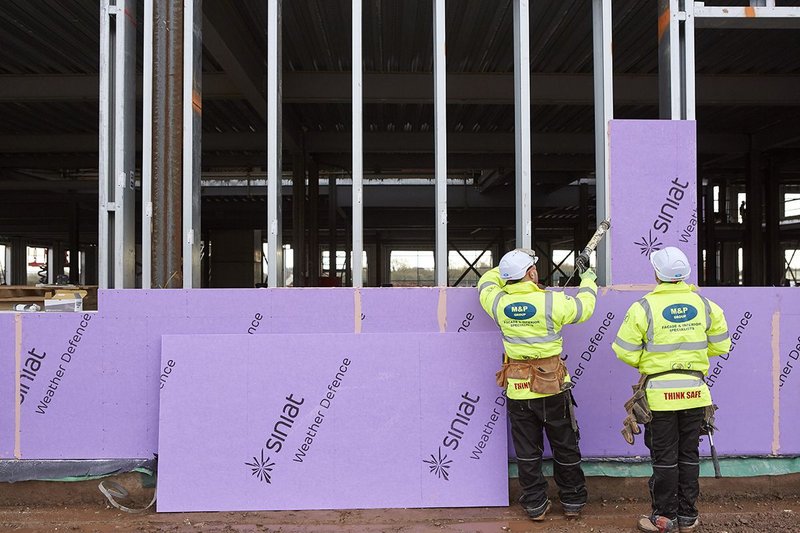 Installer fixing Siniat boards to frames Eastern High School, which has been designed by Powell Dobson.
Ahead of the curve
As well as providing state-of-the-art buildings for pupils, the new school will offer facilities for the whole community. Local residents will be able to make use of the 15-acre campus' multipurpose hall, art studios and a range of sports facilities including a pitch with a floodlit grandstand.
To ensure that the whole community can take pride in its new facilities, architects Powell Dobson created a striking design for the school featuring a prominent external curve. This arc presented a considerable construction challenge for the school's external façade system. Rigid, standard sheathing boards are difficult to bend, but Siniat's 2nd Generation Weather Defence board provided both the durability and flexibility needed to fulfil Powell Dobson's distinctive design. The external sheathing system was curved around the concave facade to create a weatherproof and airtight shell.
The choice of material also brought an added benefit for the school's tight build schedule – inflexible term dates meant that the Eastern High project could not afford delays. Thanks to its specially formulated gypsum core, Weather Defence can be left exposed on frame for up to 12 months during construction, quickly weather-proofing a structure to boost productivity on site. Barrie Jones, technical manager at Powell Dobson, explains:
'The nature of the fast programme on the Eastern High School project meant that the envelope had to be watertight early in the process. We specified Weather Defence board to allow the contractor to progress internal construction earlier than they would have originally been able, which has bought them valuable time.'
Specialist solutions
With up to 1,500 pupils at any one time, plus community users, the school had to be designed and built with durability in mind. Areas of high-impact usage were fitted with LaDura – a hardwearing board reinforced with wood fibre to protect against intensive use and reduce maintenance costs across the school's lifetime.
Siniat's technical manager Robert Cridford commented: 'LaDura can meet a 'severe' duty rating with only a single layer 12.5mm system, as well as having the added benefit of providing excellent sound insulation up to 48 RwdB from the same partition. It's mechanical strength also means that many fixtures can be directly hung without the need for pattresses.'
For the busy corridors, Megadeco was specified to provide superior durability with fire, acoustic and impact performance. This multipurpose functionality allowed for the specification of a single board across large sections of the build, simplifying and speeding up the construction process.
Siniat also advised on passive fire safety measures for Eastern High and recommended Fire Core board to protect school users.
'Fire Core board was chosen for its ability to protect shafts and voids in multi-storey buildings,' says Robert. 'It can effectively contain an outbreak for up to 120 minutes as part of the GTEC Shaftwall Fire Protection system, offering peace of mind for parents, pupils and teachers.'
Comprehensive guidance and advanced products from Siniat helped the school to achieve an 'Excellent' BREEAM rating, representing the highest standard in learning environment quality and sustainability.
Jarrad Wilson, senior project manager at Willmott Dixon, concludes: 'Siniat supported this project from the pre-construction phase right through to delivery. Not only were all of our queries answered within a day by the technical support team, but a Siniat representative came down to the site on a regular basis to offer expert advice.'
Eastern High School will welcome its first pupils in January 2018.
For more information and technical support visit: www.siniat.co.uk
Contact:
01275377789
---