Composite surface material Neolith features on the walls, floors and furniture of a property in Flagey Square, Brussels, opening up the compact interior to light and luminosity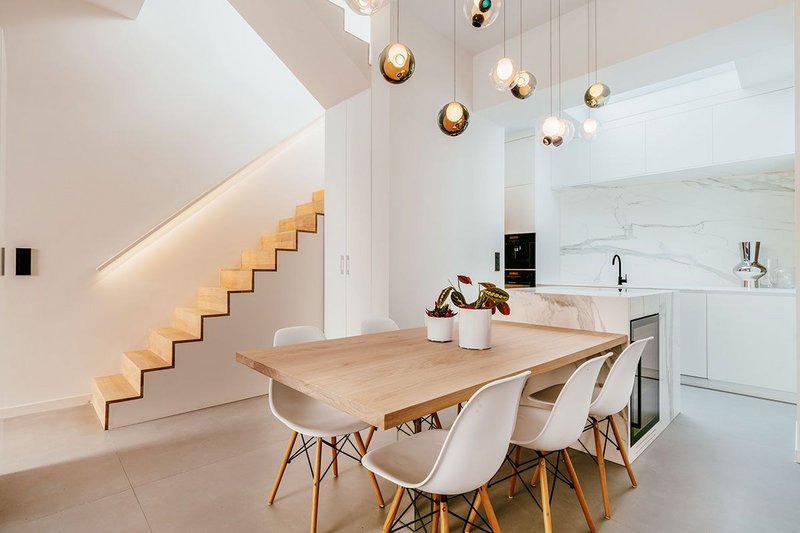 Michel Penneman, who designed Belgium's multi-award winning boutique Pantone Hotel with architect Olivier Hannaert, was not put off by the size of the City House project in Flagey Square, Brussels. 'Working with smaller areas is more challenging,' says the interior designer. 'You need to find a creative solution that balances space, aesthetics and budget. I love that complexity.'
Inside the original property, a warren of walls marked out tiny spaces, creating an enclosed, cramped atmosphere. Penneman wanted to open the rooms up to create longer perspectives and increase the sense of space and light while maintaining the integrity of the exterior. Ever-changing moods and the multi-functionality of a modern home played an important role in his design.
'In areas of the home where you live and relax, I like to work primarily with clean, neutral colours,' he says. 'Brighter, bolder shades can come in as furniture or decoration and can then be easily changed if tastes and trends shift. If you choose worktops or flooring in those colours, that won't be so easy.'
For the project, Pennemann specified Neolith Sintered Stone, a natural composite surface made from clays, feldspar, silica and natural oxides. Neolith Arctic White Silk and warm Phedra Satin feature prominently on stairs, flooring and walls, reflecting light and opening up the interiors. Concrete-inspired Beton Silk continues the neutral finish through to a utility room.
Marble-look designs create elegant focal points throughout the home. In the kitchen, the bold veins of Estatuario Silk mark out an island and splashback. The delicate detailing of Calacatta Polished lines a set of coffee tables, while, on the first floor, understated Blanco Carrara brings visual interest to a bathroom.
'The thinness of Sintered Stone slabs offers possibilities that are unavailable with natural stone,' explains Penneman. 'It's easy to create furniture and use on doors. Neolith's colours make it impossible to distinguish from real marble. Natural stone and marble are fragile, difficult to clean and require a special protective coat. After a few years, they change colour. By contrast, Sintered Stone is incredibly easy to maintain. A long time from now, this house will look exactly the same. All it will need is a clean.'
For more information, technical support and to see a full case study, visit: neolith.com
Contact:
01279 454301
---