Unliveable spaces and deep social division will mark the future of cities unless urban planners adhere to six key principles, research by Landsec concludes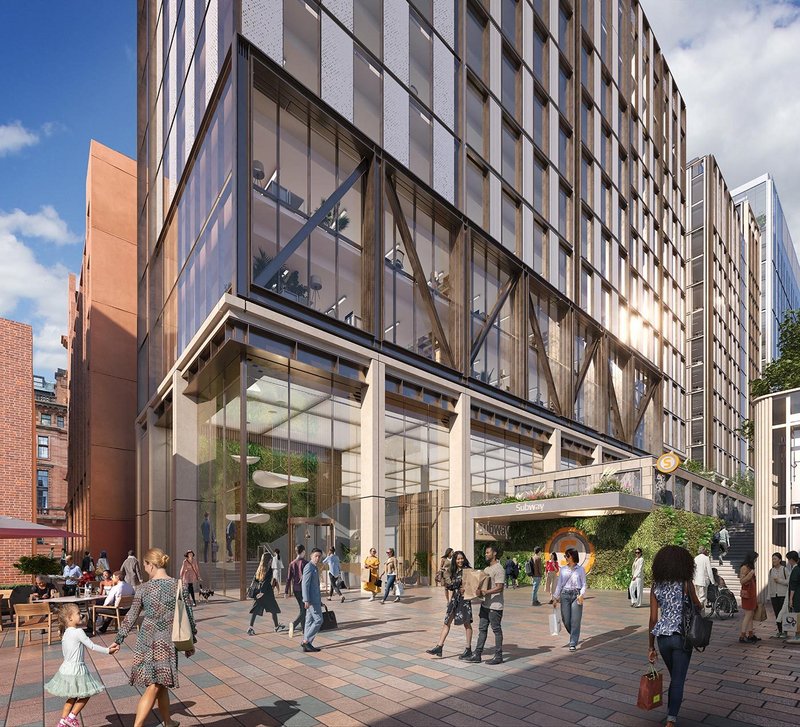 Landsec's masterplan for the Buchanan Galleries new city district for Glasgow was designed with 'resilience at its core'. It features a low carbon approach to materials, manufacture and construction and a focus on energy efficiency across all buildings.
Landsec's Shaping Successful Future Cities white paper maps out the possible scenarios cities will face over the coming 10-plus years, based on how decision-makers act today. It was developed in collaboration with strategic foresight consultancy The Future Laboratory with input from experts from, among others, Google and architectural practices BIG and dRMM.
At one end of the scale is a 'worst-case' scenario, where urban planning and construction have failed to address climate impacts, and inaction on issues around social cohesion has led to deepening divisions. At the other end, a 'best-case' scenario sees people and the environment protected and a flourishing of the positive elements of urban life, such as cultural innovation and easy access to amenities.
These two possibilities informed the creation of six key 'principles of urbanisation', intended to give urban planners the best possible chance of achieving the best-case scenario, and avoiding the worst, over coming decades. They rank in order of urgency and are to be climate prepared, resilient, desirable, responsive, equitable and polycentric.
The six principles were developed based on an 'outside-in' review of existing forecast material, by Landsec's strategy team, followed by a process of 'pressure-testing' by a panel of experts, including representatives from Google, BIG, Futurecity, King's College London, Urban Symbiotics, Jacobs, Urban Agenda and dRMM, using the recognised Delphi forecasting method.
The imperfections of city life should be celebrated, rather than addressed or ignored and equality must be prioritised
The most urgent principle, to be climate prepared, urges urban decision-makers to mandate the UN's Sustainable development goals and make cities' own net zero commitments mandatory. 'The unknown' should be factored into the heart of planning, with investment in modelling possible outcomes to prepare different routes of action.
'Fundamentally, cities must adapt and reuse in a range of ways', says the report, 'from creating urban density and proximity, to providing fit-for-the-future infrastructure that protects and reverses environmental risks, to developing new means of local production.'
Behaviour change is also critical to success, says Urban Symbiotics director and co-founder Stephanie Edwards. 'Whilst there tends to be a focus on top-down governance and infrastructure change, the key to enabling a city of the future is to create mass behaviour change and citizen-focused climate preparation and responsiveness.'
The second-ranking principle of being resilient puts a focus on creating 'holistic infrastructure' that can be adapted as lifestyle and technological change accelerates. Social infrastructure should enhance citizens' ability to come together and help them collectively survive shocks, whether economic, climatic or health-related, says the report, emphasising the issue of urban loneliness.
It also urges cities to develop robust networks that provide the infrastructure for daily life, including food provision, healthcare, childcare and product delivery, to counter the vulnerability of international supply chains.
DRMM founding director Sadie Morgan comments: 'The recent pandemic has had, and continues to have, a significant impact on our cities. Their ability to adapt and remain economically viable and attractive places to live is dependent on their resilience.'
The third most important principle, of being desirable, underlines the need to raise the standard for quality of life in cities in order to attract and retain residents, occupiers and investment. It says cities should focus on the human need for vibrancy, and offer unexpected and multicultural experiences. The imperfections of city life should be 'celebrated, rather than addressed or ignored' and equality must be prioritised to increase the economic opportunities that pull people to cities.
The report warns that 'humanity is at a crossroads', with limited time to adapt and ensure that cities remain successful well into the future. 'Failure to take action now,' it concludes, 'could result in a dystopian and problematic future where urban planning takes no heed of the environmental impact and social inequality worsens, with negative results for all.'