Using carefully juxtaposed flooring, Hassell has created different moods to break down the giant floorplates of Sky's head office to make them navigable and welcoming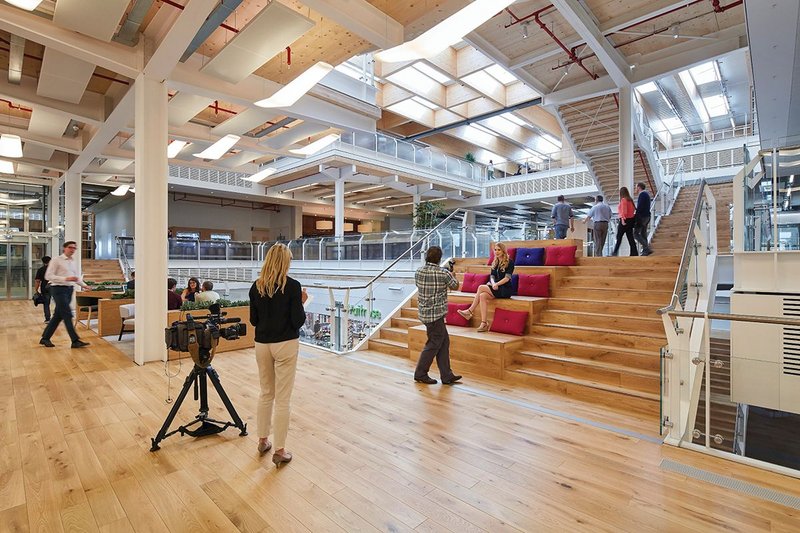 Getting material choices right was imperative, as they are replicated at huge scale throughout

Credit: Hufton & Crow
You need sensible shoes when embarking on a tour of Sky Central, the new 45,000m2 building at the heart of the broadcaster's Osterley campus in west London. For this is one big building, ­accommodating some 3,500 staff in a ground scraper by AL_A (concept) with interior architecture and project delivery by PLP Architecture.
With three floor plates of 165m by 102m, this would be equivalent to 18 conventional office floors according to Catherine van der Heide of Hassell, which designed the new workplace in Sky Central. Rising some 20m from ground floor to the CLT roof beams, this vast, top-lit space presented quite a challenge. How best to create human-scale neighbourhoods within the expanse so that no one feels they are rattling around? How to facilitate the introduction of a flexible agile-working culture that goes hand in hand with the new building? How to strike the right note between an informal working style and a serious, professional environment? And how to provide sufficient flexibility for changing workplace needs? A key tool used to pull off this balancing act is the flooring.
Below each level, PLP provided 700mm of deep floor void – compared with the 100-150mm found in a typical office. This gives Sky complete flexibility for how it reconfigures the workplace in the future by providing enough capability for heavy IT users all over the floor plate. Aesthetically, the choice of what went on top of this was a significant decision that could significantly impact the ambience of the whole workplace, given the scale of the floor areas. Get it wrong, and there's no way of hiding it.
'We started with a more colourful palette, but after a lot of discussion we thought the base build should offer a more pared-back version so that it doesn't compete with the workplace design and its furniture and joinery,' says PLP director Cindy Lau.
Different flooring is used to distinguish communal areas from work settings. On the ground floor, a huge 'street' – as wide as Regent Street – runs the length of the building east-west from the main entrance, with amenities such as cafés and a restaurant to one side and the glass-walled news studio visible straight ahead on the first floor. PLP wanted to avoid an over-homogenised effect for such an expanse so specified a 1200mm by 600mm ceramic tile from Domus' Petrology_Stone 2 range, a suitably muted but textured treatment for so busy an environment.
'We felt grey was a good tone to give depth,' explains Lau.
The tiles are laid in stagger bond to delineate the main axis, with perpendicular expanses down the cross axis off the middle of the atrium. For the prominent vertical circulation of grand stairs and ramps and the mezzanine areas, PLP selected satin lacquered, solid oak flooring by Suffolk & Essex Joinery. This complements the CLT structure of the roof and reflects the honest expression of architectural elements.
'The oak gives that warm shade that is not too dark, too light, or too washed out,' says Lau.
This is combined with Interface carpet tiles in desk areas, chosen for their anti-static properties and consistent appearance.
Hassell took this base build as the starting point for the workplace design, which was tested in a nine-month pilot installation. The concept is all about creating variety and a human scale across the huge floor plates. To achieve this, each floor has around eight neighbourhoods of 100-150 workers.
'Within these, we have a proportion of different settings to suit different work styles,' says Hassell's van der Heide. 'There aren't a lot of enclosed spaces so the floor finishes start to define those areas.'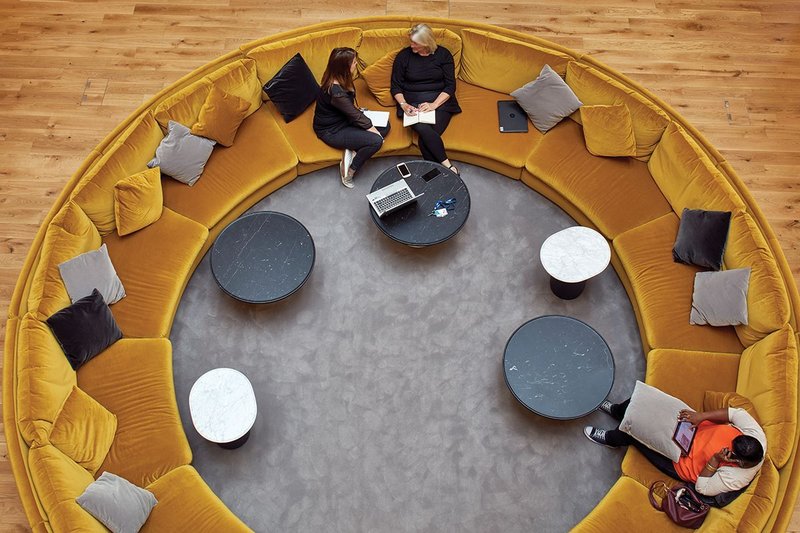 Sunken velvet seating brings local intimacy and a certain Austin Powers quality

Credit: Hufton & Crow
Each area has a 'home zone': a domestic-style space with an open kitchen and large tables for group working. These are delineated by Lindner's raised access floor system, finished with factory-bonded oak parquet in a four-plank pattern with exposed knots. Around the kitchen counters, Hassell specified vinyl tile flooring in a geometric black and white pattern akin to those in Edwardian ceramic tiled hallways.
This is no sea of homogeneous desks. At about every 20m, the aim was to introduce a variation in setting without formal enclosing space, says van der Heide. Instead, space is divided with visually permeable devices such as 2.7m high bespoke joinery structures that psychologically give a sense of enclosure, some incorporating high planting (there are an impressive seven plants per person), a grove of olive trees, and spaces defined with vertical ropes.
A lighter tone of Interface's Heuga 727 SD carpet tile (Graphite) is used to indicate different seating settings in addition to the darker Coal tile, which is used more extensively.
'It's an exercise in variety,' says van der Heide. 'Dealing with the volume was the greatest challenge.'
Both the first and second floors have two mezzanine 'global destination areas' for more informal meeting and working. To complement the comfortable, hospitality style seating, Hassell worked with Kathstall to create luxurious hand-knotted overlay rugs, plain or with a bespoke geometric viscose pattern. These help give some softness to the space, says van der Heide. Nearby, another setting of upright chairs and tables is combined with a large custom vinyl floor mat by Chilewich, chosen for its woven texture and robustness under frequent use.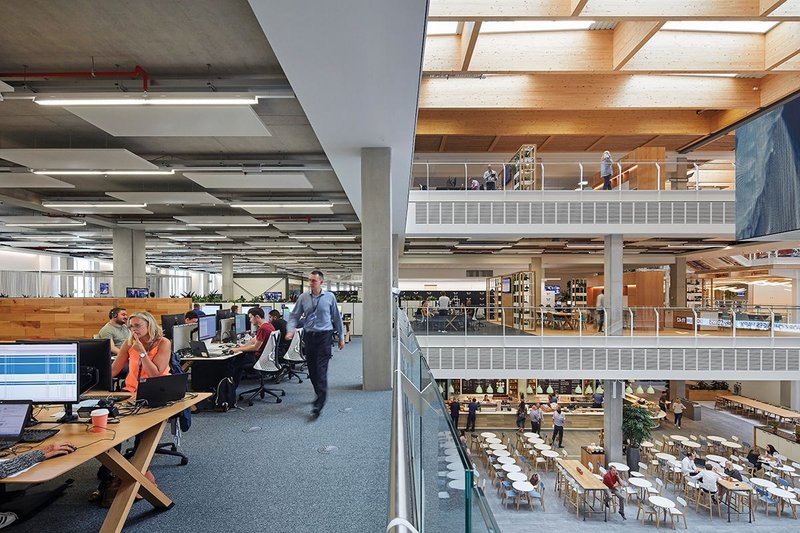 Flooring materials delineate different areas, breaking up the massive volume to a more manageable and legible scale for users.

Credit: Hufton & Crow
ifferent floor treatments also break up the expanse of the 300-seat downstairs restaurant, designed by Sedley Place, the design company responsible for the six food and beverage areas within the building. According to managing director Mick Nash, the biggest challenge was to create a welcoming environment within what was potentially 'a barn of a room'.
'We used flooring, among other tech­niques, to divide the space into more intimate areas,' he says, adding that it also had to be easy to clean and acoustically not too lively.
Areas of porcelain tiles with a bleached timber finish run down the main circulation route to the server and around the edge of the room.
'We wanted to use it as a subtle signage system and it does that very effectively,' says Nash.
Supplied by Pentagon tiles, the 160mm wide wood effect porcelain is given decorative interest by the inclusion of individually cut and arranged patterned Portuguese tiles.
'It feels like elements of an original floor have been encapsulated in the new one,' says Nash, who was keen to give the traditional Portuguese tiles contemporary treatment.
This tiling is accompanied by a natural wood floor by the Reclaimed Floor Co in the lower traffic seating areas. Here the emphasis was on a quieter solution, achieved with the help of acoustic ceiling panels and careful design of furniture to minimise clanking table and chair legs.