Specifying windows based on quality is a given, but other issues can leave end users vulnerable. Skylight specialist Sunsquare offers four easy ways to spot an honest warranty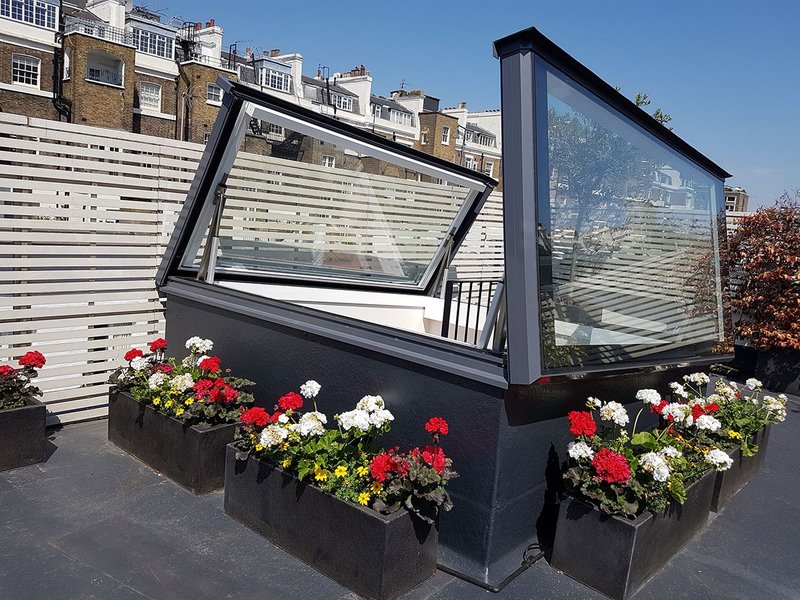 Sunsquare Aero Dual: the synchronised skylight features award-winning technology and opens in dual sections to allow the maximum amount of opening area with the minimum footprint.
Selecting the right skylight for a project is about more than achieving an impressive look. Specifiers ask: is it well made? Fully thermally broken? Weather proof? Durable? One hundred per cent safe? And so they should if they want end users to benefit from the best performing, quality products. But many are falling at the final hurdle by not questioning the strength of the warranty that comes with the product. Inadequate cover devalues it and leaves customers vulnerable.
It is understandable to assume that a high-value product such as a skylight will come with equally valuable long-term customer protection. After all, no one would actively invest in glass that goes over people's heads without the right cover. It is vital. But, in an unregulated industry with no uniform standards, some manufacturers are wriggling out of their obligation to end users. This means there are warranties out there that seem attractive on the surface but, read the small print, and it becomes apparent their worth is negligible.
Sunsquare is a leading manufacturer of skylights. It sees promoting and upholding the highest standards of customer protection as an absolute duty - and warranties as an integral part of that. If a company has complete confidence in the quality, manufacture and longevity of its products, it would provide appropriate cover. Sunsquare stands by the quality of its entire range and is the only skylight manufacturer to provide insurance-backed, ten-year warranties on all its skylights. Below it offers a four-step checklist for assessing the quality of any warranty.
Sunsquare's 4-step worthy-warranty checklist
1. Who, and what, is covered? Is it the product and installation? Or the person who purchases it? If the latter, this can lead to serious issues. Most end users don't buy their own skylight as their builder does it for them. As a result, people are left with no cover. For those who do make the purchase themselves, the warranty becomes void when they move house, leaving the next owners vulnerable.
2. Are there installation clauses? Some warranties are only fully valid if the skylight is installed by the company you buy from, narrowing the installation options. The warranty then drops in value if you don't abide by their terms.
3. What's the term? Look out for companies that market their warranties as being long term (for example, ten to 20 years) but, on closer inspection, turn out to be only for a minimal period of, say, 12 months. You will then be given the costly option of continuously extending.
4. Is it insurance backed? No one knows where the industry (and its manufacturers) will be in ten years' time. If things take a turn for the worse and the company you have bought from goes bust, the warranty becomes worthless. Insurance-backed warranties mean people are fully covered - whatever happens.
Sunsquare offers no-quibble warranties that lie with the product and not the person. It doesn't matter who directly made the purchase or if people decide to move house: the warranty stands. And this is true whether Sunsquare fitted it or not. The company is the first flat-roof skylight manufacturer to offer insurance-backed warranties for 10 years across its whole range - and it's free for projects worth over £10,000.
Sunsquare aims to provide the ultimate cover and the very best client security so people not only benefit from the safest, best quality and most thermally efficient skylights on the market, but have the assurance they deserve: knowing they are fully covered for the next decade, whatever happens.
For more information and technical support, visit: sunsquare.co.uk
Contact:
01284 848798
---